The new Taylor Swift Fearless album breaks The Beatles' UK chart record
That rerecorded Taylor Swift Fearless album has outdone the Fab Four—talk about girl power!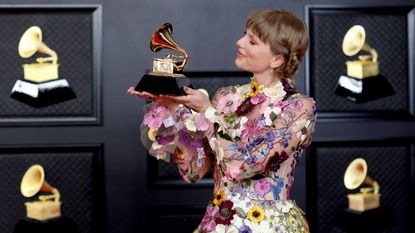 (Image credit: Getty/Jay L. Clendenin )
The Taylor Swift Fearless re-recording has rewritten the UK top charts history this week.
"Taylor's version" of her 2008 album Fearless debuted at number one on the Official Albums Chart, shattering a chart record long-held by none other than The Beatles.
Swift set the new all-time mark for the fastest accumulation of three number one albums ever by scoring her third chart-topping album in just 259 days (following Folkore on July 31, 2020 and Evermore on December 18, 2020). The Fab Four had previously set the record by reaching number one three times in 364 days with their classic albums Help!, Rubber Soul, and Revolver.

According to The Guardian, Swift's album sold 21,145 units in total, including physical, digital, and streaming sales, making it Swift's seventh studio album to chart at number one in the U.K.
Swift's new version of Fearless is notable since she reclaimed her masters from executive Scooter Braun earlier this year. In 2019, Braun had bought her music apparently without her knowledge, to which she responded: "Some fun facts about today's news: I learned about Scooter Braun's purchase of my masters as it was announced to the world. All I could think about was the incessant, manipulative bullying I've received at his hands for years."
The singer-songwriter's post continued to "expose" the inner workings of her relationship with Braun, as well as several other prominent celebrities like Kim Kardashian and Kanye West, saying: "When Kim Kardashian orchestrated an illegally recorded snippet of a phone call to be leaked and then Scooter got his two clients together to bully me online about it. Or when his client, Kanye West, organized a revenge porn music video that strips my body naked."
Swift's in-depth reaction to Braun's announcement continued: "Now Scooter has stripped me of my life's work, that I wasn't given an opportunity to buy. Essentially, my musical legacy is about to lie in the hands of someone who tried to dismantle it."
After the dust settled, Braun sold the masters to Shamrock Holdings, a private equity company. After being legally allowed to re-record her singles in November 2020, Swift teased that some "surprises" relating to her original music were on the way.
She posted: I have recently begun re-recording my older music, and it has already proven to be both exciting and creatively fulfilling. I have plenty of surprises in store 😎 I want to thank you guys for supporting me through this ongoing saga, and I can't wait for you to hear what I've been dreaming up."
Since December 2020, Kudzai has worked as a trainee journalist at FUTURE, writing about fashion, entertainment and beauty content for My Imperfect Life.

Kudzai previously worked as a freelance fashion wardrobe stylist, directing magazine photoshoots and coordinating the fashion direction of recording artists.

A fully qualified Journalism and Media graduate from De Mont Fort University, Kudzai graduated in the summer of 2020.