The Circle season 2 release date has finally been confirmed
Get ready! The Circle is back for a second season of craziness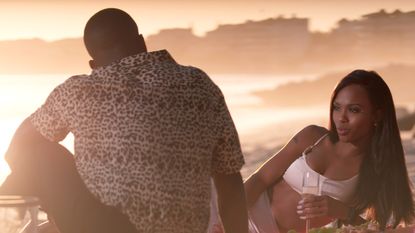 (Image credit: Netflix)
In the Netflix reality series The Circle, you never know who you'll be up against as eight contestants bond, flirt, and plot all in the name of gaining clout through a special social media platform. Everyone is vying for power in order to avoid being voted out. But how do you tell who's for real and who's a catfish? What would you do—and who would you be—if you had $100,000 on the line?
But things get even better, as the streamer confirmed that not only will The Circle return for a second season, but it's been renewed for a third as well!
ALERT! ALERT! ALERT! The Circle is BACK! Time to hit up all your besties in your circle chat because April 14th is right around the corner. pic.twitter.com/XkB5qQhxDYMarch 23, 2021
See more
The Circle season 2 casting began in June 2020, after applications were posted online by one of the show's Twitter accounts. The production team allegedly wanted to cast anyone over the age of 21, of any gender or ethnicity. Although no official cast members for The Circle season 2 have been revealed as of yet, we're sure we'll learn more soon enough.

But we do have some concrete info on the new season, including The Circle season 2 release date: the show will officially return on Wednesday, April 14th, according to The Hollywood Reporter. The first four episodes of season 2 will drop on the 14th, another four on April 21st, the next four on April 28th, and then the season finale to wrap it all up on May 5th.
Along with the Circle season 2, Netflix has also announced the return of another one of its popular unscripted competition series, Too Hot to Handle, which follows 10 singletons who attempt to win a $100,000 cash prize by not kissing or getting physical with any of their castmates. The latter show will reportedly return to the streaming giant in June (yes, that means the show was filmed entirely during the pandemic) and will take a similar batched-binge approach to its episode releases each week.
From Bling Empire to Gossip Girl and Bridgerton: there's actually an evolutionary reason we can't resist TV shows about gossip
Brandon Riegg, VP of Unscripted and Documentary Series at Netflix, spoke out ahead of the exciting announcements, saying: "Although these shows may have felt a little too real at times, fans all over the world rallied around them with an energy and excitement we could not have imagined."
Riegg added: "We can't wait for our members to see what their second seasons have in store. To keep the games fresh, we've added new twists and surprises, as well as all-new players who we think fans will enjoy rooting for."

Of the release schedule, he said: "We're also experimenting with the release format so you have time to dissect and dish on every step of the competition as it unfolds. We'll debut several new episodes at a time on Wednesdays beginning with the first four episodes of The Circle on April 14. Once The Circle wraps in May, Too Hot to Handle takes over in June."
So mark your calendars and get ready for some reality fun!
Since December 2020, Kudzai has worked as a trainee journalist at FUTURE, writing about fashion, entertainment and beauty content for My Imperfect Life.

Kudzai previously worked as a freelance fashion wardrobe stylist, directing magazine photoshoots and coordinating the fashion direction of recording artists.

A fully qualified Journalism and Media graduate from De Mont Fort University, Kudzai graduated in the summer of 2020.