From 'Bling Empire' to 'Gossip Girl' and 'Bridgerton': there's actually an evolutionary reason we can't resist TV shows about gossip
TV shows about gossip always seem to turn into huge hits - but why?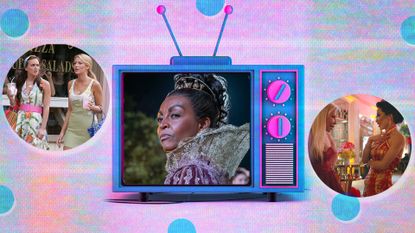 (Image credit: Netflix/Getty Images)
"Dearest reader, the time has come for us to place our bets for the upcoming social season…" Somebody is about to spill some tea, Regency-style, from the very opening moments of Bridgerton.
We soon learn that it's wicked whispers, penned in a newsletter by the anonymous Lady Whistledown, that's getting all of the Ton in a tizz. Branding the three Featherington sisters "sorrowful sows" and their mother "tasteless and tackless" is only the start of it - the characters soon become fixated on who is spreading gossip about the upper echelons of London society.
It's an interesting plot device because, as a viewer, it also hooks us in too. Alongside all the steamy sex scenes, one of the main reasons more than 63 million of us tuned in to the Netflix show was to see Lady Whistledown finally unmasked in the final episode.
But Bridgerton - and Julia Quinn, the author of the original series of books the show is adapted from - is far from the only TV show to be based around scurrilous gossip-mongers.
Back in 2007, a new teen drama burst onto TV, narrated by a girl who promised us inside information about the "scandalous lives of Manhattan's elite".
It was Gossip Girl, adapted from a novel by Cecily von Ziegesar, and the twisted tales of the super-privileged Blair, Serena, Nate and Chuck soon garnered a huge fan base. At the heart of the series was the anonymous blogger, Gossip Girl ("xoxo!"), who threw out her hand grenades of the gang's innermost secrets online until "she" was eventually unmasked at the end of the final sixth series.
Just like Gossip Girl, the main characters in Pretty Little Liars - another YA book series adapted for the small screen in 2010 - are also tormented by a digital tattle-tale who threatens to reveal their shady truths via text. Even more disconcerting, each threatening missive is signed off with an 'A', which leads the girls to believe it's their best friend Alison, who is missing, presumed dead.
"I'm still here, bitches. And I know everything," the first text reads at Alison's funeral. As the seven seasons progress, the revelation of the multiple people who are behind 'A' become ever more farcical, but the same theme still runs through: the world runs on gossip, and we lap it up from our sofas at home.
Our obsession with watching TV gossip series
From Gossip Girl to Pretty Little Liars, through to the creation of all reality and scripted reality shows like The Hills, Love Island and the most recent Bling Empire (all essentially based around the repetition of "he said...but she said" conversations between different cast members), they all tap into everyone's obsession with gossip. It's such a popular trope on-screen - but why does it always reel us in?
We needn't feel guilty, says Doctor Sally D. Farley, an experimental social psychologist at the University of Baltimore, as not only are we evolutionarily programmed to invest in the drama of others, but it can be incredibly beneficial. She says: "Gossip is typically about people we know and care about - we gossip most frequently about people that we know well, people who are in our social networks, that are of emotional and relational importance to us."
Studies have shown that chatting about others helps us understand what is socially accepted in our tribes, and where we fit within them, adds Farley.
"Gossip serves to keep us abreast of your social network. We all need to know where we fall in relation to others, and gossip is the mechanism by which you're learning information about other people that should matter to you, from an evolutionary standpoint", he says.
It's been suggested language first emerged so we could gossip
The idea of gossip as a survival method goes back even further, as the anthropologist Robin Dunbar suggested that the central reason language emerged was so that we could gossip about others.
He theorized that our primate ancestors used to groom each other - in the way that monkeys and chimpanzees still do now - as a way of bonding with each other and to cement social status. But as we evolved and our groups and tribes grew bigger, this was no longer easily managed by grooming.
"Dunbar argued that we developed language to figure out who was who on each team," explains Farley. "As. in an ape environment, if you have failed to adequately signify bonds with others, you risk being ostracised, which is why it has important biological functions.
"We can argue that's what we're doing now with gossip, keeping track of who our friends are, who our allies are. It's something that cements and bonds human relationships."
It's something that TV bosses have also cottoned on to, as it taps into our desire to be privy to as much information about other people as possible - even if they're fictional.
"I think it's pretty intuitive to authors and TV producers to create shows based around gossip," says Farley. "You only need to look in newspapers to see the sort of stories that garner a lot of attention - a lot of them are gossip related."
Understanding moral codes and social standing
We learn about moral codes and what's deemed as acceptable or not in these different social systems - think of the implications if Daphne is caught in a room with a man without a chaperone, or what it means when Little J gives Serena an invitation to the Kiss On The Lips ball against Blair's wishes - and reflect how they compare to our own ethics which we apply to our relationships.
With the news that Gossip Girl is now getting a reboot on HBO - featuring an all-new cast of New York private school teens navigating their lives through prying eyes on social media - a whole new generation can also jump in to furiously speculating about the lives of a group of people on screen.
As for us switching on more TV shows based around scandals - well, now we know it's just human nature; pass the popcorn, please.
Laura is a freelance entertainment and lifestyle journalist who writes for The Guardian, The i newspaper, Metro, BBC Culture and Grazia. She's happiest travelling the world and discovering new trends and, within reason, is willing to give most things a try. From feasting on rancid camel milk cheese in Morocco to jumping into the shimmering aquamarine cenotes of the Yucatan; it's all out there to be explored, then written about. A firm believer of Nora Ephron's mantra: "everything is copy".