This TikTok setting spray hack promises glowing results
This setting spray hack promises glowing results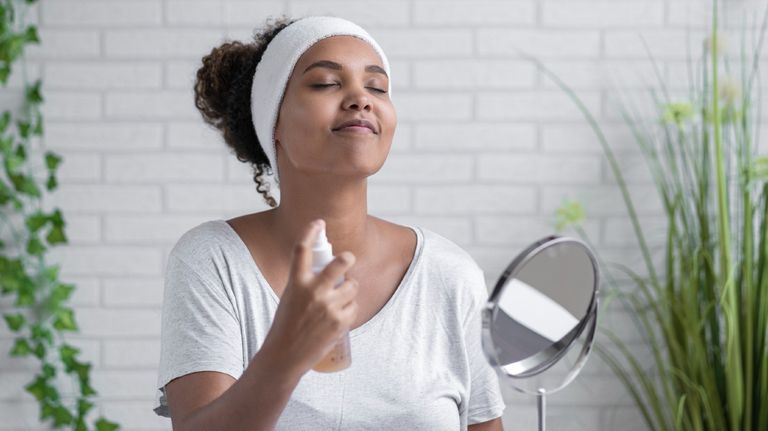 (Image credit: Westend61/Getty Images)
Most of us probably mist our setting spray directly onto our face after putting on make-up, but according to beauty TikTokers, this is wrong. You can always count on the TikTok community to bring an alternative POV and the latest one is definitely different. The new beauty hack is showing what users are claiming to be the "right" way to use setting spray and it is pretty surprising.
Who thought we needed a new way to use setting spray? Whether you're going for a glam look using the best eyeshadow palettes or natural make-up using nothing more than the best BB creams, setting spray is essential for preventing make-up from creasing and absorbing facial oils. You could rely on your highlighter to leave you with a glowing finish, but depending on what setting spray you use, you could have a clean matte or luminous skin in just a few spritzes.
Make-up artist and TikToker @kevikodra has gained over 3 million views for a setting spray hack that he claims is "better" than the typical method.
In the video, he demonstrates the so-called normal way, which is by spraying the product all over your face at the end of your make-up routine. He then tells viewers to "stop it immediately" and proceeds to demonstrate the hack.
He grabs his make-up sponge and sprays a generous amount onto it then "lightly dabs" the sponge into his skin starting at his highlighted area. Supposedly, this allows the product to "melt" into your skin and create a "dewy" look.
The best setting sprays to try
The best setting powders to finish off your look
Another TikToker noticed the same results but tweaked their approach by going back over the setting spray with powder to really set it.
"Try this if you want your make-up to last all day long" @juliarosemondbeauty said at the start of her clip. She then proceeded to demonstrate the new method, then added the powder to finish her look.
Either way, both methods seem produce glowing results.
Make sure you ace your base with the best foundations for acne-prone skin
Setting spray isn't the only key ingredient to a put-together make-up look. Make sure you incorporate a quality foundation to complete your look. We made sure to put our favorites below for you to check out.
Rylee is a digital news writer for woman&home and My Imperfect Life. When she's not writing, you can find her thinking about her next travel destination or testing out the latest fashion trends.