What causes foundation pilling and how you can prevent it, according to an MUA
Foundation pilling can happen to anyone when applying make-up—but luckily, it's pretty easy to prevent with a little know-how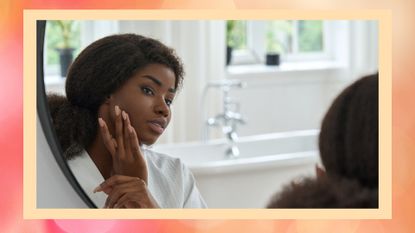 (Image credit: Getty Images)
Few things are as annoying as watching your makeup ball up on your skin as you apply it. This pesky phenomenon actually has a name, foundation pilling, and it's caused by your products rolling together rather than sinking into or sitting atop your skin in perfect harmony.
Though certain formula combinations are more likely than others to result in pilling, even the best foundation can do so under the wrong circumstances. So how do you prevent your base from bobbling? We spoke to a makeup expert to find out how to combat this when you're applying your foundation.
Meet the expert on foundation pilling
Warren Dowdall is a senior artist on Bobbi Brown's Pro Team, who has worked for the brand for over a decade. In this feature he has explained to My Imperfect Life readers why foundation pills and some of the things you can do to stop it from doing so.
Why does foundation pilling happen?
To understand how to fix foundation piling, you first have to get to the root of the problem and find get to grips with what causes it. According to Warren Dowdall, Senior Pro Artist for Bobbi Brown, the formulation of your chosen foundation—such as the best foundation for acne-prone skin or the best foundation for combination skin—and how it interacts with the skincare you have on beneath it has a lot to do with seamless (or not) application.
"If there are a lot of silicone-based products in your skincare routine, silicone in your primer, plus your foundation has a lot of silicone in it, this can be an overload," he warns. "They basically repel each other and start to pill up."
If you're not sure whether or not there are silicones in your products, check their ingredients lists. "Look for any words ending in -cone early on in the ingredients list, as this indicates a silicone or a silicone derivative," Dowdall adds.
Applying too much product, layer upon layer, is another potential cause for pilling. "I see this a lot with primer," Dowdall confirms. "You only need a thin layer of primer before make-up for a flawless finish. Be sure to pat in your skincare and primer and avoid too much rubbing, as this can cause pilling up also." Thin layers and time between applying each is therefore key.
How to avoid foundation pilling with the correct product order
Starting with thoroughly cleansed skin, to give your skincare a clean canvas to work with, apply your products from thinnest to thickest consistency. "Apply lightweight textures first, like essences and toners, followed by a pump or two of serum, and then your best moisturizer," says Dowdall. "If you use a face oil, this can be applied here to seal in the moisture."
Allow a few minutes between the last skincare product in your routine and applying your foundation so that the textures don't mesh and pill. If you do this and you're still finding that your foundation is piling, consider if you are trying applying too much skincare product, or think about the base of your products and foundation.
"You can try matching your skincare bases and foundation bases," Dowdall explains. "For example, if your moisturizer is water-based, you can pair it with a water-based foundation while if your moisturizer is oil-based, that will work well with an oil-based foundation." (For the uninitiated, this is the difference between non-comedogenic vs oil-free foundation.)
Is foundation pilling more likely on certain skin types?
While there isn't a particular skin texture that is more likely to experience foundation piling, there may be some things that you can do as a part of your routine to minimize the chances of it happening.
"Using an exfoliant to remove dull surface skin cells means a better finish for your makeup, as your skin is better able to absorb your skincare products meaning less likelihood of pilling," Dowdall confirms.
There you have it; the expert take on what causes foundation pilling and how to prevent it. You can now move on to other makeup conundrums, like whether you should apply foundation or concealer first.
Keeks is an award-winning digital & social content specialist a hair & beauty writer and a brand consultant. You can find her work in Cosmopolitan (in print and online), Refinery29, Harper's Bazaar, Woman and Home, Women's Health, My Imperfect Life, OK! Online and Hairdressers Journal
With contributions from