'Waking Up in the Morning': The roots of TikTok's viral song has been revealed
We can't stop listening!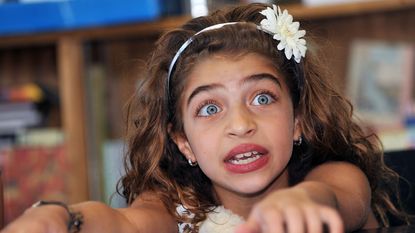 (Image credit: Getty/Bobby Bank)
Who knew we'd be listening to Gia Giudice's sad childhood song so many years later?
It's hard to go online these days without running across the viral hit, but if you're not aware of how Gia Giudice is taking the world by storm with a decade-old song, allow us to fill you in.
In 2011, when the third season of Bravo's "The Real Housewives of New Jersey" series was airing, reality star Teresa Giudice and her brother Joe Gorga's family drama had taken centerstage on the show at the time. During the season, Giudice held a birthday party for her daughter Milania in the midst of the family's continuing beef. But things got a little messy when eldest daughter Gia, then 10 years old, shocked the party guests with a tearful performance of her own made-up song, "Waking Up in the Morning."
The audio sample of Gia's "Waking Up in the Morning" song has recently gone viral on social media, with over 270 million—yes, million—views. And that's not all: you may be shocked to learn that Will Smith is one of the celebrities who have jumped on the #WakingUpInTheMorning bandwagon!
Of course, Gia Giudice, who is now 20, has noticed the song's popularity. As she mentions: "I got a bunch of text messages from friends saying Will Smith was singing your song on Instagram, and when I saw it, I couldn't believe it."
Who wouldn't want to be TikTok famous, as she adds: "Will Smith is one of my favorite actors, and I thought it was very cool that he did that. Maybe I'll do one of his songs in exchange."
'Bath tea' is the latest self-care trend on TikTok
Despite the awkwardness of the situation at the time, the trending song has since helped bring people together in a whole new way as they reminisce about their own humiliating moments.
Even Cardi B has joined the list of fans, as the "WAP" star took to Twitter, saying: "Thinking about deleting this app until I drop my next little project. But then again where I'm going to hear 'Wakin' up in the morning thinkin' about so many things, I just wish things will get better'?"
this is unreal!! CARDI I'm in Bahamas let's meet upMarch 26, 2021
See more
Since December 2020, Kudzai has worked as a trainee journalist at FUTURE, writing about fashion, entertainment and beauty content for My Imperfect Life.

Kudzai previously worked as a freelance fashion wardrobe stylist, directing magazine photoshoots and coordinating the fashion direction of recording artists.

A fully qualified Journalism and Media graduate from De Mont Fort University, Kudzai graduated in the summer of 2020.