The love for the viral TikTok yoga pants with booty-lifting effects is still going strong
The TikTok yoga pants are crazy-popular—and cheap! Snag the Seasum leggings and try the viral sensation on for size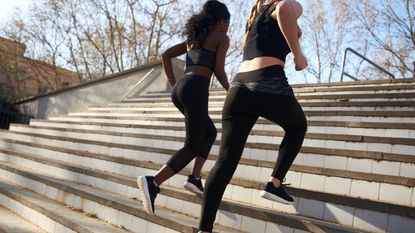 (Image credit: Getty Images / Westend61)
Seasum leggings—more commonly known as TikTok yoga pants—have garnered viral attention and trending hashtags on TikTok thanks to their booty-lifting capabilities. Shoppers and athletes alike are eternally grateful.
The Sisterhood of the Traveling Leggings seem to flatter pretty much everyone that steps into a pair. Plus, the high-waisted gym leggings on Amazon have more than 62,000 ratings, the majority of which are five stars. And, with a price tag of less than $20 (£15), they're a bargain to boot.
Hey, if you're going to test out TikTok exercise tips and add the Cupid Shuffle to your workout routine, you might as well stick to the app's favorite gear, right? It's a no-brainer.
Influencers and fitness fans alike have been taking to the app to share videos wearing the popular workout clothes while also showing off the slimming effects and butt-lifting powers. And it seems the love for these pants is only growing stronger.
Meet the famous TikTok yoga pants
Shop the Seasum leggings
---
When the warmer weather strikes, why not give the brand's shorts a go? Fear not, they promise the same tushy-lifting results. They're also high-waisted and fairly priced like their legging counterparts.
---
Although the brand's shorts aren't available for purchase in the U.K., there are copy-cat brands worth exploring.
---
How did the Seasum yoga pants go viral?
The Seasum "butt lift" leggings, which are also said to help support the tummy area, first went viral when influencer Lauren Wolfe posted a video about them. "My butt does not look like this in other leggings," she stated.
Explaining that her booty is on the smaller size and showing off how she looked in the leggings, Wolfe raved about the yoga pants, which gave her a curvier appearance.
Wolfe's clip about the yoga pants—which come in black and a variety of other color patterns, including neon and tie-dye styles—encouraged others to purchase them and share their results.
The rest, as they say, is history. They've rightfully earned a top spot amongst other viral TikTok items like the Gap High Rise Cheeky Straight Jeans With Washwell.
Another user "mommy.ditto" shared a video of her ordering the TikTok yoga pants and comparing how she looked in them versus regular workout clothes, though it has since been deleted. Trust us when we tell you she was amazed, so much so that she claimed she was about to order another 15 pairs.
A third fan Devin Olson shared a video trying on the pants and was visibly in shock, saying: "Oh my god, okay, please go buy these."
According to Amazon sellers, the "butt lift" effect is down to how the pants are made, as they feature a honeycomb structure. They are also described as having Brazilian "Booty Enhance" technology in them.
Now, find your leggings or shorts and attempt the exercises we've gathered for how to tone your butt using only resistance bands. No need to thank us for the research!
Freelance lifestyle journalist for @BBCBusiness @Womanandhome @ESlifeandStyle @TheIndyBest / co-host of @getajobpodcast and founder of PR secrets. I specialise in health and wellbeing, travel, business, human interest, beauty, and in-depth features.