This is why derms hate face oils
Spoiler: you may rethink your routine after reading this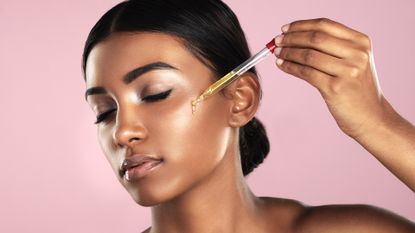 (Image credit: PeopleImages)
Face oils. The name alone implies the ultimate in self-care and an otherworldly sheen. Yet many derms hate face oils, blacklisting them on account of their pore-clogging and spot-causing reputation. So what's the actual deal here? Should we be slathering them on with abandon, while inhaling their mind-bending, holistic scents? Or should we stick to a bare bones regime of cleanser, vitamin C serum, moisturizer for dry skin (and SPF by day)?
We set the record straight about face oils and how to use them correctly...
Can face oil replace moisturizer?
No, a face oil can't replace moisturizer. The biggest misconception about face oils is that they are the same as moisturizers – when, in fact, they are not.
"Instead of being hydrating, oils can have the opposite effect and dry out your skin," says celebrity aesthetician Dr Barbara Sturm whose clients include Hailey Bieber.
It all comes down to the size of the fatty acid molecules that make up the oil. Put simply, they are too big to penetrate so can only sit on top of your skin. So while oils create an occlusive, protective barrier over the skin to help prevent water loss, they are not actually adding any hydration where it counts.
"The trouble is, as soon as you cleanse your face, water loss goes back to its original value. So there are no real moisturizing benefits," adds Sturm.
When to use face oils
If you really can't ween yourself off your face oil fix, perhaps consider recalibrating where you use it in your routine.
The occlusive nature of a face oil means you should apply it as the last step in your skincare routine. For example, a ceramide-rich moisturiser seals the water-attracting goodness of a hyaluronic acid serum into your skin cells. A layer of oil applied over the top acts as a double-whammy invisible shield.
If you suffer from acne, however, approach oils with caution. Even oil cleansers should be struck off your routine, says dermatologist Dr Anjali Mahto. "These leave behind residue, which can block pores." Instead, she advocates a gentle foaming cleanser spiked with salicylic acid to dissolve the paste-like mixture of oil and dead cells in pores, which can turn into breakouts.
The only exception may be Kiehl's Cannabis Sativa Seed Oil Herbal Concentrate. It contains hemp seed oil, known to be an anti-inflammatory, as well as green oregano oil, which was traditionally used as an antiseptic, and has been clinically proven to take down angry red spots – fast.
It seems face oils continue to live under a level of controversy so perhaps a better investment would be a targeted serum (check out our pick of the best retinol serums) whether your concerns are wrinkles, pigmentation or sensitivity. The importance of these concentrated liquids are undisputed and should never be underestimated for leaving complexions brighter, and dewier immediately.
Fiona Embleton is a multi-award-winning beauty editor who has tested over 10,000 products in her 10 years + of writing and shooting beauty stories. For the past four years, she was the Senior Beauty Editor at Marie Claire, having previously worked in the role of Beauty Editor at both Stylist and Cosmopolitan. She has recently gone freelance and alongside My Imperfect Life, she has written for titles including ELLE UK, ELLE Canada, Buro 247, Harper's Bazaar Arabia, Vogue Scandinavia, and ES Magazine. Beauty journalism allowed her to marry up her first-class degree in English Literature and Language (she's a stickler for grammar and a self-confessed ingredients geek) with a passion for make-up and skincare, photography, and catwalk trends. She loves jumping on the latest internet-breaking beauty news, dissecting the best red carpet looks, and having the crème de la crème of dermatologists, make-up artists, and hairstylists on speed dial so she can tap them for the best advice. She's a discerning beauty shopper and knows it can be confusing trying to navigate what's hype and what really works. So if she really likes something, you can trust that she has reached that opinion by vetting it against everything else she's ever tried. Her career highs? Interviewing Cate Blanchett and winning a Jasmine Award for the deeply personal feature Cancer Stole My Mother's Scent.