Why was Lil Wayne pardoned?
Why was Wayne pardoned as he pleaded guilty to federal weapons charges?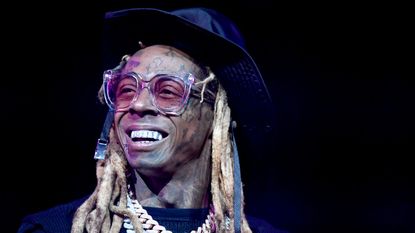 (Image credit: Getty / Frazer Harrison)
President Donald Trump's term couldn't end without a bang, and his presidential pardon of several notable celebrities has people all over the world shocked once again. Lil Wayne and Kodak Black don't really have the best track records with the law, so why did they receive a presidential pardon?
Why did Trump pardon Lil Wayne and Kodak Black?
Hours before his departure from The White House Trumps granted clemency to rapper Lil Wayne and Kodak Black. Kodak received a three-year sentence over a weapons charge which stirred unrest within the African American community.
Trump granted a full pardon to the YMCMB rapper Lil Wayne, whose real name is Dwayne Michael Carter Jr. Wayne was charged in Florida back in 2017 with possession of a firearm by a convicted felon, an offence that could've landed him a potential 10-year prison sentence.
Spectators on Twitter have had some choice words for the president's final charades, and it's safe to say not everyone is happy with the decision. As on fan took to Twitter saying: "'Rappers are Republicans?!?!'"
Bro I was born in 1995 and have already seen some shit I never imagined. A FXCKING PRESIDENT PARDONING RAPPERS pic.twitter.com/cABqWLwL2RJanuary 20, 2021
See more
The White House official statement read that Lil Wayne was 'trustworthy, kind-hearted and generous'.
"Mr Carter has exhibited this generosity through a commitment to a variety of charities, including donations to research hospitals and a host of foodbanks."
Throughout all of this, there had been growing speculation that Wayne was hoping for a pardon after he unexpectedly shared a photo of him 'endorsing' Trump on Twitter last year.
Just had a great meeting with @realdonaldtrump @potus besides what he's done so far with criminal reform, the platinum plan is going to give the community real ownership. He listened to what we had to say today and assured he will and can get it done. 🤙🏾 pic.twitter.com/Q9c5k1yMWfOctober 29, 2020
See more
The White House's official statement commended Kodak Black on his successful career, noting several rappers that supported his release, such as Gucci Mane, Lil Yachty, Lil Pump and many more. The statement read: "Before his conviction, and after reaching success as a recording artist, Kodak Black became deeply involved in numerous philanthropic efforts".
"He has committed to supporting a variety of charitable efforts, such as providing educational resources to students and families of fallen law enforcement officers and the underprivileged."
Since December 2020, Kudzai has worked as a trainee journalist at FUTURE, writing about fashion, entertainment and beauty content for My Imperfect Life.

Kudzai previously worked as a freelance fashion wardrobe stylist, directing magazine photoshoots and coordinating the fashion direction of recording artists.

A fully qualified Journalism and Media graduate from De Mont Fort University, Kudzai graduated in the summer of 2020.