The political statement Zendaya's honey-blonde hair is making
Going blonde was crucial.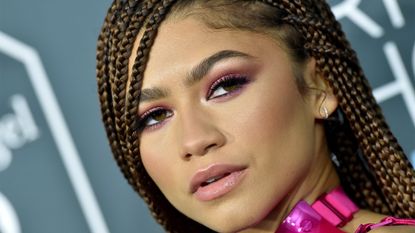 (Image credit: Axelle/Bauer-Griffin /Getty Images)
W magazine's smouldering new cover shoot with Zendaya and John David Washington was always going to break the internet. However, there's more to Zendaya's honey blonde hair than meets the eye. And it's certainly more than simply a whimsical switch up from the natural curly hair the Euphoria actress usually sports.
Zendaya is not adverse to making a statement - like when she corrected an interviewer for asking her what she "looks for in a man" on grounds of gender bias.
According to W's Lynn Hirschberg, who penned the article, Zendaya insisted on being blonde for the Old Hollywood photoshoot with her Malcom and Marie co-star, pointing out: "Her teased bouffant is both a jab at the traditional stereotypes of white women and a way to instantly become someone else. "
When W Magazine released the images on Instagram they captioned the post: "@Zendaya loves transformation. When the world went into lockdown last year, the @Euphoria star quickly became restless; she missed engaging with alternate universes. To scratch that itch, she would often wear different wigs from her vast collection and create characters inspired by them. For her W shoot, being blonde was crucial. Her teased bouffant is both a jab at the traditional stereotypes of white women and a way to instantly become someone else."
Several blonde looks were showcased for the feature. Apparently, the honey-blonde bouffant with yellow hair scarf was inspired by an iconic image of C.Z. Guest, a very tan, very blonde socialite who became the US personification of wealth and privilege.
Zendaya also wore the honey blonde wig with a deep side parting and back combed on the crown. In another shot, she paired it with a thick black headband, the 50s winged-out eyeliner (see our best eyeliner for beginners) adding to the glamorous vibe.
And that's the thing about Zendaya - she looks just as stunning without a scrape of make-up as she does in a high-fashion shoot.
Fiona Embleton is a multi-award-winning beauty editor who has tested over 10,000 products in her 10 years + of writing and shooting beauty stories. For the past four years, she was the Senior Beauty Editor at Marie Claire, having previously worked in the role of Beauty Editor at both Stylist and Cosmopolitan. She has recently gone freelance and alongside My Imperfect Life, she has written for titles including ELLE UK, ELLE Canada, Buro 247, Harper's Bazaar Arabia, Vogue Scandinavia, and ES Magazine. Beauty journalism allowed her to marry up her first-class degree in English Literature and Language (she's a stickler for grammar and a self-confessed ingredients geek) with a passion for make-up and skincare, photography, and catwalk trends. She loves jumping on the latest internet-breaking beauty news, dissecting the best red carpet looks, and having the crème de la crème of dermatologists, make-up artists, and hairstylists on speed dial so she can tap them for the best advice. She's a discerning beauty shopper and knows it can be confusing trying to navigate what's hype and what really works. So if she really likes something, you can trust that she has reached that opinion by vetting it against everything else she's ever tried. Her career highs? Interviewing Cate Blanchett and winning a Jasmine Award for the deeply personal feature Cancer Stole My Mother's Scent.