Garnier Sunscreen SPF 50 Review—this affordable SPF proves there are no valid excuses for not wearing it every day
A beauty expert shares her Garnier sunscreen SPF 50 review—and there's a very good reason dermatologists constantly recommend it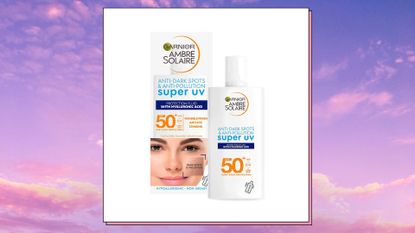 (Image credit: Garnier/Future)
My Imperfect Life Verdict
Lightweight, easy to apply and packed with kind-to-skin ingredients to ensure it nourishes as well as it protects, this sunscreen is worth every penny of its seriously impressive £12 price tag.
Reasons to buy
+

Affordable

+

Lightweight

+

Sits well under makeup

+

Cruelty-free
Reasons to avoid
-

One bottle won't last that long
As a sunscreen-obsessed beauty editor, I've made it my own personal mission to hunt out the very best in affordable, lightweight products—and one of my all-time favorite discoveries of the last few years is Garnier Ambre Solaire Anti-Dark Spots & Anti-Pollution Super UV SPF 50+ (formerly Ultra-Light Sensitive Sun Protection Face Fluid). I love it so much that I am constantly recommending it to anybody who will listen and, as a result, a few of my friends now consider it their favorite, too.
I'm also incredibly aware that finding the best face sunscreen that suits you isn't always the easiest of tasks. But thanks to the impressive development of skincare technology, the barriers that once existed are slowly but surely being broken down. In my opinion, a good sunscreen should be affordable, lightweight, sit well under makeup, and be virtually invisible once dried down and blended into skin—and Garnier's SPF 50 ticks each of those boxes.
My skin sits somewhere between oily and dry and I'm prone to hormonal breakouts, so I always ensure that any sunscreen I try is non-comedogenic (i.e. it won't clog pores). Here is my full, in-depth Garnier sunscreen SPF 50 review…
The need to know
Best for: All skin types
SPF rating: 50+
Key ingredients: Vitamin E, hyaluronic acid
USP/aim: Protect skin from damage caused by harmful UVA/UVB rays and sun-induced dark spots, while ensuring it remains hydrated
How long it lasted: Around a month for one bottle
Consistency/texture: Watery, easy to blend in
Does it leave a white cast? Not once rubbed in properly
A beauty editor's in-depth Garnier sunscreen SPF 50 review
Garnier sunscreen SPF 50+ ingredients
Aside from the sunscreen filters (this one is a chemical formula meaning it absorbs UV rays, rather than a mineral formula which works by deflecting the rays), this product contains hyaluronic acid.
This is popular for a very good reason: it's a super hydrator that's able to hold up to 1,000 times its own weight in water, so it helps to ensure skin remains nourished and plump. It also contains vitamin E which is a powerful antioxidant that works to help protect against free radical damage and reduces visible signs of aging. If you're wondering whether this Garnier sunscreen is safe, the answer is yes, plus it's non-comedogenic, meaning it won't clog pores.
Use: How do you use Garnier sunscreen SPF 50+?
One of the things I love most about this particular sunscreen is how easy it is to apply and how well it absorbs into skin to leave a seamless finish. As well as ensuring that you apply sunscreen every single day—even when it's cloudy outside and throughout winter—it's important to make sure you're applying enough to get the specified level of protection.
Most experts agree that you should apply 2.5ml of product to your face, but an easier way to measure that is to use the "two-finger method". Put simply, that means applying two lines of sunscreen from top to bottom of your index and middle fingers and using that as a guide.
I do find that it's quite runny so you need to act quickly, but it's super easy to then gently press your hands together before rubbing it all over your face. It absorbs quickly, feels lightweight, and is virtually invisible on skin once it's sunk in—it does feel slightly greasy or tacky for a few minutes immediately after application, but that quickly subsides and leaves skin feeling soft and hydrated, ready for makeup application.
Experience: What is the Garnier sunscreen SPF 50+ like to wear?
One of my sunscreen non-negotiables is that it sits well both underneath makeup and on top of my daily skincare (which usually includes an antioxidant serum and a hydrating serum), because there's nothing worse than having the different layers pill and ball up. Thankfully, I've never had any issues with Garnier's SPF 50. Instead, it plays really nicely—it's super comfortable on skin, in fact so comfortable that you'll probably forget you've even applied it.
Depending on how dry my skin feels, I will sometimes apply a moisturizer underneath the sunscreen and that doesn't impact the way it sits on skin, and my foundation always remains looking and feeling flawless. Another huge plus point is that it doesn't leave a white cast: on me, it absorbs almost instantly, and if you do notice any sort of residue after applying it, that does dissipate after a few minutes.
Value: Is the Garnier sunscreen SPF 50+ worth it?
In short, yes, absolutely. The £12 price point is more than reasonable for a product of this caliber. I trust Garnier implicitly when it comes to sun protection, and the fact it's a brand that makes its formulas cosmetically pleasing, easy to wear, and accessible is what sets it apart from other brands.
If you've struggled to find a sunscreen that you enjoy wearing daily, that doesn't create any issues and won't irritate skin or cause breakouts, add this one to your shopping list, pronto.
How the Garnier sunscreen SPF 50+ holds up against others
I think it's important to note that there was a time when this product—at this price point—was an anomaly, but affordable and effective sunscreens are cropping up all the time, and whilst this one remains a firm favorite of mine, Bondi Sands' Hydra SPF 50+ is very similar and is slightly cheaper at £11.
Another similar product is Thank You Farmer's Sun Light Project Light Sun Essence; in terms of texture and ease of application there isn't much difference, but it is more expensive at £24. However, I think that's entirely justified as it offers a better blend of hydration ingredients, thanks to its Korean heritage. Garnier's is also very similar in texture and formulation to La Roche-Posay's Anthelios UVMune 400 Invisible Fluid SPF 50—but at £19.90, the latter is a bit more expensive.
My Imperfect Life's verdict on the Garnier sunscreen SPF 50+
In case it isn't already obvious, or if you're wondering whether or not this Garnier sunscreen is good, the answer is a resounding yes.
Having used up numerous bottles over the last few years, I'm confident that anybody who tries it will like it, and won't be able to find much not to like about it. It's fuss-free, effective, and super reasonably priced—and for me, that's everything that I ask for.
Lucy Partington has been a beauty journalist for eight years, writing for titles including Stylist and Cosmopolitan. She's a true skincare nerd who's on a lifelong quest for a glowing complexion and loves nothing more than learning about new ingredients and products. She's obsessed with having perfect eyebrows and collecting eyeshadow palettes she'll probably never use.