This French SPF changed the way I thought about sunscreen—and now it's an everyday staple
It's a staple in this beauty editor's routine—and our La Roche-Posay sunscreen review breaks down why...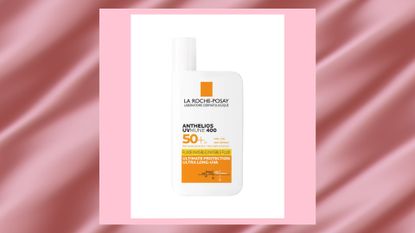 (Image credit: La Roche-Posay / Future)
My Imperfect Life Verdict
Created by the experts in sensitive skin, La Roche-Posay is a brand you can always rely on—and this sunscreen is one of its best products, and for very good reason. Lightweight, a joy to use and with extra high protection, consider this one of the best SPFs on the market.
Reasons to buy
+

Lightweight

+

Sits well under makeup

+

Protects against long UVA-rays
Reasons to avoid
-

One bottle won't last long with regular use

-

Its mid-range price point; there are similar products that cost less

-

Not scented; some may not like the natural smell
La Roche-Posay is one of those brands that can do no wrong. As a beauty editor, I try different brands all the time and, while some are often better than others, it's one that I'm always happy and confident to recommend to just about everybody—as my La Roche-Posay sunscreen review will prove.
It was the first brand that made a noticeable difference to my blemish-prone skin––and so you can imagine how happy I was when I learned that its sunscreen collection was pretty great, too.
Developed and formulated for sensitive skin, La Roche-Posay's Anthelios franchise range launched over 20 years ago, and sitting within that is UVMune 400 Invisible Fluid SPF50+—one of the best face sunscreen buys on the market. The formula, which was reformulated and relaunched in 2022, is suitable for all skin types and promises to be invisible on the skin while offering very high protection—but how does it fare? Here's our La Roche-Posay sunscreen review…
The need to know
RRP: $31.99 for 1.7 oz
Best for: All skin types, including sensitive
SPF: 50+
Key ingredients: Silica, glycerin
USP: To protect skin against UV-induced damage and against UVA, UVB and long-UVA rays emitted from the skin
How long the bottle lasted: Around four weeks
Consistency/texture: Watery/fluid
White cast? No
A beauty editor's La Roche-Posay Anthelios sunscreen review
La Roche-Posay sunscreen ingredients
It's fair to say that the main focus of La Roche-Posay's Anthelios sunscreen is to protect the skin against the harmful UV rays emitted from the sun. That means, unlike some formulas, it doesn't promise any additional benefits besides its protective properties.
However, that's not necessarily a bad thing, especially when its core focus is on the UV filters used. Alongside those filters that protect against UVA and UVB rays, it contains an exclusive one called Mexoryl400, which defends against ultra-long UVA rays (said to make up 30% of the UV spectrum). And it's those ultra-long rays that penetrate deeper into the skin than UVA and UVB, meaning they cause more significant damage to collagen structures—in turn, that can cause everything from wrinkles and sagging to pigmentation and sun spots.
It's also worth noting that, while the brand doesn't market this as a hydrating product, the formula does contain glycerin, a naturally occurring humectant that helps skin retain moisture. And if you're wondering, this La Roche-Posay sunscreen is safe for anybody.
Use: How do you use La Roche-Posay Anthelios sunscreen?
One of the main things I like about this sunscreen is that it's so easy to apply. A pleasant experience, its fluid texture absorbs and blends into the skin like a dream and feels virtually weightless once rubbed in, leaving skin feeling fresh and comfortable and with a healthy-looking, lit-from-within glow. As for whether you apply sunscreen or moisturizer first, it's always the last step in your skincare routine before makeup.
It might take a few uses to get to grips with how runny and watery the formula is, but that won't take long to figure out. I personally find it best to either apply it using the two-finger method—which means applying product from the tip to the bottom of your index and middle fingers before rubbing it in—or by liberally squeezing it into one hand, gently patting them together and then applying it to my face. Experts agree that you should apply around a 2.5ml of product for your face and ears, but there's no such thing as too much, so always be generous with application to ensure you're getting the right amount of protection.
Experience: What was the La Roche-Posay Anthelios sunscreen like to wear?
One of the main excuses I hear regarding why people don't wear sunscreen every day is because it feels heavy, greasy, or oily on skin—but this one is none of those things. It does feel a little bit tacky when it's first applied, but that quickly subsides and once it's dried down it's all but invisible; it doesn't leave a white cast and it plays really well with skincare and makeup.
I apply it on top of my usual antioxidant serum and underneath my best foundation, and I've never had any issues with it pilling, so it should work well with the best vitamin C serums or best hyaluronic acid serums, for example. I also like that it's a non-comedogenic formula, so it won't ever clog pores and cause further breakouts. It's also been rigorously tested on the most sensitive of skin types, so you can rest assured that it won't cause any irritation. However, one thing to be aware of is that the bottle needs a good shake before application—you'll hear a little ball inside that helps to ensure the formula is adequately combined.
Value: Is the La Roche-Posay Anthelios sunscreen worth it?
As somebody who's fussy about their sunscreen but who's tried and tested hundreds of different formulas, I can safely—and confidently—say that La Roche-Posay Anthelios sunscreen is one of the very best, and I don't think you'll be disappointed if you try it.
The only slight sticking point is that it does smell quite strongly of "traditional" sun cream, and while that's not something that really bothers me, it's definitely something to be aware of.
How it holds up
There's a very good reason why this sunscreen is a bestseller for La Roche-Posay (and why it was the number one selling mass product in UK retailer Boots last year), but there are cheaper—similar—products available depending on your budget. At just over $30, I'd still call it affordable, but I appreciate that e.l.f.'s Suntouchable! Whoa Glow SPF30 is less than half the price at $14.
Byoma SPF 30 Gel Moisturiser is also a steal at only $18.99. However, while each of these buys may be similar in texture, I don't think you can get anything that quite compares in terms of the filters at the same price as La Roche-Posay's sunscreen.
My Imperfect Life's verdict on the La Roche-Posay Anthelios sunscreen
Overall, I can't fault this La Roche-Posay sunscreen at all—it offers incredible protection against the sun's most harmful rays, it's been tested on even the most sensitive of skin types, it's lightweight, easy to apply, works well as a makeup primer and doesn't pill when applied on top of other skincare. It's truly second to none, and the $32 price point is extremely reasonable and fair, if you ask me.
Lucy Partington has been a beauty journalist for eight years, writing for titles including Stylist and Cosmopolitan. She's a true skincare nerd who's on a lifelong quest for a glowing complexion and loves nothing more than learning about new ingredients and products. She's obsessed with having perfect eyebrows and collecting eyeshadow palettes she'll probably never use.