I can't believe I've not tried this Bondi Sands sunscreen before—but I'm now obsessed with its glow-giving formula
A beauty expert shares her Bondi Sands Sunscreen Lotion SPF50+ review, detailing why this Aussie staple is such a crowdpleaser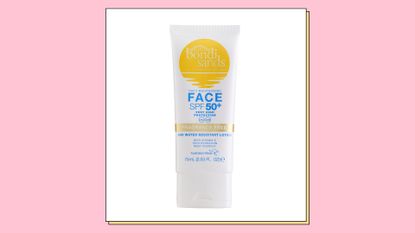 (Image credit: Bondi Sands / Future)
My Imperfect Life Verdict
As my glowing review makes clear, I really love this super affordable sunscreen. The price is definitely a key selling point, but for me, its gentle fragrance-free and hydrating formula is what makes it. Additionally, the formula doesn't get in the way of makeup wearing and only adds to your glow.
Reasons to buy
+

Sits well under makeup

+

Fragrance-free

+

Hydrating formula

+

Imparts a nice glow to skin
Reasons to avoid
-

Some may prefer something fragranced

-

The glow could leave some skin types feeling oily not glowy
I've done my fair share of searching high and low for a roster of sunscreens that I can always rely on. Unsurprisingly, it's not been easy to find a sunscreen that moisturizes my normal-to-dry skin and doesn't leave a white cast.
However, that was until I wondered, "is Bondi Sands good?" to which a friend gushed over how much of a game-changer it's been in his daily makeup routine. Admittedly I'd neglected a bottle hidden in my stash, but I jumped at the chance to try it after the conversation—intrigued to see if it was truly one of the best face sunscreens.
The Bondi Sands sunscreen is formulated with an array of hydrating ingredients, from aloe vera to vitamin E, to not only keep skin feeling plumped and hydrated but also to protect and repair. If these product specs tick any of your boxes for a new sunscreen, read on for my full Bondi Sands sunscreen review.
The need to know
RRP: $9.99
Best for: All skin types
SPF rating: 50+
Key ingredients: Aloe vera, vitamin E
USP: Hydrating, water-resistant, UVA & UVB protection
Consistency/texture: Lightweight lotion
White cast: No
A beauty editor's honest Bondi Sands Sunscreen Lotion SPF 50+ review
Bondi Sands Sunscreen ingredients
Is Bondi Sands sunscreen safe? The brand boasts a hydrating water-resistant formula—which claims to deliver up to 72 hours of hydration and up to four hours of water resistance—with soothing Aloe vera and antioxidant vitamin E to leave skin feeling deeply moisturized. It provides a high level of protection against both UVA and UVB rays. So this is definitely a sunscreen to add to your list.
The fragrance-free formula is also available in both a tinted and fluid version. As the formula is free from other irritants, the brand markets it as being suitable and gentle enough for all skin types. The lotion is non-sticky and effortlessly absorbs into the skin, leaving no white cast in its wake.
How do you use Bondi Sands sunscreen?
I found this sunscreen to be incredibly easy to use, as it sinks into the skin in just a few swipes. I also found the lotion formula to be easier to apply than very fluid sunscreen formulas, as it stays put without any runniness. The packaging is also super informative, providing three easy steps on how to apply, which are as follows.
Step 1: Shake well before use.
Step 2: Apply liberally and evenly to all unprotected areas 15 to 20 minutes before exposure to the sun.
Step 3: Re-apply every two hours, or more frequently when sweating or after swimming, exercise, or towel drying.
During my morning skincare routine, I'll usually begin by using a cleanser, serum, and eye cream, and then go in with a moisturizer followed by sunscreen. That said, I've recently found myself skipping moisturizer in favor of sunscreens that offer a great amount of hydration and protection.
This formula leaves a really nice standout glow on the skin, which looks nice alone or underneath makeup. When it comes to how much sunscreen you should be applying, Dr. Hiba Injibar, consultant dermatologist at Dermasurge Clinic says: "It's recommended to apply 2 milligrams of sunscreen per square centimeter of exposed skin. A better way of remembering is to follow the 'two-finger rule'—apply enough sunscreen to cover two fingers on the area being protected."
She adds: "Ensure your sunscreen is a minimum SPF 30+ for maximum protection. Most people tend to apply less sunscreen than required, resulting in an SPF lower than the labeled value."
What is the Bondi Sands Sunscreen like to wear?
I've found myself gravitating toward the Bondi Sands sunscreen on almost a daily basis over the past few weeks. The hydrating formula has done wonders for my normal-to-dry skin type—so I'd also deem it one of the best sunscreens for dry skin—leaving it feeling hydrated and looking glowy from start to finish.
As mentioned, I like how well it sits with other skincare products and with makeup over the top. In the past, I've found some sunscreen formulas to be a hassle with makeup that wasn't a cream formula due to pesky pilling. However, I'm happy to report that, no matter the formula of your makeup products, from powders to liquid, there's no budging or pilling.
Is Bondi Sands Sunscreen worth it?
Is Bondi Sands sunscreen good? Well, it certainly exceeded all my expectations and has rightfully earned a place front and centre in my skincare routine. At less than 10 bucks this is also one of the more affordable sunscreens currently on the market and is definitely worth adding to your roster. I'd implore you to seek it out and test it for yourself.
How does the Bondi Sands sunscreen hold up?
There aren't many sunscreens on the market that hold up to the Bondi Sands Sunscreen Lotion SPF50+ when factoring in price, its high protection factor and the fact that it's not only hydrating but leaves an added glow to the skin.
However, a few that do factor in most of the Bondi Sands sunscreen USPs include Escentual's Sunscreen SPF 50+ which at £11.92 for 50ml is pretty on par and sinks into the skin for a hydrating finish with no white cast. The sunscreen is also part of Escentual's sun poverty initiative to fight growing skin cancer cases in the UK by donating thousands of sunscreens to children on free school meals, providing sun safety education, and leading a campaign to abolish VAT on children's sunscreen to parliament.
Another similar product that I rate is Glossier's Invisible Shield which feels as lightweight as a serum and absorbs really gently into the skin. It's another sunscreen that looks nice on its own or underneath makeup. However, despite similarities, Glossier's sunscreen is a protection of SPF 30 for a 30ml bottle at $25.
My Imperfect Life's verdict on the Bondi Sands Sunscreen
If my glowing review didn't make it clear, I've really been enjoying this Bondi Sands sunscreen. The price is definitely a key selling point for me but overall, its gentle fragrance-free and hydrating formula is what makes it.
Additionally, as I'm someone who wears makeup on a weekly basis, I really like that the formula doesn't get in the way of that and, if anything, adds to my glow.