Pangaia: we've found the coolest sustainable fashion brand ever
We tried and tested Pangaia's sustainable offering...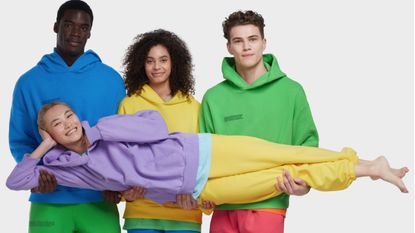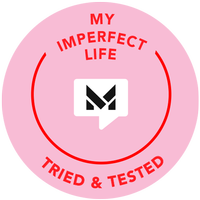 (Image credit: Pangaia)
My Imperfect Life Verdict
Introducing Pangaia, your new go-to brand for simple and chic loungewear essentials. A guilt-free that buy you won't regret.
Reasons to buy
+

High-quality materials

+

High-tech fabrics and techniques

+

Sustainable and ethical on all fronts

+

Wide range of classic and on-trend colors
Reasons to avoid
-

Can be expensive when compared to similar style brands

-

Few options in design
The search for brands that are as stylish as they are eco-friendly is a minefield— thankfully we've discovered Pangaia, where elevated staples in a wide array of colors sit alongside some rather impressive sustainability credentials.
Pangaia isn't just one of the best sustainable fashion brands, it's a movement. Launched in 2018, the materials science label focuses on solving environmental issues of the fashion industry through technology. The collections usually differ in fabrics and colors but not so often in styles. Think loungewear and sportswear but make it cool: hoodies, T-shirts, shorts, track pants.
Their latest launch is the Pangaia Gym collection and we're still kind of obsessed with the grape leather trainers (yes, you read it correctly) which sold out in just one day of pre-order. Seaweed fibers, recycled materials, vegetable dyes, flower petals are just some examples of how engaged Pangaia is in sustainability.
Prices range between $50 (£40) for their organic cotton cropped t-shirts and $149 (£117) for their hoodies. The fabrics and technologies are a constant change in their collections and these are reflected in the price. The same T-shirt style in organic cotton is $55 (£44) and in seaweed fibre $85 (£67). Their grape leather trainers are $245 (£194) and the flower down puffer jackets are between $590 (£428) depending on the length, quite expensive if compared to similar models from other brands—but they don't need the same amount of time, research, and technology as the Pangaia ones. Their collections usually sell out quickly and are available exclusively online through their website.
Pangaia: the collections
Aligned with its values, the brand's main source of inspiration is the environment. Every collection brings nature's elements in different aspects. Their most recent launch was the grape leather trainers range, which is zero-waste. With the Desert, Coral Relief, Pastel, Ocean, and 7 Pop Colors collections, they introduced new colors and tones to their signature styles. But they've also developed new fabrics and brought other natural ones into their mix, dedicating one collection for each: seaweed fiber, and linen. The Relaxed and Cropped collection brought a modern twist to their traditional styles with raw hems and oversized pieces.
Pangaia's also partnered with JUST, a water business that sources water sustainably, using only spring and excess water the community doesn't need. They launched some of the brand's classic styles in JUST's signature shade of blue.
Pangaia: the latest activewear launch
Innovation is at the heart of Pangaia, and they're constantly looking at new ways to bring something to the table. The latest is the launch of a new activewear range called Pangaia Gym and sees the addition of bio-based nylon and stretch yarns crafted into some seriously cool activewear.
The brand "sees a future of activewear that is renewable, biobased, and more circular" and this range has been "predominantly made from renewable resources with the end product being 90% or more biobased".
The many styles at Pangaia
Pangaia's signature styles are the sort of thing that forms the basis of any capsule wardrobe, think hoodies, track pants, sweatshirts, shorts, and T-shirts.
They've recently added new fits and crops to their classics with their Relaxed and Cropped collection. All of the brand's products have a signature phrase specifying the materials and techniques used in their production. When it comes to accessories, they also have an organic cotton hat model and those grape leather trainers.
Following the success of their 7 Pop Color range, they introduced notebooks in the same shades. Of course, these are also completely sustainable: all paper is produced from bamboo fibers and sugar cane production waste, it's a tree-free product (in lovely colors!).
Pangaia is super comfortable
You can't expect anything less than super comfy and cozy clothes from a brand that focuses on loungewear. If you aren't sure about their alternative materials, we can assure you they are as great for your skin as they are for the environment. The seaweed collection feels like soft cotton and has been treated with antibacterial peppermint oil as a finishing treatment to keep your garment fresher for longer—it doesn't smell like peppermint oil in case you were wondering.
The hoodies, track pants, shorts and sweatshirts are cozy and lightweight in a fabric that's similar to French Terry, made from a mix of recycled and organic cotton. And, they are now restocking their signature styles in a heavier fabric with a slightly more structured fit, which is perfect for colder months.
Materials and Technologies
Apart from organic cotton, Pangaia uses a range of different materials they've developed throughout the years. Turning to the wine production water waste, the brand decided to come up with ways to minimize it and create something new. As a result, they're now venturing into footwear with their minimalist grape leather trainers. These are made from repurposed waste from the Italian wine industry, recycled rubber soles from industrial scrap, and bio-based water glue.
From shoes to outerwear, the brand developed wildflower down for its puffer jackets. Responsibly sourced flowers, a biopolymer, and aerogel are combined resulting in a durable and high-performance material. Due to its nature, it's a better, hypoallergenic, and cruelty-free alternative to regular down jackets.
Another unusual material the brand uses is seaweed. Sourced in Icelandic Fjords, the dried seaweed is crushed into a powder to later become a carbon-neutral and biodegradable fiber. The fabric is also treated with peppermint oil to keep it fresh for longer, reducing water waste. It can be used up to 20 times before you wash it due to its antibacterial properties, according to Amanda Parkes, the chief innovation officer, and scientist. This collection was a huge success and they later introduced new colors.
When it comes to colors, one of the brand's main characteristics and all dyes are environmentally friendly. To reduce water use through the process, they use a recycled water system, making it more sustainable.
Pangaia & philanthropy
If you still need any more reasons to shop at Pangaia, we're giving you a couple more: the brand's philanthropic activity. Pangaia partnered up with SeaTrees, a blue-carbon (meaning carbon stored in coastal and marine systems) platform to plant one mangrove tree for each product sold. Just one mangrove tree can restore one ton of CO2. This activity is currently taking place in Biak Island, Indonesia.
They're also working with Milkywire to raise awareness about the bee's importance in our ecosystem. Besides launching the Bee The Change fund that has raised $46,265 so far and aims to protect and preserve pollinator species around the world, Pangaia created a collection of 3 T-shirts and is donating 10% of its proceeds to this same fund.
Manuela is a Brazilian fashion & lifestyle stylist and writer, based in London since 2016. After working in different areas within the fashion business, both in the UK and in Brazil, she no works in fashion and media magazines in the UK. Passionate about all things culture-related, traveling and scuba diving.