Best pillows for sleep: our tried-and-tested picks
These are the softest, snuggliest, best pillows for sleep. Get ready for serious snoozing.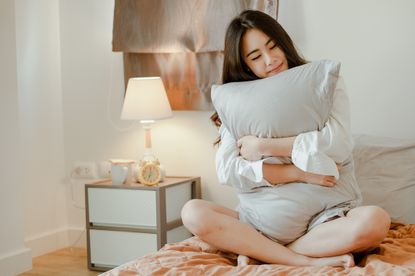 (Image credit: Getty)
Looking for the best pillows for sleep? All of our snooze cycles could benefit with a fresh set of super-snuggly pillows specifically made for better sleep. There's a wide variety of different pillows for different sleeping types to choose from, and we've tracked down the very top pillows—from brands like Tempur-Pedic, Purple, Casper, Amazon, and Beckham—at a range of prices.
Pillows, one of the best sleep aid products you can buy, come in a variety of sizes for different bed types. There are standard, queen and king sizes available, and while not all pillows come in a set of two, buying an option that does can save you money.
Choosing the best pillow for your sleeping type is an important decision. It can support your neck and give you the optimal level of firmness for your preference. While it's possible to find some great cheap pillows, it is worth splashing out on something to-quality that will last long-term, especially since you're using it every night. Something else that will make your pillow last is regular washes, so check if it's machine washable when you buy.
If you're sensitive to dust and dander or experience allergies, look out for a hypoallergenic pillow for the optimal night's sleep. For everything else related to the best pillows for sleep, read on!
---
---
The best pillows for sleep to add to your bed
1. The Purple Plush pillow
Traditional-style pillow, but with an adjustable twist
Specifications
Machine washable: Yes
Filling: "Smart fluff" poly fiber
Sizes: Standard & King
Reasons to buy
+
Cooling
+
Breathable
+
Adjustable firmness
The Purple Plush pillow is filled with "smart fluff": Purple claims that the interlocking poly fiber ball technology won't clump or go flat, which means you'll have optimum support at all times. This pillow is cooling, too. It has a Lyocell-blend cover that's designed to be breathable all through the night.
What sets the Purple Plush pillow apart is its smart adjustable feature. Simply unzip the sides to make the pillow softer, and or zip them up for a firmer feel. This pillow is also non-toxic, which is always a bonus when you're resting your head on it all night long. The RRP is $49 (standard size), although if you're ever considering purchasing a Purple mattress it's often added for free. It's available in standard and king sizes, suitable for any bed type.
2. AmazonBasics customizable down-alternative pillow
A cheap and cheerful set of two pillows, in any size you need
Specifications
Machine washable: Yes
Filling: Synthetic polyester fiber
Sizes: Standard, Queen & King
Reasons to buy
+
Inexpensive
+
100% cotton
+
Set of two
The AmazonBasics customizable down-alternative pillow is a set of two. It has synthetic polyester fiber balls that work to replace the feel of real feather down but without the allergens. This hypoallergenic pillow allows you to remove fiber balls to customize the loft level and not strain your neck, but it's not going to be as firm as some of the alternatives.
Available in standard, queen, and king sizes, this pillow is reasonably priced given that it comes in a set of two. Its shell is designed to bounce back, and has an extra-soft finish.
3. Casper pillow
Could this be the best pillow ever? If you sleep hot, it might well be
Specifications
Machine washable: Yes
Filling: Microfiber
Sizes: Standard & King
Reasons to buy
+
Two-level design
+
Breathable percale weave
+
Good return policy
The Casper Pillow is a two-in-one. It has a supportive inner pillow and a soft, comfortable outer layer, which is great for those who don't want their pillow too firm but who also want it to stay plumped through the night.
This pillow is microfiber, and it's a great alternative to down with plenty of support. The microfiber will also keep it cool as you sleep, which makes it an ideal choice for hot sleepers. It's also machine washable and has a removable outer layer. This pillow isn't the cheapest, at an RRP of $65 (standard size) and $85 (king size).
4. Tempur-Pedic Tempur Cloud original bed pillow
Get quick relief with this pillow for neck support and back comfort
Specifications
Machine washable: Cover only
Filling: Memory foam
Sizes: Standard & King
Reasons to buy
+
Firm back and neck support
+
Can be folded for travel
+
Will always bounce back
Reasons to avoid
-
Not your standard pillow
The Tempur-Cloud Pillow has a memory foam filling that's designed to offer extra firm and bouncy support, with no squashing. It's great for those struggling with neck pain, and it can be folded up for travel. The outer layer is breathable and can be removed and washed, but the memory foam filling is not washable.
This pillow doesn't act or feel like your regular one, and it will take some time to get used to. It's extra supportive and designed for optimal neck alignment, no matter your sleeping type. The standard size has an RRP of $89, and the king size is $119. That's expensive, but it's what you can expect to pay for memory foam.
5. Beckham Hotel Collection gel pillow
This pack of two is reasonably priced and hypoallergenic
Specifications
Machine washable: Yes
Filling: Down alternative
Sizes: Queen & King
Reasons to buy
+
Hypoallergenic
+
250 thread count
+
Machine wash and dry
The Beckham Hotel Collection gel pillows come in a pack of two, which makes them pretty reasonably priced at $37.99 for a queen-size pair and $59.99 for a king-size pair. These pillows are made of a down alternative that's resistant to dust mites and they are hypoallergenic.
Another major pro of these pillows is that they can be washed and dried in the machine, making them really easy to maintain. And these pillows are soft—they can be used by stomach, side, or back sleepers without any neck issues, and they're also designed to maintain their shape as you use them.
Millie is a staff writer for RealHomes.com—joining in 2021, after working at TopTenReviews as a Staff Writer. She is constantly on the hunt for the latest (and best) kitchen appliances, and reviewing these products hands-on. As a baking enthusiast, Millie's job at Real Homes is the perfect excuse to cook up an endless supply of snacks. When she's not in the kitchen though, she loves knitting and exploring the country with her black Labrador.