Best sleep trackers to help you keep tabs on your zzz's
The best sleep trackers around will help you learn about the duration and quality of your sleep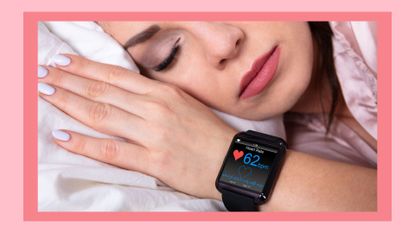 (Image credit: Getty)
When it comes to self-improvement, sleep is often forgotten—the best sleep trackers on the market will thankfully change that. Around one-third of our day is spent asleep, so it seems silly to overlook refining our sleep routine as much as we do our workout schedule or daily diet. We need to work out how to get better sleep and how to create the perfect sleep environment.
Sleep trackers are some of the best sleep aid gadgets available for learning about your zzzs. These useful gadgets monitor your slumber, providing you with data such as how many hours of sleep you get per day, the number of times you woke up during the night, and your heart rate. You can even deduce what sleeping position is best for you based on the depth of your slumber while lying on your back, side or belly. Many trackers then use this information to suggest changes you can make to experience deeper and more restful sleep.
So slap on the best sleep mask you've got and get tracking!
How we tested the best sleep trackers:
Trying out the best sleep trackers was so dreamy, we could've done it in our sleep. Oh, wait…we did! Choosing which products to test, however, was done fully conscious. Our selection was based on the best sleep trackers on the market to date, as well as some newer products in need of testing. Sleep trackers can be incorporated easily into your night routine as one of the best sleep aids.
Our trial consisted of using each tracker for at least two nights of sleep, in order to ensure they collected enough data and, if they gave any recommendations for sleep improvements, we had time to implement them.
During our tests, we assessed the following:
Comfort
Amount and type of data collected
Price point
Multifunctionality
Ease of use
Accuracy
The best sleep trackers to add to your night routine
1. Fitbit Versa 3
The best sleep tracker for most people
Reasons to buy
+
Good information on sleep stages
+
Attractive design
+
Good battery life (up to 6 days)
+
Multifunctional
Reasons to avoid
-
You have to wear it all night
-
You have to pay for Fitbit Premium to get extra information
Along with being a great fitness watch, the Fitbit Versa 3 also offers insightful sleep data. This includes a sleep score out of 100, a breakdown of your sleep cycles so you know when you were in light, deep or REM sleep, and your estimated oxygen variation so you can watch out for breathing issues. Those who purchase the Fitbit Premium subscription will also be able to see their restlessness information and sleeping heart rate.
The data is easy to access. You just wear your watch while you sleep (you can put it into sleep mode but if you forget, it will recognize when you've fallen asleep anyway) and then open the sleep section of the app to check out the information it has collected. While some sleep trackers can present this in a confusing or boring way, the visuals in the Fitbit app make it clear as day.
2. Withings Sleep
The best sleep tracker that's not wearable
Reasons to buy
+
Easy one-time set-up
+
No need to wear anything in bed
+
Wide range of data
Reasons to avoid
-
Pricey for a single-function device
-
Only works for one person
-
Requires a plug socket near your bed
If you find wearing a watch while sleeping a nuisance, the Withings Sleep might be a good choice. There's no need to don any devices—you simply slip the slim mat under your mattress and leave it there. It uses sound and pneumatic (breathing, heartbeat and movement) sensors to collect the data while you sleep. This can help you navigate your bedtime routine and alter it accordingly so you can decide, for example, if you should do things like exercise before bed.
Being a dedicated sleep tracker, it monitors a wide range of factors—sleep duration, sleep cycles (deep, light and REM phases), heart rate, sleep quality (scored out of 100), snoring duration, sleep regularity and breathing disturbances—and presents them to you in the 'Timeline' section of its Health Mate app. It also suggests things you can do for a better bedtime and a better morning.
The Withings Sleep doesn't ever need charging, as it plugs directly into the mains. While this is useful, it can pose a problem if you don't have an outlet near your bed.
3. Oura Ring
The best sleep tracker that's basically jewelry
Reasons to buy
+
Excellent battery life (4-7 days)
+
Attractive
+
Small and discreet
+
More in-depth data and analysis
Reasons to avoid
-
Pricey
-
Can also track fitness but not very accurate
This personal health tracker is great for those who want a wearable device but find it annoying to sleep wearing a bulky watch or wristband. A compact titanium ring the size of your average wedding band, it's unobtrusive enough that you forget you're wearing it.
The Oura Ring uses an accelerometer to detect body movement, two sensors that track your skin temperature, and infrared light and accompanying sensors to monitor your respiratory rate, heart rate and heart rate variability.
All this data appears in the product's app, where you'll also find an in-depth analysis that includes a sleep score and a 'readiness' score that shows you how rested and ready you are for the day, as well as identifying problems with your sleep, ideas about why they might be happening and suggestions for improvement.
4. Garmin Vivosmart 4
The best sleep tracker to log your breathing
Reasons to buy
+
Good battery life (Up to 7 days)
+
Compact
Reasons to avoid
-
Fewer insights than other trackers
-
Naps not added to data
While sleep tracking previously wasn't a focus for Garmin, it has now added and started developing this feature in its more recent models, hoping to rival Fitbit. The slim and discreet Vivosmart 4 uses a heart-rate sensor to track sleep cycles and a SpO2 monitor, which tracks blood oxygen saturation levels, to offer useful insights into your sleep and sleep quality.
The latter is especially helpful as, if lower than average, it can highlight signs of respiratory issues such as sleep apnea. While the Vivosmart 4 doesn't offer much in the way of advice, it does offer guided breathing exercises that can help if you're struggling to get some shut-eye.
5. Beddit 3.5 Sleep Monitor
The best sleep tracker for snorers or hot sleepers
Reasons to buy
+
Wide range of data
+
Can track bed temperature and humidity
+
Easy one-time set-up
+
No need to wear anything in bed
Reasons to avoid
-
Pricey for single-function device
-
Sits on top of the mattress
-
Android not supported
-
Requires a plug or USB socket near your bed
Beddit's technology must be pretty good since Apple snapped it up and bought it in 2017. The Beddit 3.5 is the latest model and certainly offers a wide range of sleep data. Among other things, its app can provide data about sleep cycles, sleep time, heart rate and whether you've been snoring. It also tells you the temperature and humidity levels in your bed so, if these are too high or low, you can make adjustments for a better sleeping environment. This will help you appreciate the benefits of sleep.
Similar to the Withings Sleep under-mattress pad, there's no need to wear anything to use this dedicated sleep tracker. The Beddit 3.5's slim pad, however, sits beneath your sheets but on top of your mattress, making it slightly more noticeable.
How to choose the best sleep tracker for you:
With various types of sleep trackers out there, you should consider a few things when picking the one for you.
Should a sleep tracker be wearable or not?

Many trackers come in a wearable form, such as a watch or a ring, but if you don't fancy sleeping with one on, there are non-wearable options that sit on or under your mattress, or on your bedside table.
How is my sleep measured?

How your sleep is measured depends on the device. Most wearable trackers use your heart rate and body movement to monitor your sleep stages throughout the night. Some also use body temperature and noise. Non-contact sleep trackers, such as those that go on your nightstand, usually rely on light, temperature, and motion sensors to decide whether you're asleep or not.
Dedicated sleep trackers vs multifunctional: which is better?

You can buy gadgets that have the sole purpose of measuring sleep or multifunctional ones, such as smartwatches and fitness trackers, that also monitor exercise, offer breathing exercises, play music, and receive text and social media notifications. Or you can try apps such as Wave Sleep which trains your brain to sleep better.
What else does my sleep tracker do?

Some sleep trackers give more in-depth information than others, from heart rate and waking times to periods of restlessness and advice for improving your sleep.
You can also buy gadgets that will help your night such as the best sleep mask or comforting smells that will help you drift off to sleep faster.
Victoria is a freelance journalist with eight years of experience, writing everything from reviews and news pieces to meaty features for various online and print titles — including easyJet Traveller and b.inspired. Her work covers travel, lifestyle, health, and fitness. In her spare time, Victoria performs improv comedy and she's currently training to be a PT.