The best sex toys for couples 2022—tried and tested
Play your way to a simultaneous orgasm using the best sex toys for couples on the market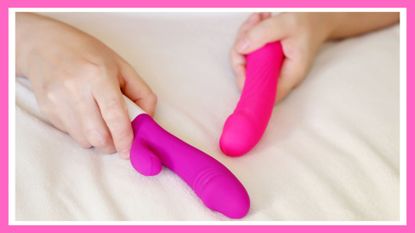 (Image credit: Getty)
There seems to be some outworn rumor out there that adding toys into your sex life means it's somehow in need of "rescuing." But the best sex toys for couples are great for adding some extra fun and adventure to anyone's intercourse—no matter how spicy it is already. Plus, there's the fact that they can help you to reach the big O, which can be difficult for some 50% of women to achieve from penetration alone.
Even if your lovemaking is in need of a little resuscitation, there's no shame at all in bringing these sex toys for couples into the mix. After all, what's sexier than someone having the confidence to see an issue and find a way to rectify it? We love a self-assured, proactive queen or king!
In fact, more and more couples are discovering the joy of incorporating toys into their between-the-sheets time—a fact that's backed up by the sheer number of them on the market. We put them to the test with our partner to figure out which are the best sex toys money can buy that will help you to achieve mutual pleasure.
Below, you'll find more premium options, options for those on a smaller budget, and more adventurous toys for couples ready to take the next step. The result? We found the Picobong Transformer was hard to beat when it comes to versatility, while the Lelo Tiani 3 is a winner for use during penetrative sex.
The best sex toys for couples to try out:
1. Lelo Picobong Transformer
The best sex toy for most couples
Specifications
Power source: Rechargeable
Material: Body-safe silicone
App-controlled: No
Waterproof: Yes
Reasons to buy
+
Can provide simultaneous pleasure
+
Very flexible
+
Several sex toys in one
+
Gender-neutral
Reasons to avoid
-
Buttons can be hard to find
"Transformer" is a very apt name for this versatile toy from Lelo. A dual-ended vibrator, it has two bulbous heads joined by a pliable but sturdy neck. It's 25 inches long, but don't be alarmed, that length is there to increase its adaptability. You can bend and twist the toy into all sorts of contortions, basically creating several toys in one.
You'll get the best out of the Transformer if you let your imagination run wild: you can play with it internally, you can play with it externally; two partners can share the toy, using one end each; those with penises can insert one end to massage the prostate and curl the other end up against the testicles; those with vaginas can insert one end to hit the G spot and bend the other to pleasure the clit, and so on.
With all these contortions going on (it's probably not the best vibrator for beginners, FYI), you do have to be careful to keep track of the controls. The buttons are only on one side of the toy, located on the head. Since you can use it this way, that way, twist it round and insert both ends, you can easily forget where the controls are and have to fumble around to find them, which can be frustrating.
Nevertheless, the Picobong Transformer's unparalleled versatility and pleasingly powerful vibrations mean it's an Optimus Prime example (sorry) of a great sex toy for couples, whatever the gender or anatomy of those involved.
2. Lelo Tiani 3
The best premium sex toy for couples
Specifications
Power source: Rechargeable
Material: Body-safe silicone
App-controlled: No
Waterproof: Yes
Reasons to buy
+
Pleasures both partners
+
Remote control
+
Very adjustable
+
Beautiful design
Reasons to avoid
-
Doesn't always stay in place
-
SenseMotion Technology a bit glitchy
Perfect for use during penetrative sex, the Tiani 3 is a U-shaped toy that wraps around the vagina, with one arm resting on the clitoris and the smaller internal arm putting pressure on the G spot. We had fun playing with it during foreplay, but this toy really, erm, comes into its own during intercourse.
With the Tiani 3 in place already, a penis-wielding partner can then insert themselves inside their partner's vagina, with the toy's internal arm running along the top of their shaft (if in missionary, that is), and thrust as normal. It does feel a little snug at first, but you quickly get used to it. The wearer can then feel internal and external vibrations, as well as their partner's penis, while their partner can enjoy added vibrations on their shaft.
Happily, the Tiani 3 can be controlled with an external remote (as well as buttons on the toy itself), which means you can change its settings without having to adjust the toy or ruin the moment—making it a great hands-free vibrator. The remote is also enabled with SenseMotion Technology, which means you should be able to adjust the settings with just the flick of your wrist, but we found this a bit glitchy.
3. Lovehoney Bionic Bullet 5 Function Vibrating Cock Ring
The best budget sex toys for couples
Specifications
Power source: AAA battery
Material: Body-safe silicone
App-controlled: No
Waterproof: Partly
Reasons to buy
+
Affordable
+
Pleasures both partners
Those looking for a toy that pleasures both partners at once should give this Lovehoney cock ring a try. People with penises will enjoy its dual rings—one larger one that goes around and behind the testicles, one smaller, beaded one that goes around the shaft—those with a clit will receive vibrations from a small set of rabbit ears.
The vibrations come from a removable bullet, which is both good and bad. This essentially means you get two sex toys for the price of one, but it also means that the vibrations aren't as direct or as powerful as they would be if the motor was integrated.
Nevertheless, this Lovehoney cock ring still provides orgasm-inducing sensations to both partners, while also increasing erection strength and duration. It's also one of the most affordable options in our round-up, so it's one of the best sex toys for couples on a budget.
4. Lovense Hush 2 Butt Plug
The best anal sex toy for couples
Specifications
Power source: Rechargeable
Material: Body-safe silicone
App-controlled: Yes
Waterproof: Yes
Reasons to buy
+
Powerful
+
App-controlled
+
Unlimited vibration patterns
+
Different sizes offered
Reasons to avoid
-
Slightly difficult to remove
-
Noisy when using powerful settings
The Lovense Hush is the world's first app-controlled butt plug (what a claim!) and seems to be the most powerful one on the market too, making it one of the best-app controlled sex toys in our round-up. Butt plug beginners will be pleased to know that it comes in two different sizes: small (1.5 inches) and medium (1.75 inches). If the small still seems intimidatingly big though, try the Hush 2, which offers an extra-small option (one inch). For testing, we opted for the small size in the original Hush.
Using the button at its base, you can cycle through three vibration speeds and four patterns, but one of the particularly great aspects of this toy is that you can control it through the Lovense app, which is especially handy for a butt plug. So, as with all of Lovense's toys, either the toy wearer, the user's close-range partner, or someone halfway across the world can be in charge of the toy.
Happily, the app offers unlimited vibration patterns that are totally bespoke to you and whatever gets you off too, which we enjoyed. One downside is that, while the toy is purposefully designed with a spiraled neck to trap lube and to ensure it stays put during use, we did find it slightly difficult to remove once we'd finished. Not ER-level difficult though, mind you—and nothing a good tug couldn't solve. Despite this, we'd say that, overall, this toy is a great option if you and your partner want a butt plug for the bedroom.
5. Lora DiCarlo Tilt Plug Vibe
The best gender-neutral sex toy for couples
Specifications
Power source: Rechargeable
Material: Medical grade silicone and ABS plastic
App-controlled?: No
Waterproof: Yes
Reasons to buy
+
Versatility
+
Dual motors
+
Heated internal arm
Reasons to avoid
-
External arm not flexible
-
Can be noisy when pressed down on
If you and your partner are looking to add some extra heat to your sex sessions, this Lora Di Carlo product can—quite literally—help with that. The part of the toy intended for internal use not only vibrates but is also able to heat up to 104° F (40° C) at the push of a button, which helps with arousal (thanks to increased circulation) and muscle relaxation. But rest assured, it's not so hot that it hurts!
Aside from the heat, the really fire thing about the Tilt is that it's designed specially to pleasure all genders and genitalia. Its two vibrating arms, which offer seven intensity modes and three vibration patterns, can be used to simultaneously stimulate the G-spot and clitoris or the prostate and perineum.
We enjoyed using the Tilt during foreplay, especially when we were on top and able to rock back and forth and put some pressure on the device. While its heat tech seems to be one of this toy's major USPs, this function wasn't what got us to the boiling point, but it certainly added an appealing sensation and helped us relax.
How to choose the best sex toys for couples
When it comes to sex toys for couples, the options are almost limitless. Want to focus on your woman's clit? There are toys for that. Looking to pleasure your fella's peen? We can think of a few options to help. Do you both dream of simultaneous anal penetration? We've got the answer.
But if you're not sure what you're after, there are some points to think about when choosing the best couples sex toy for you and your partner:
Area of stimulation—While some toys are multipurpose, most focus on one thing and do it well. You'll want to think about which area—be it clit, G-spot, anus, prostate, nipples, etc—you're looking to stimulate when choosing which toy to buy.
Foreplay or during sex?—While it's true that there are toys versatile enough to be used in the lead-up to sex and during the main act, some are more suited to either or. Consider whether you want to involve a toy in foreplay and abandon it during full sex, or whether you mostly want to include it during intercourse.
Joint or solo use?—It's best to decide in advance whether you want a sex toy that you can use in unison with your partner or one to be used separately.
Victoria is a freelance journalist with eight years of experience, writing everything from reviews and news pieces to meaty features for various online and print titles — including easyJet Traveller and b.inspired. Her work covers travel, lifestyle, health, and fitness. In her spare time, Victoria performs improv comedy and she's currently training to be a PT.