The best vibrators for beginners to help you get started
Our picks for the best vibrators for beginners will help you to experiment without getting overwhelmed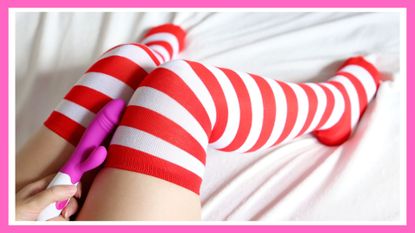 (Image credit: Getty)
If you've been toying with the idea of getting buzzed in the bedroom, then you're in luck—we've rounded up the very best vibrators for beginners to ensure your first experience is as pleasurable and anxiety-free as can be.
People of all genders have been expanding their vibrator collections in recent years, hurtling sex toy sales through the roof. And the market is flooded with unique designs (flickers, suckers, rabbits, oh my!) and tricked-out versions of the best sex toys, from helpful hands-free vibrators that allow you to lose yourself in the moment, to techy app-controlled vibrators and beyond.
But with all the types of vibrators out there, choosing your first can be overwhelming. So while there's no doubt that you likely need to try and test a few options to find your sweet spot (pun intended!), we've also taken a look at some of the best entry-level sex toys, putting them to the test to help you find your perfect fit.
Below, you'll find options for those who want something more subtle, and choices for those who are ready for something mind-blowing. Simply take your pick!
The best vibrators for beginners for you to try:
1. Lovehoney Ignite
Best bullet vibrator for beginners
Specifications
Power source: USB rechargable
Material: Silicone
Speeds: Three
Reasons to buy
+
Easy to use
+
Arrives partially charged
+
Wide variety of settings
Reasons to avoid
-
Small size means you have to work to get good leverage
This Lovehoney vibrator is a simple extension of the ultimate sex tool: your own hands. Dainty and easily manageable for a newbie, this three-inch, bullet-powered vibrator packs some punch, with three speeds in 17 different tremulous settings. The soft silicone sleeve slips over your finger, giving you precise control over the pulsations. Play with it wherever your hands wander!
After her very first vibrator experience, one reviewer said this toy is "so easy to use and not at all overwhelming or intimidating in size"—which is why we reckon it's great for newbies to the vibrator game. We also loved that it arrived partially charged and ready for action. It really is a handy toy to have, being both small and satisfying.
2. Unbound Bender
Best G-spot vibrator for beginners
Specifications
Power source: USB rechargable
Material: Silicone
Speeds: 10
Reasons to buy
+
Versatile and flexible
+
Chargeable
Reasons to avoid
-
Vibrations are more buzzy than rumbly
For true customization, this unique vibrator is one of our all-time favorites. Elegant curves and pretty pastels might first grab your attention, but it's the toe-curling finishes that will keep you glued to this baby. The vibes are sent through a completely bendable silicone wand to reach your most pleasure-filled points (G-spot, prostate, wherever!) with its smooth, bulbous head.
Gradual, rhythmic vibrations are controlled by a single surface-level button for quick and easy changes during playtime. "This really could not have been better if it were made for me," one reviewer said. "I was surprised by the intensity of the vibrations, and there's even a pattern for edging."
Rave reviews, magnetic charging ports, and a cute holographic storage pouch make this one a no-brainer!
3. Romp Switch
Best sucking vibrator for beginners
Specifications
Power source: Battery-powered
Material: Silicone
Speeds: Six intensity levels
Reasons to buy
+
Uses both pulse and sucking sensations
+
Portable design
+
Reasonably priced
Reasons to avoid
-
Takes some trial and error
-
Requires batteries
Powerful and portable, this handheld "sucking" vibrator will blow you away. "It feels like getting good head!" according to one reviewer. Start slow and soft for sensitive spots, foreplay, and teasing before ramping up the variable intensities or shifting vibe patterns. It's a great option for beginners who aren't sure what they might like, as it's slightly different to regular, pulsing options.
The combination air pulse and sucking sensations make for great solo quickies—expect really, really great five-minute sessions. Finding the right angle may take a moment during your first round, and liberal water-based lube is required, but the intense orgasm is plenty payoff, trust us.
Accessible pricing is definitely a bonus, too; just be sure to pick up rechargeable batteries, as this guy isn't powered by the mains.
4. Iroha Rin
Best wand vibrator for beginners
Specifications
Power source: Battery powered
Material: Silicone, ABS
Speeds: Three, and a pulse setting
Reasons to buy
+
Attractive aesthetics
+
Soft, supple texture
+
100% waterproof
Reasons to avoid
-
Offers moderate vibrations, not as strong as competitors
Wow, what a stunner! If you're all about the aesthetics, this is one of the best vibrators for beginners. But that's not all it can do. Rin is the softest, most supple to the touch vibrator that we have ever encountered.
Unlike most wand vibes, this beauty can be used internally as well. Its pillowy head cushions your every curve, while the tapered six-inch wand makes for an easy entrance. "This vibe gave me all the tenderness I need," one reviewer said. "I like that it's velvety smooth and just the right size."
Vibrations range from kitten's purr to lion's roar, with diffusion from the plump top, which moves with you. Even on a high setting, it stays quiet for subtle stimulation. It's fully waterproof, too, which means you can also take it into the shower for some extra wet fun.
5. Dame Pom
Best vibrator for beginner partner play
Specifications
Power source: Magnetic USB charge
Material: Silicone
Speeds: Five
Reasons to buy
+
Easy to use with a partner
+
Flexible tip for better precision
Reasons to avoid
-
Pricier than other options
What they say about small packages is very, very true—at least in this case. About the size of your palm, the pocket friendly "pom" vibrator is ideal for both solo and partnered play. Cup this pint-size toy in your (or your partner's) hand and you're ready for just about any saucy activity: tickling, teasing, leg-quaking, even during sex. It's easy to use both with someone and on your own, which is why it's one of the best vibrators for beginners out there.
The secret is its faceted tip, which sends direct sensation exactly where you want it. Flex it to your desired position to tantalize nipples, cheeks and more. While it does take some maneuvering, the precision is unparalleled. One reviewer said: "This is my favorite for solo sessions, but bringing it into bed with my husband was even better."
When it can fit almost anywhere under the radar and get the job expertly done, we call that striking vibrator gold!
Rheanna is a multimedia journalist whose culinary, travel, and wellness work has appeared in Esquire, Cosmopolitan, Us Weekly, Eating Well, Brides, and more. She was previously the resident bar critic and features writer at Time Out New York, and the news and video editor for Delish. She has also helped produce documentaries. Outside the office, you can find her shooting 35mm film and adventuring with her rescue mutt, Brody.