Best affordable jewelry brands to shop all year around
Finding great affordable jewelry brands has never been easier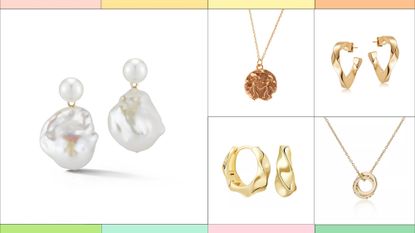 (Image credit: Mateo / Alighieri / Missoma / Astrid & Miyu / Auree )
We've seen the rise of so many incredible yet affordable jewelry brands in the last few years, many of which have simply changed our lives for the better.
Timeless jewelry holds a verified position on our capsule wardrobe check0list. From trendy pieces like the best huggie earrings to the sustainable jewelry brands movement making waves in eco-friendly fashion, luxury accessories have become a lot more accessible.
Historically, jewelry has been viewed as a valuable investment. Beautiful diamonds, golds, and silvers were reserved for the wealthy—or those of us who spent months saving up for that one pendant we couldn't stop thinking about. However, that has all changed in recent decades, thanks to the launch of an array of brands that create great jewelry with more purse-friendly price tags.
They may not be the super up-scale offerings of Cartier and Tiffany but not only are they're equally gorgeous, they certainly don't compromise on quality and their collections are always on-trend and in some cases trend-setting. Plus, with such a vast variety, there's something for everyone. Whether you're after delicate day-to-day wear or something a little more glamorous for an evening outfit.
Here are the best affordable jewelry brands to shop right now...
1. Alighieri
Literature and travel inspired modern heirlooms
Inspired by Italian poet Dante Alighieri, each piece in the brand's collection is an ode to one of his 100 poems. Founder, Rosh Mahtani, launched Alighieri in 2014 with an aim to create modern heirlooms with the late poet's 'Divine Comdey' as the overarching theme of the brand and its designs. Selling everything from beautifully handcrafted necklaces (like the above Gemini Zodiac necklace) to rustic literature-inspired earrings, bracelets and rings. Alighieri is available to shop at Matches Fashion, Net-a-Porter, Liberty, and in more than 80 other boutiques worldwide.
2. Missoma
Loved by royals and celebrities
Missoma is one of the most popular jewelry brands right now and has been for a while thanks to its gorgeous collection of delicate designs that have attracted the likes of Meghan Markle and Gigi Hadid, among many other famous names. Known for its innovative and creative approach to jewelry, the brand produces all of its designs in-house and is one of the leading names in sustainable jewelry, with a low footprint at the forefront of CEO and Founder Marisa Hordern's mission.
Prices start from £20/$28 ranging up to £200/$200+.
3. Katie Mulally
Vintage Irish-inspired designs with a modern twist
London-based brand Katie Mulally is all about vintage-inspired jewelry. All of the pieces are made with sterling silver and feature a modern twist on historic designs influenced by Mulally's Irish heritage. The brand is known for its distinctive necklaces and hallmarking charms as well as rings and locket pendants. The Double Irish/American Pendant above is available with gold plating too and is the latest edition to the brand's beautiful Double Coin Collection.
4. Daphine
Timeless designs inspired by strong women
Daphine was founded in London by close friends Damasia Ball and Philippine de Follin in 2017. The brand was inspired by their a shared perfectionism and love of simple, uncomplicated design as well as the presence of strong women in their lives. Their jewelry varies from pearls to swishy earrings and gorgeous bangles all with a classic timeless design.
Prices start from around £65+.
5. Maria Black
Specialising in stylish pieces for all
Founded by Copenhagen-born, Danish-Irish designer Maria Black, the self-titled brand is built on the belief that style and fashion are not for us to dictate, but for you to explore. The brand describes their jewelry as something for everyone, with each piece changing depending on how you pair it with your personal style. Their collections include everything from fine pieces to bigger, street-style-inspired necklaces and bracelets as well as stylish rings, anklets, charms, and more.
6. Mateo
Modern jewelry for the modern woman
Launched in 2009 by Jamaican-American New York native Matthew Harris, Mateo debuted as a brand solely for men. However, after the success of his first few collections, Harris made the decision to expand into womenswear. The brand's fine jewelry collection is inspired by the modern woman with a mixture of minimalist and glamorous designs at the forefront. As well as its flagship store in New York, Mateo is sold in retailers worldwide including Net-A-Porter, Matches Fashion, Browns, FarFetch 1stDibs. While it is a little pricer than some of the other brands, they do have some more affordable options for earrings and rings.
7. Astrid & Miyu
Trendy ear stacks for purse-friendly prices
Astrid & Miyu is one of the most popular UK jewelry brands right now, offering an array of trendy fine pieces. From delicate bracelets and stylish huggies, they've got something for everyone. Plus, everything is super Instagrammble. The brand was launched by founder and CEO Connie Nam, who was inspired by her mother's love for jewelry growing up. Today, Astrid & Miyu prides itself as more than a brand but a movement that connects a community. The brand is best known for its signature stackable earrings.
8. Auree Jewellery
A collection of delicate every day pieces
Amelia Bainbridge launched Auree after working in the jewelry industry for ten years and spotting a gap in the market for jewelry that was both beautiful and affordable. Inspired by travel and stories of adventures, the brand specializes in everyday pieces that can be worn no matter where you are in the world. You can shop pieces by trends, detail, or collections on the brand's website which is full of earrings, bracelets, rings, and necklaces, including their gorgeous new rowfant rainbow charity necklace above.
9. Merci Maman
For bracelets that seal bonds
Founded in 2007 by Béatrice de Montille, Merci Maman specializes in beautiful bracelets designed to celebrate and strengthen bonds with loved ones. The brand was inspired by the idea of cherishing special moments with personalized gifts to celebrate motherhood and the special bond between a mother and her child. It has since grown into a well-known business for sentimental jewelry pieces, with even royal fans—Duchess of Cambridge, Kate Middleton, was spotted wearing one of the brand's bracelets—with offices in London, Paris, and Berlin. Despite this, it remains affordable with cute mother-daughter bangles for as little as $39 / £30.
10. Ania Haie
Combining luxury and accessibility with trendy pieces
London-based jewelry brand Annie Haire is known for being the home of good quality trend-led pieces that are both beautiful and affordable. The brand was birthed with the modern woman in mind and focuses on spotlighting fashion trends, be it stackable earrings or cute bracelets. All designs are in 925 sterling silver with rhodium-plated or 14 karat gold plated and aim to combine luxury with accessible price points.
Sagal is a journalist, specialising in lifestyle, pop culture, fashion and beauty. She has written for a number of publications including Vogue, Glamour, Stylist, Evening Standard, Bustle, You Magazine, Dazed and Wonderland to name a few.