6 of the best heatless curlers to give you gorgeous bouncy hair overnight without the damage
We tested out all the best heatless curlers so you can wake up with perfect locks every time...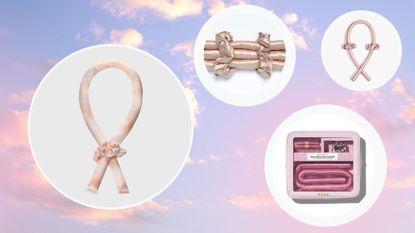 (Image credit: Kitsch, Pura Silk, Silke London, Lily Silk)
Just like your beloved blow dryer and brush, the best heatless curlers have fast grown into a hair styling essential. After all, they let you wake up with gorgeous, bouncy locks—not only saving you precious bathroom time in the morning, but also protecting your mane from unnecessary heat damage.
While these overnight curlers have their roots in the pandemic, they have come a long way since clever beauty fans began using household items—like dressing gown cords—to create impressive waves. Indeed, they have been designed to leave you with results that are as flawless as tonging your hair the standard way.
Not sure which heatless hair curlers to buy? We've tested out all the top options so you can be sure you get your hands on the right one for you. Because, just like the best shampoo bars and the best hair dryers, there's something to suit everyone—whether your mane is long, short, thick or frizzy. What's more, we've called on the experts to share their silky-smooth tips for making the most out of heatless curling...
Meet the tester
Meet the tester
Lauren Clark
I love nothing more than giving my fine, straight-ish, medium-length locks a bit of oomph with some voluminous waves—and, for years now, I've styled my hair using an array of curling tongs. However, I've long been worried about the cumulative damage that daily heat may have been inflicting, particularly since my brunette mane is also regularly dyed blonde.
This why I've long been intrigued by heatless curlers, and how they can both protect my locks and save me time doing my hair. But for me to be willing to ditch the heat once and for all, I need these overnight curlers to stay in place while I snooze and give me gorgeous body that lasts all day.
The best heatless curlers, as tested by an editor
1. Kitsch
Best heatless curler for short hair
Specifications
RRP: $13.50
Size: One size
Color: Sunset tie dye or charcoal
Reasons to buy
+
Ideal for shorter, thinner hair
+
Stiffer structure so stays in place
+
Compact for easy transportation
Reasons to avoid
-
You have really long hair
This heatless curler from Kitsch ticks a lot of boxes. Firstly, it's pink-ish tie-dye design looks pretty sitting in any bathroom. Secondly, its 'curling rod' has a stiffer structure, so that when you bend it around your head, wrap up your locks with the two matching scrunchies and head to bed, there's not a hair out of place. In the morning, the curler leaves you initially with alarmingly tight curls—think young Sarah Jessica Parker's 1980's perm—but these soon zhuzh out naturally to achieve glamorous waves.
The best bit is that, thanks to the 100% satin material, there's no unsightly frizz or breakage going on. To top it all off, because of its low price, it is incredible value for money—although after six months of avid use, mine is starting to lose its shape a little, meaning it will need to be replaced, so that is something to consider if you're intending to make heatless curls your go-to look.
2. Silke London
Best heatless curler for long hair
Specifications
RRP: $56
Size: One size
Color: Pink or black
Reasons to buy
+
Ideal for those with longer hair
+
Foam inner so it keeps its shape
+
Pure silk outer to avoid frizz and dryness
If you're after one of the top heatless hair curlers with a luxury twist, then this Silke London offering is perfect. According to the brand, it promises to give you the "healthiest, biggest, bounciest curls you've ever had". One of its key selling points is its 100% pure silk outer material, which they explain will keep your mane 'smooth' and won't dry it out since is 'far less absorbent than synthetic satin'.
One of this curler's best features is its substantial foam inner, so it will maintain its shape after months and months of regular use and also keeps curls a uniform size. Additionally, it comes with a clip and silk hair ties for easy pre-bed wrapping—which I found to be a huge time-saver. Since the length is so long, it is particularly suited to those who have a longer mane. Got shorter hair like me? You may find it difficult to secure your locks in place, which means everything can slip out overnight.
3. Pura Silk
Best heatless curler for medium-length hair
Specifications
RRP: $54
Size: One size
Color: Aqua blue, pink, pearl white, champagne, charcoal
Reasons to buy
+
Ideal for those with medium-length hair
+
Made from ultra-hydrating silk material
+
Comes with a wide-tooth comb and storage pouch
Pura Silk doesn't just envisage you using its curlers overnight for added volume, but also to simultaneously nourish your mane. Indeed, while the price tag might be on the higher end of the scale, this is a seriously hard-working hair tool that is made from silk infused with hyaluronic acid, which is better known as an ultra-hydrating skincare ingredient. Additionally, there's also moisturizing argan oil which has anti-inflammatory properties and can soothe your sensitive scalp.
The clever outer layer also means that—if used overnight—when you wake up in the morning everything should be still nicely in place, because the lack of friction will have reduced the risk of tangles and breakage. All you need to do is just brush out your hair, with the wide-toothed comb that's included, for "beautiful bouncy locks" and you're good to go. Additionally, the curler—which is particularly ideal for those with medium-length hair—comes with a storage pouch for easy transportation.
4. This Is Silk
Best heatless curler for thick hair
Specifications
RRP: $42
Size: One size
Color: Leopard, noir, pink, emerald
Reasons to buy
+
Made from Mulberry silk for self-conditioning
+
Substantial filling for thicker hair
+
Can be used on damp locks
Reasons to avoid
-
No clip included, meaning trickier prep
When you have thick hair, it's important to use a heatless curler with enough width and length so that you can wrap your locks around it enough times and can create a gorgeous wave. This Is Silk's offering ticks both these boxes, and is also made from pure, mulberry silk—which works to condition your hair with its own amino acids—so it leaves your locks smooth as well as shiny and without any breakages or split ends.
If your daily routine involves washing your hair before bed, rather than in the morning, this curler—which is particularly ideal if your locks tend towards dryness—is designed to work effectively on damp hair. While it does come with two handy scrunchies to secure your hair in place overnight, it doesn't have a clip—making the wrapping process a little trickier than with some of the other options.
5. LilySilk
Best heatless curler for frizz-prone hair
Specifications
RRP: $19.99
Size: One size
Color: Rosy pink, black, taupe
Reasons to buy
+
Clip included for easy prep
+
Stylish color options
+
Silk finish to promote shiny hair
This option from LilySilk is perfect for those for whom frizzy locks are the bane of their life. It is made from 100% high-quality charmeuse silk on the outside, and also has a filling made from silk material. This means that, as they say, it can "reduce frizz, friction and helps to promote shiny hair". And I can't disagree, because I did notice that it left my hair visibly smoother.
They recommend using it straight after washing, when your hair is 80% dry, and it comes with a clip and matching scrunchies so you can easily secure your hair in place before heading to bed. To top it all off, it is also incredibly lightweight, so it's ideal for taking away with you on an overnight trip. All of which makes it, for its very reasonable price, brilliant value.
6. Octocurl
Best heatless curler for relaxed waves
Specifications
RRP: $29.99
Size: Short, standard, long, extra long
Color: Jade mermaid, champagne cheers, miss pinky, it's pitch black, taupuccino, meadowy
Reasons to buy
+
Can achieve more relaxed waves
+
Different sizes depending on hair length
+
Satin material to retain moisture
Reasons to avoid
-
A little fiddly to put on at first
This is one of the best heatless curlers if you prefer more relaxed, beachy waves rather than perfect ringlets. Its other key benefit is that it comes in different length options—short (which is the one that suited my medium-length locks), standard, long and extra long—so it stays in place and you don't have extra annoying fabric to fold away with the handy little ties already attached to each 'leg' of the curler.
It also creates heatless curls with the help of a headband that can be adjusted, that sits on your crown as you wrap or braid different sections of your hair. I found this a bit fiddly to get used to at first, but I realized that my dry hair was a bit too smooth and that it was easier to use it while my locks were damp. This also means you can then use a hairdryer to finish it off and speed up the curling process, which is frizz-free thanks to the non-drying satin fabric.
Meet the experts in heatless curlers
Michael Douglas is a hairdresser, and founder of mdlondon, with over 30 years' experience, who has tended to the tresses of everyone from Naomi Campbell to Kate Moss.
Gokhan Berber is a senior stylist at Amazon Salon, in London's Spitalfields, where customers can book in for hair care and styling services using the latest industry technology.
How to use heatless curlers
Do you use heatless curlers on dry hair or wet hair?
It's totally up to you. "There is no set way for using heatless curlers, you simply get a different result whether done with wet or dry hair," says Douglas. "For example, when used on wet hair and left to dry, you'll get a tighter curl that accurately mirrors the 'roller size'. When used directly on dry hair you will achieve a curl size approximately two to three times the size of the roller, so a much looser curl.'
Berber agrees that it's a personal choice, but he points out: "Damp hair is best for heatless curlers to achieve the most optimum definition in the curl. When using heatless curlers on completely wet hair, you'll need to wait until your hair is fully dry before removing them." He adds that whatever you decide, you should apply any required products to your hair before the heatless curlers go on.
What should I put in my hair before heatless curling?
As mentioned, you should apply any necessary products to your locks before wrapping them up in the heatless curler—and there are certain beauty buys that can help you achieve more flawless results. "For all types of hair, I would recommend Redken One-United Leave-In Conditioner to control any frizz and to add moisture back into the hair," advises Berber. "I'd also use L'Oréal Tecni.Art Beach Waves spray to achieve really defined curls that will hold."
Douglas adds: "Moisture is key in order to help form the curl. A blow-dry spray like Save The Do Style Starter by Sam McKnight or OGX Argan Oil of Morocco Heat Protection Spray work really well. Lightly spray each section before putting in the roller. Thick and frizzy hair requires more product and more tension and precision when putting the roller in. Although, don't make the hair too wet with the product, because it needs to be completely dry before removing the rollers."
How long do you leave heatless curlers in?
While you might think this depends on how long you sleep at night—hopefully for a good eight hours—heatless curlers can also be used during the day. For example, if you're working remotely or having a relaxed day pottering around your home. In this case, you want to ensure it's working its curling magic on your locks for long enough to stay.
"Leave them in until your hair is completely dry, which obviously depends on how damp your hair is and how thick it is—it's a good idea to warm the heatless curlers up a tiny bit with a blow dryer," says Douglas, if you choose to use the curler soon after showering. "After removing the curlers when the hair is completely dry, use styling products on each section and finish it off with hairspray for added hold." Don't have time to shower? Berber adds: "Your hair doesn't have to be freshly washed for the heatless curlers to work, as long as it's made damp by water and products."
Do heatless curlers really work?
Yes, but the results will be more effective the longer your mane. "The more the hair wraps around the curler, the greater number of curls that will be achieved," says Douglas. "It's good to have hair length that goes around two to three times. If you only have a hair length that wraps around once you'll achieve just a slight bend as opposed to a full curl." Berber agrees: "It would be difficult to achieve curls with short hair because the hair needs to roll around the entire circumference of the curler."
The texture of your hair matters too. "I would recommend using heatless curlers to those who have wavy or curly hair as there is already a structure of a curl pattern that the curlers can help to define,' continues Berber. "It would be difficult to achieve a completed look on naturally straight hair as the curls are more likely to drop due to the directional growth of the follicles."
However, curls will stay better if you follow some key pieces of advice. "Make sure to apply L'Oréal Professionnel Infinium hair spray and the L'Oréal Professionnel Tecni Art Fix Anti-Frizz spray while the curlers are in as well as once you take them out," adds Berber. "I would recommend the 'soft' grade of hairspray for this look to ensure the hair can still move in a natural and dynamic way. Also, try to avoid running your fingers through it too often, however tempting it might be!"
Do heatless curlers damage your hair?
In a word: no. "Using heatless curlers is simply changing the direction of the hair through 'training' rather than through heat," says Berber. Similarly, Douglas adds: "Heatless rollers don't cause damage to the hair." What's more, as mentioned above, most rollers are made from material that actually nourishes your hair.
However, if you use a hairdryer while your heatless curlers are at work, then it might do the opposite. "Heat helps evaporate moisture from the hair and this is what makes the style fix in place, " continues Douglas. "The hotter the heat, the faster you can style it, but also the quicker the removal of the moisture. Therefore, heat-protecting products are essential to help minimize damage in this case."
How the best heatless curlers compare to household alternatives?
Chances are that it was during the pandemic you first discovered the concept of heatless curls with socks or dressing gown cords. But how do these compare to specially designed heatless curlers? Well, ease of use and evenness for starters—I found that using proper heatless curlers was a quicker pre-bed process and resulted in more uniformity with my curls.
Then there's the material element, because curlers are often made with an outer later specially chosen to smooth your mane. "Silk is definitely better because it prevents friction, which is often the cause of split ends and frizz," says Berber. "It's also quick drying." And let's be honest, you've always got places to be and people to see.
Lauren is a freelance writer and editor with more than six years of digital and magazine experience. Most recently, she has been the Acting Commissioning Editor of Women's Health—where she co-produced the Going For Goal podcast—and has previously also written news and features for titles including The Telegraph, Grazia, Stylist, Dazed, The Sun's Fabulous, Yahoo Style UK and Get The Gloss. She covers all aspects of lifestyle, specializing in health, beauty, and travel. Can't live without: oat milk lattes, new podcast episodes, long walks, and great skincare.