The best working from home clothes to up the style stakes (and keep you comfy)
These working from home clothes are definitely a step up from your lived-in pajamas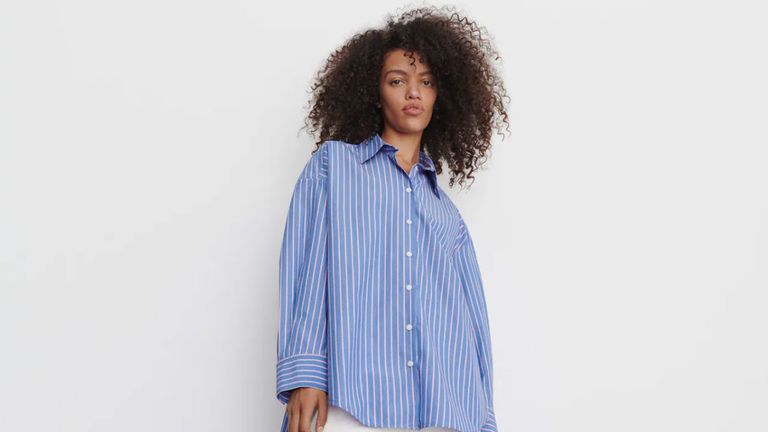 (Image credit: Zara)
Many of us are still working from home—according to the Stanford Institute for Economic Policy Research—it was estimated 42-percent of the US population now do business from their living rooms. And while changes such as being so distant from colleagues and too conveniently close to one's snack cupboard have both taken some getting used to, our biggest issue has been figuring out what the heck to wear.
Sure, the act of rolling out of bed and getting to work in our PJs started off as a joyous thing, but it quickly got old (and a little depressing). At the same time, it feels silly to get all dressed up with nowhere to go. But how has the capsule wardrobe evolved during this time?
The resounding answer among WFH pros is to find the sweet spot between comfortable and put-together. You likely won't work well if you're all trussed up in restrictive jeans or a tight dress all day, but equally, if you're sporting the best pajamas your productivity will waver if you're so comfy you could take a nap at any second. We recommend putting together a capsule wardrobe of soft, loose-fitting clothes that are smart enough to put you in the right mindset and not embarrass you in a Zoom meeting. Here are our favorite work-from-home get-ups.
Smart loungewear
1. Nasty Gal Shake Knit Off Sweater and Pants Lounge Set
A knitted loungewear set like this one is probably the closest you can get to wearing pajamas while still looking pulled together. We love pairing it with chunky gold jewelry and a low bun complete with scrunchie.
2. Stradivarius WIDE LEG KNITTED LOUNGE PANTS
Reasons to avoid
-
Made from synthetic and semi-synthetic materials
Wide legs, a soft knit and a drawstring waist make these lounge pants ridiculously comfortable. They look so chic, you'll want to leave the house at lunchtime to show them off.
3. Boohoo Plus Soft Rib Tie Waist Rope Legging Two-Piece
Reasons to buy
+
Affordable
+
Beautiful color
+
Loose fit but defined waist
Reasons to avoid
-
Made from synthetic material
This plus-size set is the ideal outfit for long days spent working from the couch or whatever makeshift desk you've become accustomed to. The ribbed material, V-neckline, pastel sage hue, and tie-waist design keep this comfy duo looking stylish.
4. ASOS DESIGN crew neck fluffy oversized sweater
Reasons to avoid
-
Made from synthetic material
Stay cozy while you work by wearing this fluffy crew neck sweater—it's what we imagine being hugged by a soft little lamb all day would feel like.
Loose dresses
5. Nasty Gal Broderie Your Horizons Collared Mini Dress
Reasons to buy
+
Comfortable
+
Smart
+
100% cotton
+
Affordable
Reasons to avoid
-
The collar can get annoying
We're obsessed with this adorable collared drop waist dress. It's super loose-fitting, but the slightly puffed sleeves and ruffled broderie collar give it a classy look that's perfect for video calls.
6. Ganni Leopard Print Puff Sleeve Georgette Minidress
Keep things fresh by adding animal print into the mix. The Georgette—with puff sleeves—is a Ganni staple and exudes cool-girl chic. We love the high neck collar which reads well on Zoom calls but will equally translate perfectly into your working from-the-office-wardrobe, when, you know, we start getting back to the office.
7. J Crew Tiered ruffle dress in stripe
Reasons to buy
+
Elasticated waist
+
Smart
+
Stylish
An elasticated waist and flared skirt make this a WFH dress of dreams. It's super comfy but the ruffles, lace trim, and sweet lilac stripes make it smart and stylish enough for meetings and post-work meet-ups. This dress runs large so we'd suggest sizing down (unless you want an oversized fit for added comfort).
8. ASOS DESIGN Curve textured midi v neck swing dress in black and white plaid
Reasons to buy
+
Comes in regular and plus-size
+
Loose
+
Stylish
Reasons to avoid
-
Made from synthetic material
A relaxed shape doesn't mean you've given up. This oversized midi swing dress in black and white plaid is perfectly charming and the deep V at the back keeps it suitably stylish. It's available in regular and plus-size too.
Comfortable button-downs
9. ellazhu Women's Summer Button Down Patchwork Blouse Top GY1896
Reasons to buy
+
Unusual
+
Comfortable oversized fit
Reasons to avoid
-
Not much cotton present in cotton blend
We all feel more pulled together (both aesthetically and mentally) when we put on a button-down, but there's no reason it has to be boring. The half polka dot, half plain black design of this oversized one keeps things fresh.
10. Ganni Ruffle Collar Cotton Poplin Shirt
Reasons to buy
+
On-trend
+
Smart
+
Organic cotton
Big collars are back in a big way, and they're an ideal look to make an impression in a Zoom meeting. We adore this loose-fitting ruffle collared shirt from Ganni, which hits the trend.
11. Zara striped shirt
Reasons to buy
+
Comfortable oversized fit
+
Smart
The classic button-down gets an update: this cotton shirt with asymmetric hem has a smart office aesthetic but is loose and oversized enough to be comfortable at home. The red and white pinstripes tap into power-dressing and make it perfect for those Zoom meetings.
Overalls and rompers
12. Verdusa Women's Sleeveless Straps Pockets Plaid Culotte Jumpsuit Overalls
Reasons to buy
+
Comfy
+
Cute
+
Wide variety of colors
It's as if loose overalls like these were invented for the WFH crew. Other than rendering bathroom breaks a little trickier, they're such a simple thing to throw on with a T-shirt or sweater and you instantly feel ready for the day. We're a fan of the culotte legs and massive pockets on this pair. Plus, they come in a seriously impressive 17 colors.
13. ASOS DESIGN contrast strap sweatshirt overalls in gray
Reasons to buy
+
Comfortable
+
Stylish
+
Versatile
If you thought overalls couldn't get any comfier, think again. This pair is not only made out of super-soft, lightweight jersey but also sports roomy wide legs and an elasticized waist. Plus, it's fitted with deep side pockets that you can fill with pens, your phone, or your mid-afternoon energy bar to keep you going for the rest of the workday.
14. Boohoo Soft Rib Button Detail Romper
Reasons to avoid
-
Short
-
Made from synthetic materials
Those who prefer to have their legs free from the confines of material can pull on this cute cream ribbed romper. It's all business on the top, party on the bottom, thanks to its collar and button detailing making it look acceptable for waist-up video meetings.
Chic activewear
15. ADIDAS ADICOLOR CLASSICS FIREBIRD PRIMEBLUE TRACK PANTS
Reasons to buy
+
Elasticated waist
+
Made from recycled materials
These coveted 90s-inspired pants made from recycled materials aren't just comfy but pretty versatile too. Pop a crop-top on beneath a loose white button-down, which can be worn open as a jacket or done-up for a more formal look for WFH meetings.
16. & Other Stories Quick Dry Yoga Top
Reasons to buy
+
Soft and stretchy
+
Pretty
We love how the slightly flared shape and sweet racerback of this soft yoga top mean that it doesn't look like activewear at all (but definitely feels like it).
17. SEASUM Women's High Waist Yoga Pants
Reasons to buy
+
Affordable
+
Wide variety of colours
+
Stretchy
The TikTok yoga pants may have become famous for their butt-lifting effect, but we equally love them for their comfort. Wearing these stretchy leggings, you can sit on your couch and work away for hours at a time without being bothered by buttons or seams digging into your skin or material getting twisted. Oh, and also your butt looks great.
Victoria is a freelance journalist with eight years of experience, writing everything from reviews and news pieces to meaty features for various online and print titles — including easyJet Traveller and b.inspired. Her work covers travel, lifestyle, health, and fitness. In her spare time, Victoria performs improv comedy and she's currently training to be a PT.