Ice globes for face: the celebrity secret to brighter and tighter skin
Ice globes for face are an underrated beauty tool, which can be used to revive your complexion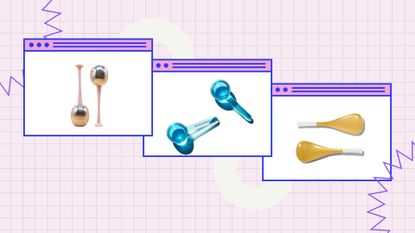 (Image credit: Future)
Ice globes for face—the beauty tools du jour that come shaped like a pair of mini maracas—are the new alternative for throwing a pair of spoons in the ice box to take to 7am face puff or placing cucumbers over your eyes.
Kept in the freezer or refrigerator until your hour of need, you can simply glide them over the contours of the face to tighten muscles, drain away fluid build-up, and create an uptick in circulation for that elusive post-facial glow—and if you're following the correct skincare product order, they are the perfect finishing touch to your routine.
Beauty editors have dubbed the effects of the tools 'frotox'; Dakota Johnson and Cindy Crawford swear by their radiance-boosting power and thus, the trend for 'skin icing' shows no signs of waning on Instagram reels. So what's all the fuss about, and which are the best ice globes for face that you can buy for yourself?
What are ice globes for face?
Ice globes for the face are typically made of glass. Anti-freeze is suspended within the spherical head to retain their chill factor once they're rolled over your warm skin. Others are made of freeze-retaining stainless steel.
Most ice globes and tools are designed to be put in the freezer 15-30 minutes before you intend to use them. Apply the best vitamin C serums or best moisturizers for dry skin first—you want to create 'slip' on the skin—and then lightly glide the wands upwards and outwards to drain any excess fluid to your lymph nodes.
What is cryotherapy or 'skin icing'?
Dr Yannis Alexandrides, plastic surgeon and founder of 111Skin, says: "Cryotherapy is the concept of using extreme cold to treat inflammation and injuries." The practice originated in Japan as a remedy for arthritis before being adopted by athletes, who would strip and stand in icy temperatures for up to three minutes. Inside these whole-body cryo chambers, the air or liquid nitrogen vapor is cooled to as low as -140°C, in order to reduce blood flow to the injured area and encourage wound healing or to help your body recuperate faster after exercise.
But what of icing the skin? Unsurprisingly, this wellness trend has now transcended into the beauty sphere. Dr Alexandrides explains: "Cryotherapy biohacks your body's thermoregulation. It incites blood vessels to constrict, which stimulates an increase in collagen production and oxygen to the skin." No wonder Kate Moss famously declared her beauty secret was dunking her face in a bucket of ice every morning.
What are the benefits of ice globes for the face?
As well as the robust anti-inflammatory benefits, cold temperatures tighten, tone and sooth the skin. Ada Ooi, facialist and founder of 001 Skincare, says: "Cryotherapy uses sub-zero temperatures to provide a cold shock to the skin's surface. This sends a regenerative flow of fresh, oxygen-rich blood to the targeted area, which helps to eliminate toxins and reduce water retention."
Better still, facial contours look more sculpted as the cold temporarily contracts the muscles, for a firmer and more lifted appearance. And who can say no to that?
The best ice globes for face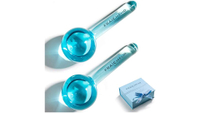 1. Fraîcheur Ice Globes
RRP: $60/£59.99
Every influencer worth their salt has flooded Instagram reels with these colorful glass globes. The word fraÎcheur, meaning freshness, perfectly sums up the glow they impart.
They can be placed in the freezer without the liquid inside freezing and glide across the skin easily. Super easy to use and with a bunch of different colors to choose from, these are a great pick.
---
---
---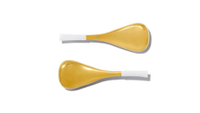 4. Angela Caglia Gold Cryo Facial Set
RRP: $125/£115
For a more luxurious option, look no further than these gold-plated cryo wands from facialist Angela Caglia, whose clients include supermodel Helena Christensen.
Perfectly shaped to hug and glide across the contours of the face, just a few minutes of invigorating use leaves a tangible difference in the look of dark circles, pores and fine lines. They deserve a special place in your freezer.
---
---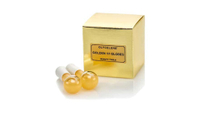 6. Glycelene Golden Ice Globes
RRP: $125 (US only)
These ice globes shot to instant fame when Cindy Crawford revealed that she freezes them in ice water before rolling them around her upper and lower eyes to de-puff and tighten the skin. Bonus: use them as a calming treat after waxing, peels or microdermabrasion.
---
---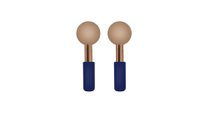 8. BeauSkin London Cryo Orbs
RRP: £89.99 (UK only)
Made of stainless steel, the cold metal will first constrict the blood vessels and then get nutrient-rich blood pumping to the skin's surface, helping your serum get to work harder and deeper. The rubber handles are a nice touch as they don't feel so shockingly icy on the skin.
---
Fiona Embleton is a multi-award-winning beauty editor who has tested over 10,000 products in her 10 years + of writing and shooting beauty stories. For the past four years, she was the Senior Beauty Editor at Marie Claire, having previously worked in the role of Beauty Editor at both Stylist and Cosmopolitan. She has recently gone freelance and alongside My Imperfect Life, she has written for titles including ELLE UK, ELLE Canada, Buro 247, Harper's Bazaar Arabia, Vogue Scandinavia, and ES Magazine. Beauty journalism allowed her to marry up her first-class degree in English Literature and Language (she's a stickler for grammar and a self-confessed ingredients geek) with a passion for make-up and skincare, photography, and catwalk trends. She loves jumping on the latest internet-breaking beauty news, dissecting the best red carpet looks, and having the crème de la crème of dermatologists, make-up artists, and hairstylists on speed dial so she can tap them for the best advice. She's a discerning beauty shopper and knows it can be confusing trying to navigate what's hype and what really works. So if she really likes something, you can trust that she has reached that opinion by vetting it against everything else she's ever tried. Her career highs? Interviewing Cate Blanchett and winning a Jasmine Award for the deeply personal feature Cancer Stole My Mother's Scent.