When is the best time to post on Instagram?
Trying to grow your social following? Knowing the best time to post on Instagram will give your 'gram the boost it needs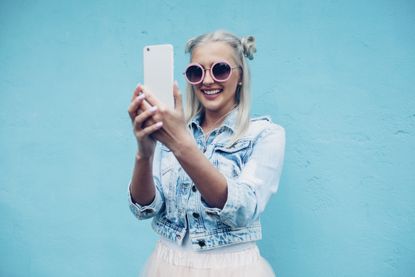 (Image credit: Getty)
Whether you're running a business or personal account, knowing the best time to post on Instagram will maximize engagement on your posts. After all, even the most cynical social media user gets a dopamine jolt when they get a little heart-click love.
The best time to post on Instagram depends on a number of factors, including your followers' location. Each Instagram account has a unique type of audience with followers spread across the world, plus a niche in terms of the content it covers.
It'd be hard to find an exact time to suit every single account—we do have a job over here, folks—but there are a few tips and tricks to know if you want to build steady growth and get more likes on your posts. Here's everything you need to know about the best time to post on Instagram.
---
---
Algorithms affect the best time to post on Instagram
Of course, changing algorithms are one of the biggest factors in how well your posts will do and how you can determine the best time to post on Instagram. It's fairly complex, but in essence, algorithms determine the type of content you see on your feed, and who sees yours in turn. The platform recently changed its algorithm, which may make it harder to get visibility on your posts.
In short, Instagram's new system will give priority to posts by users' friends and family, reducing the likelihood of business-related posts finding their way onto people's feeds
Posts with links that may direct people away from Instagram are also de-prioritized, which is why people who want to grow their accounts need to determine the best time to post on Instagram to give them the surest shot at engagement and, for businesses, revenue.
When is the best time to post on Instagram?
Studies have found several different answers to this one. Recent research by social media marketing platform Later found that, after analyzing 35 million global Instagram posts, the best time to post on Instagram (in local time) is 6am and the best days to post are Saturday and Sunday.
"By posting earlier in the day, accounts benefit from less competition (globally, most posts are shared between 9 AM-1 PM each day), while also tapping into traffic from users during their first scroll of the day — even if that's a few hours after the post was shared," the Later study reads.
However, to optimize for each day individually Later suggests:
Monday: 5AM
Tuesday: 6AM
Wednesday: 6AM
Thursday: 5AM
Friday: 6AM
Saturday: 6AM
Sunday: 6AM
On the flipside, Later says that the worst time to post on Instagram is:
Monday: 2PM
Tuesday: 1PM
Wednesday: 10AM
Thursday: 11PM
Friday: 9AM
Saturday: 8PM
Sunday: 4PM
Sprout Social has also published their analysis of when their Instagram posts get the most engagement. Like Later, they segmented this information by industry and social network and found that the best time to post is Tuesday between 11am and 2pm, or at 11am every other weekday. The worst day to post, Sprout Social says, is Sunday.
Meanwhile, HubSpot cites the best time as 2pm and 3pm on Thursdays, and Expert Voice as 11am to 3pm on Wednesdays.
How to figure out the best time to post on Instagram for you?
As you can see, there's a lot of conflict in what the social pros consider to be the best time to post on Instagram, and it's challenging work to account for all these factors when posting. But when it comes down to it, you basically have two options.
Post at a time when people are checking their accounts, but when there's more competition
Upload content at a quieter time when there's less competition, but also a smaller active audience
It may be worth doing some testing for yourself. For example, you could schedule a bunch of posts a month in advance, publishing them at a different time each day of the week.
Carefully analyze the engagement rate of each post against the time you posted it. You should notice any apparent trend that indicates a "best" time on a "best" day.
Tools for posting and scheduling on Instagram
To help with your analysis and for more reliable results, consider using Instagram scheduling tools. Some have free starter plans, and you can take advantage of the short trial period before you try the paid versions.
HubSpot
HubSpot is an extensive resource that allows you to do much more than just schedule your posts. It has a lot of tools you can use to support growth for business accounts.
Buffer
Buffer allows you to schedule posts on six different networks. The tool also features a mobile app that allows you to stage content, and the browser extensions also come in handy for a variety of tasks.
Later
Later is an Instagram-only tool that features drag-and-drop scheduling. It has an in-built calendar with a user-friendly interface.
Sprout Social
This is a more sophisticated social media calendar for businesses. It allows you to schedule posts as well as to measure user engagement. It features some social listening software to help you check the commenting trend across your social footprint. With a keen eye, you can easily pick the hot trending topics for your content planning.
Tailwind
This tool caters to small businesses and bloggers. It's a useful app for Instagram and Pinterest. Make use of it when you want to conduct hashtag research or upload bulk images on social platforms.
Establishing the best time to post on Instagram is one of the foundational factors for a successful online presence. While it does take some time and effort and will depend heavily on your growing audience, you'll soon be well on your way to winning at engagement.
The My Imperfect Life team is all about helping you navigate your world. We bring you the latest on fashion, beauty, travel and wellness so you can live life on your terms.