How to network and create great connections if you've been WFH for the last few years
Wondering how to network in a post-pandemic world? Our easy tips will help you to make solid professional connections that could really pay off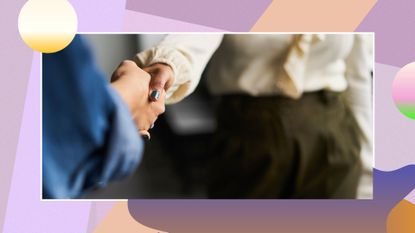 (Image credit: Getty Images)
This essay is part of our Lost Years series, where we investigate the time since the COVID-19 pandemic was declared by WHO on March 11, 2020. Did we collectively change, how and will we ever go back? How has this time affected our relationship with work, our loved ones, dating and even entertainment? And can we take action to reclaim what we may have lost?
---
In 2022, networking feels tougher than ever. Even if—after two years of lockdowns and social solitude—we could emerge back out of our shells to strike up an unsolicited conversation with a stranger, we might not get the chance. Face-to-face events and inter-office mingling have fallen by the wayside for many—especially the huge number of us who now work from home.
But whether we like it or not, networking can do wonders for our careers. It allows us to connect with potential future bosses, glean industry advice, collect feedback, and find mentors. And seeing as though many of us have felt professionally stagnant during the pandemic, it's perhaps more important than ever before.
Making connections isn't just about climbing the career ladder though. It can help us cultivate a circle of supportive, like-minded people who understand our industry and its challenges, to help us to feel less alone.
The good news is that, whether you WFH, are back in the office, or are totally new to the professional world, networking isn't as difficult as it seems. We've spoken to the experts to find out how we can grow our professional circles, make meaningful connections and nurture future career opportunities—all without breaking into the panic sweats.
How to network from home or the office
1. Make use of your existing circle
Networking isn't always about introducing yourself to strangers. Even if you work entirely alone, or are at the very start of your career, you already have loads of great contacts you've probably been overlooking. May we present—drumroll please—your family and friends, university pals, college lecturers and former colleagues. That's all you need to get going.
"I always tell people to remember they already have a network," says Isabel Sachs, founder of I Like Networking, a platform to help creatives boost their careers. "I think people will be surprised at how far their existing social connections can get them. People like to help each other out and we all know someone who knows someone else, and so on. Craft a thoughtful email or WhatsApp message explaining what or who you're looking for—people can easily forward that on to any contacts they have."
Then, boom: you might just get an intro to a new connection without even having to don a plastic name badge.
If you are well-established in your career and looking to make new connections, the same applies—reach out to former colleagues, people you've met at events, or people you're connected with on LinkedIn. They may well know someone or something that could be useful to you, and vice versa. Making stronger relationships is good for you and for the other person, so be generous with your words and your time.
2. Join online communities
Professional communities are thriving on social media right now, with so many of us now working away from offices. There are endless industry groups on platforms like Facebook and LinkedIn, which are full of people swapping advice, sharing experiences and generally having virtual water cooler chat. If you are a marketer, for example, why not join a group specifically for marketing professionals? Or, if you are freelance, there are plenty of freelance groups specifically for women out there. But how can we leverage their benefits?
"It can be quite difficult to judge whether an online group is going to be the right sort of thing for you," says Rebecca Seal, author and host of The Solo Collective podcast. "The best way to find out is to join and sit in it for a few weeks to see how it feels."
---
---
Once you're in the fold, don't be afraid to share content, ask questions and engage with others. You'll likely gain some invaluable insights. Perhaps even suggest a meet-up IRL for those local to you—this is common in online groups and will really strengthen connections. Just take all the usual precautions; meet up during the day and in busy places, for example!
"I do think it's important, though, that we leave or mute the groups that aren't suitable for us," Seal continued. "Or else they'll continue to drip-feed us unhelpful content that can sometimes be quite detrimental."
3. Make good use of social media
If you're wondering how to network well, now is the time to amp up and analyze your social accounts. Most (if not all) people are online, so make sure you are staying on top of your online presence and putting the right image out there.
If one of your goals is to transition into a new career, then make sure you highlight your transferable skills and interest in your new industry. Try viewing your own social media pages from the eyes of a stranger. Would you want to know more about you from your profile, or reach out to you with opportunities?
It can also be helpful to join the conversation within your industry to connect with new people. Try posting and engaging with business articles, or writing your own blog posts. This will show people you are engaged and knowledgable, and they're then more likely to come to you with new opportunities.
In fact, utilizing your social media accounts is one of our biggest working from home tips—it's really important not to isolate yourself from your peers, even if you are working away from an office.
Plus, don't forget about newer platforms like the Clubhouse. Plenty of people have successfully networked using the audio app.
4. Create your own networking opportunities
In our busy working life, we often err on the side of convenience. Zoom calls instead of in-person meet ups, working at home instead of taking our laptop to a coffee shop for a couple of hours. But all of those decisions can keep us from making new contacts.
But venturing out, by going to events or dinners for example, is sometimes as vital for networking as it is for fun, "It's about bolstering the many different layers of networks that we all have in our lives, which convenience culture can really start to damage," says Seal.
"For example, a former colleague recently moved to my local area so we arranged to have coffee. But when the day arrived, I was really busy and almost cancelled. In the end, I made the time, and over that coffee I learned that she's got all of this insight into an aspect of my career that I was really struggling with."
Moral of the story? Don't cut yourself off from human interaction, no matter how trivial you think it might be. You never know what you might miss out on.
5. Be helpful to the person you want to connect with
Learning how to network is learning that it's all about give and take. People love being helpful to you, but they also love it when you reciprocate. Is there someone you really want to connect with? Think about what you can do to help that person.
It might be something practical, like teaching that person how to use Zoom. It could be something business-related, like making an introduction with one of your co-workers, or sharing a helpful article with them. Or, it could be personal, like suggesting a good movie you recently viewed, on one of their social media posts. Being genuine, friendly and helpful are key to making lasting connections.
6. Attend virtual conferences
The benefits of working from home are now clear to most of us (hello, putting a wash on in the middle of the day!)
And even now that we appear to be through the worst of the pandemic, many organizations have properly pivoted to virtual events and conferences, to allow people from across the world to attend. So go ahead on book yourself onto industry events—they can actually be much more useful than they may seem for career opportunities.
But, the key to networking at a virtual conference usually comes after the conference. Find out the name of a speaker that you would like to connect with, and then send that person an email, thanking him or her for their talk. Mention specifics without being too wordy. The speaker may not return the email, but then again, you never know unless you try—and at least they've seen your name in their inbox.
7. Change your small-talk approach
If—like the many of us—you struggle to shimmy up to a complete stranger at a networking event and strike up an engaging conversation (one of the typical means of learning how to network), or start sweating at the thought of approaching a new colleague's desk, it's important to reframe your thinking.
Instead of thinking of these strangers as wildly successful business people, think of them simply as fellow humans, says Sachs. "We connect with people, not job roles," she says. "And we all have our own intrinsic value that is separate from our professional selves.
"One of the easiest ways to tackle events is to find someone who looks as lost as you. Remember, if you're feeling like a fish out of water then someone else probably is as well. Reframe the situation as you helping someone out who might be feeling insecure—that will give you a boost and make it a bit easier."
Making conversation about something that isn't related to work can also be a great entry-point. "If there's a bar at the event, I go there and try to find someone else who looks equally adrift, and start a conversation about something silly, like whether they love or hate coriander," Sachs said. "Everyone has an opinion on that, and it always sparks debate!"
8. Be sure to value your colleagues
Lots of us heading back into the office have never actually met some (or all) of our colleagues IRL before. Even if you've been chatting on Teams or exchanging messages on Slack, don't underestimate the value of getting to know them in person.
"I'd urge anyone going back into the office to take time out to get to know the people you work with, to try and learn a little bit about them on a more personal level," says career coach Purvi Kay.
The same applies to colleagues you've worked with for years—after a period of two years working from home, it's well worth re-connecting! Kay continued, "You never know where you're going to land in the future and whether an ex-colleague is going to be able to help you get into that job or make that new contact. That's recently happened to me. I managed to help out someone I used to work with after he got back in touch with me after a year."
As well as potentially becoming valuable future contacts, co-workers can form an indispensable support network, too, which is equally as important to our working life.
Mistakes to avoid when networking from home or the office
Don't be shy—one of the biggest mistakes you can make when learning how to network is being too timid, and allowing your emotions (e.g. nerves) to get the better of you. It's important to remember that everyone gets shy or anxious from time to time, but you can't let it put a stopper on your career progress. Also, forget any notion that you're bothering people—more senior people generally love to help or give advice to less senior colleagues, and socializing with your peers is a great way to build industry camaraderie.
Don't forget to follow up!—did you meet someone new online or at an event? That's great! Now don't let that individual forget about you. Kay said: "The first thing I do when I leave an event is connect with the people I met there on LinkedIn. Then we get to see each other's updates and have lots of opportunities to engage. Those interactions are building and strengthening our relationships behind the scenes." You could also send an email. Follow up a day or two later (or possibly a week, but don't wait too long). Your follow-up email should be friendly and to-the-point. The goal is to be kind and keep your name in that person's mind, or they may well forget—after all, everyone is busy.
Don't forget to keep networking throughout your career—it's a mistake to believe that networking begins and ends with the first tentative steps you take into the working world. While it can be especially useful when you're starting out, it can also pay dividends at any other stage in your professional journey, whether you're looking to climb the ladder or planning on making a big job switch. After all, different people will be helpful at different times in your career.
Jessica Carter is a freelance journalist and editor who has written for Stylist, The Independent, WIRED UK and Refinery29. She writes about all things lifestyle: from food and TV, to relationships and work. She lives in Bristol with her basset hound and out-of-control cookbook collection.