How to network from home: 9 ways to give your career a social boost
This is how to network during a pandemic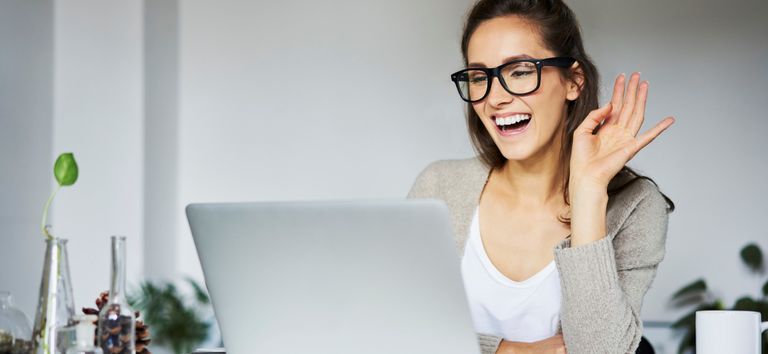 (Image credit: Getty)
Learning how to network—creating a professional web of peers and coworkers with the goal of developing success in their careers—can feel incredibly intimidating. It requires being socially forward, genuinely connecting with people, and being in the right place at the right time. With that kind of bar, no wonder some quake at the thought. The good news is networking, like running or playing the piano, is a skill that takes practice.
Vanessa Van Edwards, speaker and author of Captivate: The Science of Succeeding with People, says most people force themselves to be someone else when they network. She writes on her blog: "You do not have to fake being an extrovert to network well."
With time and practice, these tips will get you well on your way to networking properly, especially in a pandemic. Even if networking is second nature to you, there's always room for new ideas. So sit back, relax—maybe light some scented candles—and check out these foolproof, pandemic-friendly ideas for better networking.
How to network from home
1. Check in with people you already know
Networking isn't always about introducing yourself to strangers. Not only is that awkward and intimidating, but strangers also take longer to get to know. So practice by talking to people you already know, and concentrate on building a stronger network rather than a larger one. (Quality over quantity, people!)
Look through your contacts and shoot some emails out to friends you haven't heard from in ages. Have a conversation with a former co-worker, or reach out to family members who might be in a similar field. Making stronger relationships is good for you and for the other person, so be generous with your words and your time.
2. Use Zoom to maintain your social routine
Sure, you can't go out for coffee the way you used to, but it's still possible to meet with people face-to-face using an online video conferencing platform like Zoom.

With everyone learning the ropes of virtual networking, it's perfectly acceptable to suggest conferring over a Zoom meeting. It's even okay to suggest having that coffee together on Zoom. You may not be able to physically touch the other person, but at least you can smile at each other!
3. Make good use of social media
Now is the time to amp up your social presence. Most people are online, so make sure you are saying the right things about yourself through your social media image.
If one of your goals is to network with more people so you can transition into a new career, then make sure you highlight the positive side of yourself. Try viewing your own social media pages from the eyes of a stranger. Would you want to know more about you?
Plus, don't forget about newer platforms like the Clubhouse—plenty of people have successfully networked using the new audio app.
4. Add connections on LinkedIn
LinkedIn is a great online source of networking. If there's a company or brand you're eager to work for, search for employees who work there, and see if you have any shared connections. It doesn't matter if they are a receptionist or a CEO—that person could know exactly the contact you've been trying to meet.
5. Be helpful to the person you want to connect with
Networking is all about give and take. People love being helpful to you, but they also love it when you reciprocate. Is there someone you really want to connect with? Think about what you can do to help that person.
It might be something practical, like teaching that person how to use Zoom. It could be something business-related, like making an introduction with one of your co-workers. Or, it could be personal, like suggesting a good movie you recently viewed. Being genuine, friendly and helpful are key to making lasting connections.
6. Talk openly about the pandemic
Do you sometimes feel like coronavirus is the white elephant in the room? Don't feel like you can't say the C-word. Talking about COVID-19, your difficulties adjusting to the crisis, and your fears may help someone else feel comfortable enough to open up to you.
Instead of letting the pandemic shut down your networking attempts, use it to reach out to others and help them overcome social hurdles.
7. Be part of a mentoring relationship
The mentor-mentee relationship is an amazing way to meet new people. For one thing, you get to know the other person in your mentoring relationship well. You spend one-on-one time together, you talk, you teach and learn, and you find out each other's strengths and weaknesses.
It doesn't matter if you are the mentor or the mentee. Both parts of the relationship have something to offer. If your company offers mentorship relationships, jump at the opportunity! This is quality networking at its best.
8. Follow up so you won't be forgotten
Did you meet someone new online? That's great! Now don't let that individual forget about you. Follow up a day or two later (or possibly a week, but don't wait too long). Your follow-up email or text can be a little random, but it should be friendly and short. The goal is to be kind and keep your name in that person's mind.
9. Attend virtual conferences
You probably aren't attending many physical conferences these days, so make use of virtual alternatives. Actually, the key to networking at a virtual conference comes after the conference. Find out the name of a speaker that you would like to connect with, and then send that person an email, thanking him or her for the talk. Mention specifics without being too wordy. The speaker may not return the email, but then again, you never know unless you try!
Networking has changed in many ways since the start of the pandemic, and it will change again as it becomes socially acceptable to sit close to people again. You can work through the changes by being yourself. Whether you're an introvert who prefers one-on-one conversations or a social butterfly who thrives at parties, there are ways to network that makes sense for you. New connections lift the spirits, so go ahead and network.
The My Imperfect Life team is all about helping you navigate your world. We bring you the latest on fashion, beauty, travel and wellness so you can live life on your terms.