The best upcycle ideas to try at home, from fashion to home decor
These 19 creative upcycle ideas add value to everyday unwanted items in your home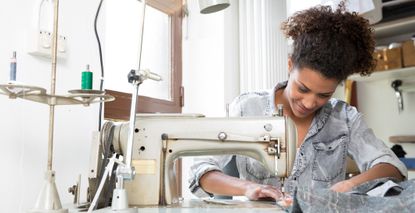 (Image credit: Getty)
Bye-bye "reduce, reuse, recycle"—today, savvy consumers are embracing creative upcycle ideas instead of the old sustainable mantra.

Think of upcycling as a practical combination of "reuse" and "recycle." The practice saves money, helps the environment, and gives new life to clothes and objects you find in your closet and around your home. Even some of the best sustainable fashion brands are getting in on the action.

First, learn what the upcycled meaning is, then give it a try for yourself with these unique upcycle ideas.
Upcycling 101: What is upcycling?
The upcycling trend rose to prominence in the mid-1990s thanks to German author Gunter Pauli's book, Upcycling, which ignited interest in this creative re-envisioning of traditional recycling.
Upcycling is a philosophy and practice of thinking up ways to take unwanted objects or products and repurposing them into something of even greater value or quality.

One of the most widely used forms of upcycling is in the food industry, with a growing interest in upcycling food waste into fuel. But people are also finding creative ways to implement this approach at home, whether inside—check out upcycled furniture ideas for DIY inspiration—or out, like upcycled garden ideas to upgrade your outdoor space. The following upcycle ideas can help you explore the benefits of upcycling for yourself.
19 creative upcycle ideas to try at home
1. Furniture
Before taking an unwanted chair to the landfill, or trying to sell an old couch to strangers online, look for ways to repurpose old unwanted furniture into something you'd be proud of showing off in your living room. For instance, you could:
Sand an old desk or table and give it an eye-popping coat of paint. This method will instantly upgrade your furniture into a visually impactful statement piece.
Turn vintage, discarded lampshades into fashionable hanging pendant lights.
Transform old window frames into vintage-inspired picture frames for your favorite photos or artwork.
Turn a headboard on its side for a creative rack to hang coats or blankets.
Refinish an old three-legged stool, then turn it upside down for a convenient place to store gift wrap or other objects on rolls.
Flex your carpentry and plumbing skills and create an antique-inspired vanity or bathroom sink counter out of an old cabinet or dresser.
2. Clothes and fashion
The thrift shop or donation bin doesn't have to be the only destiny for clothes you no longer want or don't wear often. With a little reimagining, you can upcycle whatever is in your closet and turn a wardrobe malfunction into a runway-ready piece:
Practice your sewing skills and turn unwanted adult socks into fashionable leggings for babies and toddlers.
Repurpose unwanted necklaces into statement headbands or old bracelets into chic hair ties.
Upcycle old jeans and transform them into a timeless denim skirt.
Pop the buttons off an unwanted button-down shirt, and sew them back on at a lower level to transform it into a stylish off-the-shoulder blouse.
Tie-dye old sweaters, or even stained clothing, to create instantly fashionable new clothes.
Sew together the bottoms of a tank top for a sustainable, earth-friendly reusable grocery bag.
3. Everyday objects
Turn a commonplace object into art, and reinvent the ordinary into something extraordinarily useful:
Brush off an old rug, spray it with vibrant dye, and have an instant statement piece for your entryways.
Turn old mirrors into eye-catching trays for candles, trinkets, and other decor.
Anchor old books into the wall for stylish shelving.
Stack crates together on their side for instant storage, or attach them to your wall for deep-set shelving that's perfect for showing off chinaware and other display items.
4. Trash
One person's trash can be that same person's treasure with a little creativity:
Collect wine corks, then use a hot glue gun to arrange them into useful containers, like a vase for dried flowers or a box to hold pens and pencils.
Clean and paint old tin cans. Then cut out creatively shaped holes, like stars or diamonds, for a twinkling new candle holder.
Paint old glass jars and use them as a vase or to hold little houseplants.
How to take an upcycled approach to anything in your life
The above upcycle ideas are a few ideas to get you started. Come up with your own upcycle ideas today! Take a moment to look around you and ask a few key questions:
How could I change my perspective and reorient this object (e.g., turn it upside down, turn it on its side, etc.) for a new purpose?
What would this object look like if I repaired it, cleaned it, repainted it, or decorated it?
What traditional thing could this object be with a bit of imagination (e.g., a bench sawed in half becomes a set of side tables in the bedroom)?
What could I remove, bend, cut, or replace on this object to change its use?
As you can see, upcycling adds value and purpose to unwanted objects by pairing an artsy imagination with a little bit of elbow grease. You'll be flexing your creativity while also doing your part to support environmentally-friendly practices. Win-win!
The My Imperfect Life team is all about helping you navigate your world. We bring you the latest on fashion, beauty, travel and wellness so you can live life on your terms.