The best upcycled furniture ideas: six DIY projects to get stuck into
Turn your old stuff new with these clever upcycled furniture ideas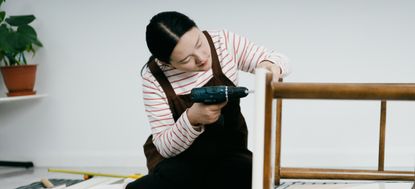 (Image credit: Getty)
If a lot of time spent indoors this past year has left you inspired to refresh your home decor, these upcycled furniture ideas may be the perfect springtime project for you.
Although your first instinct may be to head to your nearest IKEA in search of a new couch, table, or shelf, consider upcycling pieces that you already have in your home or find at a thrift shop. Like purchasing from upcycled fashion brands, upcycling furniture is an eco-friendly alternative to buying new furniture, allowing you to design pieces that are uniquely you. And while the cost associated with purchasing brand-new materials can make home redecorating challenging, upcycling furniture can be a relatively inexpensive venture.
From painting an old bookshelf in your signature color to using a thrifted shelf as the basis for a new window seat, there is no end to the list of creative upcycle ideas that can brighten up your home in your personal style. Add one of these creative upcycled furniture projects to your plans for an upcoming weekend—then check out our list of the best sustainable fashion brands for even more eco-friendly lifestyle tips!
Upcycled furniture ideas to help you refresh your home
1. Crack open those paint cans
Now you know the meaning of upcycled, it's time to consider how you can actually put it to work in your home. And nothing gives a new life to an old piece of furniture like a fresh coat of paint. If you find a table that is otherwise perfect for your space, but it's an ugly color, repainting old furniture is a fun and easy way to make it look new again.

Refinish that decades-old bookshelf from the basement and create cool new storage space. Overhaul your furniture with a bright color that matches your home decor, or simply spruce up a piece with fading or peeling paint. Adding a fresh coat of color is one of the most foolproof and versatile options for upcycling your furniture—and, one of the easiest upcycled furniture ideas to get started with!
2. Reupholster old furniture
The lifespan of old chairs, couches, and benches can be shortened by worn or outdated fabric. For items that are otherwise in good condition structurally, updating cushion covers yourself can make older pieces last for years. (Plus, they'll be so much more comfortable, we're talking true hygge home decor vibes!)
Choose fabric that resonates with your current home decor style—if your home is modern, opt for neutral colors that will add a timeless touch to your home.

This method is also a quick and cost-effective alternative to purchasing a full set of new furniture if you want to give your living or dining room a new look.
3. Turn large pieces into smaller home items
If a large-scale piece of furniture has some usable elements but isn't quite right for your current space as it is, a little craftsmanship can go a long way toward creating something new. Whether you want to turn a desk into a nightstand or a nightstand into a minibar, the possibilities for repurposing something you already have are endless.

Taking apart old furniture and putting your favorite pieces together can keep traces of your old style in your new decor, while saving space without buying new materials.
4. Replace unsightly handles
Old cabinet drawer handles may be out of style, tarnished, or otherwise discolored. Replacing outdated or damaged handles with shiny, elegant ones is one of those super-quick upcycled furniture ideas that can completely change any piece's tone.
You could even choose fun and unusual handles, such as the above, to give your home a really unique touch. This upcycling furniture idea is really simple and easy to do, and should take just a matter of minutes.

Even if you're not painting or refinishing the full piece, this simple change makes a big difference. If you are painting or refinishing, however, be sure to add your new handles or knobs last to avoid small specks of paint or toning liquid.
---
---
5. Upcycle old doors
If you've recently purchased a new door, chances are your old door can be put to good use in another part of your home. Depending on the style of your door, this upcycling project can have a variety of outcomes by just removing the hinges.

Many solid wood doors can make beautiful headboards, while doors made of large, divided glass make for excellent collage-style photo frames. Like most other upcycling projects, however, staining or painting your old door before moving it to its new home can improve its appearance, making it fit well with the rest of your furniture.
6. Add a fun print to your existing furniture
If you're pretty happy with your existing furniture but are keen to give it a fun update, why not try adding a print to it, instead of changing it altogether?
There are plenty of places where you can buy stencils that you can paint onto, for an easy way to add a new fun pattern to your furniture. Or, you can even buy rollers that have patterns on then, which you simply dip into paint and roll onto your chosen furniture.
This could be a great option for the sides of cabinets or wardrobes, if you're worried about manoeuvring around the handles at the front of these pieces! One of the most fun upcycled furniture ideas.
The My Imperfect Life team is all about helping you navigate your world. We bring you the latest on fashion, beauty, travel and wellness so you can live life on your terms.