Upcycled garden ideas: doable DIYs for your outdoor space
These easy upcycled garden ideas will spruce up your green space, from planter hacks to smart lighting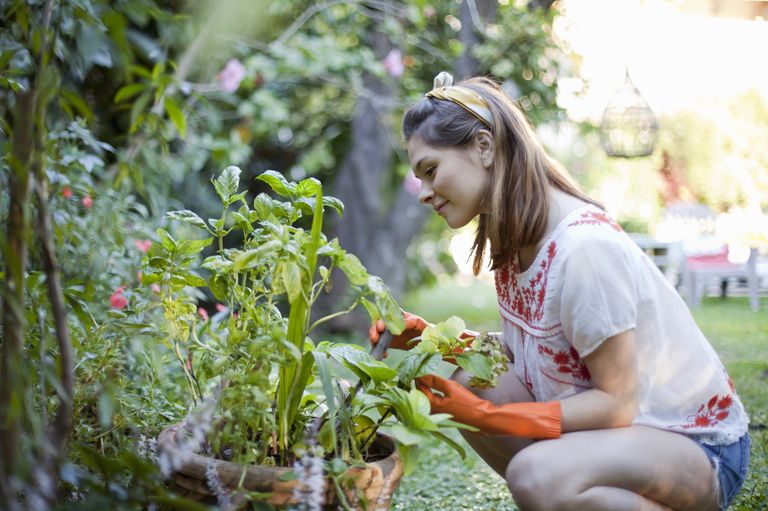 (Image credit: Getty)
Want to turn a regular flower bed into something exceptional? These upcycled garden ideas will help you turn a discarded object into something new and completely your own.
Even fashion brands are getting in on upcycling—check out these upcycled fashion brands for some amazing style finds—as the trend brings more awareness to innovation and being environmentally friendly. Taking something old and making it into something new is vital to limiting waste and inspiring people to use their imagination and creativity to design wonderful things.
Don't worry—with our favorite upcycled garden ideas, your creative abilities will begin to bloom and inspire your own great gardening creations. And once your outside is an upcycled wonderland, take the trend indoors with DIY-ready upcycled furniture ideas!
Let's dig into fun upcycled garden ideas that you can try in your own yard.
---
---
Five upcycled garden ideas to DIY at home:
1. Flowering wheelbarrow
A flowering wheelbarrow is a great upcycled garden idea because it doesn't take much effort, and the result is incredible.
If you try something like Garden Power Tools' Wheelie Barrow, all you have to do is tip your old (and probably rusted) wheelbarrow on its side, layer some rich soils halfway up the inside, and add your favorite flowers to the mix. Having your favorite flower colors spilling out of the wheelbarrow will add a lot of classic beauty to your flower bed.
Consider reusing an old wheelbarrow over buying a new one. The great thing about upcycling is making use of the old to create something new. So resist any temptations to buy a new one at the store and use the rusted one in the back of your shed, one at a nearby yard sale, or ask around with friends and family.
2. Chair planter
A chair planter is one of the best upcycle ideas for your outdoor space, especially if you use an old rustic design. There are at least two great ways to make one. One way is specific to a wooden chair like Etsy's Flower Pot Holder Chair. Cut a hole in the middle of the wood seat (the size of the pot your plan to use), and place the pot in. Then, choose your favorite flower colors in contrast to the chair color and enjoy a beautiful setup.
If you have a metal chair, something like Garden Therapy's Succulent Planter Chair is a great option. Pots come in several sizes, and it's likely you already have the right size sitting around somewhere. If not, consider yard sales first before getting a new one from a nearby store.
You may also want to consider adding a vibrant color pop by painting the chair with your favorite shade and adding a distressed look to it. Remember, while you are making old objects into new ones, you still don't want them to look sparkling new. The idea is to keep the rustic vibes while appealing to your own likings and favorites.
3. Bicycle basket planter
Growing in popularity, bicycle basket planters are a trendy addition to your garden. The most personality and character is found in the old, rustic bikes from back in the early and late 1900s. Today, many bike styles are covered in plastic designs with brand names embracing them from top to bottom. Older models, likely from your grandparent's younger days, are the real prize!
Position the bicycle in a strategic manner that complements your garden and fill the basket (the most important component of your bike when choosing) with your favorite flowers that add color. Before you know it, you'll add a little sunshine to an outdated and otherwise unused item.
If you don't have a bike lying around that you'd like to put to good use, think about asking friends and family if they have an old, rusty one they're considering throwing out. As always, when in doubt, yard sales and junkyards can be a gold mine for these kinds of trash-to-treasures.
4. Burlap planter
One of our favorite upcycled garden ideas is taking any old pot and turning it into a fashionable accessory to your flower bed. But have you ever heard of turning a broken laundry basket, storage container, or spare fabric into a cute burlap planter?
It's an easy way to make use of an item that can't serve its intended purpose anymore and typically would be thrown away. You just grab some burlap, rope, hot glue, and you'll have a completely new garden addition that will have friends asking for your secrets. It's up to you whether you want to spill the beans or keep them guessing.
Even better, burlap and rope can make anything old look brand new and fashionable. If you don't have a broken laundry basket on hand but want to upcycle other items into a stylish flower pot, go crazy! Depending on how much burlap you buy, you can cover up almost anything hard on the eyes and add flowers. Feel free to venture into new creations of your own.
5. Solar light lamp
When you want to add a little light to your garden, an upcycled lamp like Green Owl Craft's Upcycled Mason Jar Solar Lights is a must. It adds an elegant appeal while shining light on your naturally beautiful garden creations, even when the sun goes down. It's fairly easy to put together when you have all the pieces and can be completely modified depending on your style, personality, and overall gardening theme.
You can also use it on a rustic table next to an adorable little chair by the garden. There's no better place to rest after a long day with a book, music, or podcast than by your flower bed. Now, you don't have to go inside the house after dark! Keep enjoying the outdoors with style.
These are only a handful of upcycled garden ideas you can consider when you want to revamp your flower bed and add more character. The great thing about upcycling is that it comes in a variety of shapes, sizes, and creations. That's what makes it so fun!

When you're ready to explore your creative side, think about shopping around yard sales and thrown-out furniture for more inspiration and ideas. In this case, the saying, "one person's trash is another person's treasure" is spot on. Don't be afraid to make something incredible.
The My Imperfect Life team is all about helping you navigate your world. We bring you the latest on fashion, beauty, travel and wellness so you can live life on your terms.