All the questions you'll have after watching The Notorious B.I.G. Netflix documentary
Netflix's "Biggie: I Got a Story to Tell" documentary is an in-depth depiction of the late rap king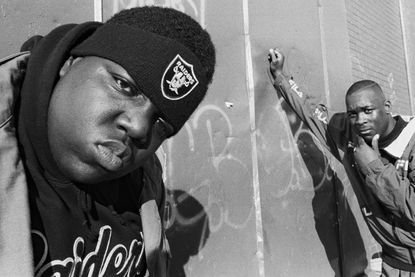 (Image credit: Netflix)
Following the success of Netflix's Cecil Hotel docu-series—as well as the recent announcement of the platform's own Britney Spears documentary and the upcoming college admissions scandal doc, Operations Varsity Blues—the streaming giant has snapped up a documentary that follows the short life of Christopher Wallace, known to millions as Biggie Smalls, the Notorious B.I.G.
Netflix's 80-minute depiction of the life and work of The Notorious B.I.G. sits in the shadow of his death and the escalated rivalry that eventually took his life. Director Emmett Malloy follows the famed feud between the rival East and West Coast rap scenes, but most importantly focuses on the namesake rapper's origin story.
Biggie's own mother, Violetta Wallace, serves as an executive producer on the film and details the legendary beef that erupted in the Nineties. Rapper and frequent collaborator Sean "Diddy" Combs is also an exec producer and, like Wallace, is featured in exclusive interviews for the doc.
In the film's trailer, Wallace says: "This will be the first documentary to focus on the experiences of my son's life, rather than the circumstances of his death. It is a celebration of who he was and where he came from. This is how he would have wanted to be remembered."
Who was Biggie Smalls?
The rapper formerly known as Christopher Wallace went by several stage names: The Notorious B.I.G., Biggie Smalls or, simply Biggie. He was born and raised in Brooklyn, New York, by single mother Voletta after his father left the family when he was only two-years-old.
Following high school (he attended Brooklyn's George Westinghouse Career and Technical Education High School alongside fellow rap icons Jay-Z, Busta Rhymes and DMX) and a few run-ins with the law, Wallace recorded a demo, taking his famous stage name from a fictitious character in the 1975 movie Let's Do It Again.

He signed to Sean Comb's Bay Boy Records label in 1993 and gained critical and commercial acclaim for his debut album Ready to Die a year later, off the strength of signature songs like "Juicy" and "Big Poppa." By 1995, he was Billboard's Rapper of the Year and the East Coast's leading hip-hop artist.
In '94, he married R&B singer Faith Evans after knowing her for only eight days. Smalls once told Vibe magazine: "I married her after knowing her eight days and I was happy. That was my baby. At the same time, with us being so spontaneous, we did it backwards. Maybe she won't admit it, but I will. We should have got to know each other and then got married. The relationship kind of dissolved, but we're still going to be friends."
How old was Biggie when he died?
Biggie Smalls was murdered in a drive-by shooting on March 9, 1997, while in Los Angeles—he was only 24-years-old when he died.
According to Netflix, the Biggie: I Got a Story to Tell doc "covers Biggie Smalls' formative years and tracks his rise to prominence" in the years prior to his death, giving fans never-before-seen camcorder footage of the late star. "Every legend has an origin story," the trailer's description on YouTube reads.
A description from Netflix reads: "Christopher Wallace remains one of Hip-Hop's icons, renowned for his distinctive flow and autobiographical lyrics. This documentary celebrates his life via rare behind-the-scenes footage and the testimonies of his closest friends and family."
Who shot Notorious B.I.G?
Biggie Smalls' shocking death is still under public investigation due to speculation surrounding the tragedy, but retired LAPD gang task-force detective Greg Kading who worked on the case for three years alleges that the rapper was shot by Wardell "Poochie" Fouse, a Mob Piru Gang member and an associate of rap mogul Suge Knight.
Leaked FBI documents reveal Sean "Diddy" Combs might have been the original target of the infamous shooting. The rapper had himself received multiple death threats, and his security guard had confronted a man who approached Combs' car just moments before Biggie Smalls' death.
Former FBI agent Phillip Carson alleges Suge Knight, the former Death Row Records CEO, orchestrated the attack with " dirty" LAPD officers. Carson reportedly said: "LAPD, all the way to the very very f***ing top, knew exactly what was going on."
Biggie Smalls kids: how many did the rapper have?
Biggie has two children: daughter T'yanna, born August 8, 1993, and son Christopher George Latore "C. J." Wallace Jr., who he fathered with R&B star Faith Evans in 1996.
C.J. Wallace, Jr. played his famous dad as a young B.I.G. in the 2009 biopic film Notorious
Biggie Smalls and Tupac: from friends to foes
The history behind the connection between Biggie Smalls and Tupac "2Pac" Shakur is complicated to say the least. The pair of famous rappers devolved from trusted friends to mortal enemies, as their brotherhood went way beyond East Coast vs. West Coast beef.
Rumor has it that the pair originally met on the set of the 1993 film Poetic Justice. Shakur, then a well-known California rapper, played Biggie's Party & Bulls**t on repeat, which flattered the Notorious B.I.G. and kicked off their friendship. As their relationship blossomed, Smalls would crash at Tupac's Los Angeles home, and the two sprung up an unlikely connection after 'Pac reportedly sent Biggie numerous bottles of Hennessy. The duo went on to sell-out major concerts at New York's Madison Square Garden.
Shakur's career had skyrocketed, as he became a platinum-selling musician and movie star, while Smalls was still struggling to get his career going. Close associates of the pair detail that Biggie even once asked Shakur to take over for Sean Combs as his manager. "Nah, stay with Puff," Pac allegedly told Biggie. "He will make you a star."
The friendship turned sour when 2Pac began hanging around a new crew that included Jaques "Haitian Jack" Agnant and Jimmy Henchman, who Smalls didn't approve of.

On November 30th, 1994, Shakur was shot outside Quad Recording Studios in Times Square after being called up to the studio by Biggie's affiliated rapper Lil' Cease. 2Pac was shot but survived, and he was robbed of his jewelry. Later, Biggie Smalls and Sean Combes were found inside the same building, leading Shakur to believe that Smalls not only had prior knowledge that Shakur was going to be shot, but also that he knew who was behind the shooting.
After the 1994 shooting, the friendship between Biggie Smalls and Tupac Shakur was never the same, and they never were able to repair their friendship, as 2Pac was murdered in a shooting in Las Vegas on September 13th, 1996, and Smalls died in a shooting in Los Angeles only a few months later.
Since December 2020, Kudzai has worked as a trainee journalist at FUTURE, writing about fashion, entertainment and beauty content for My Imperfect Life.

Kudzai previously worked as a freelance fashion wardrobe stylist, directing magazine photoshoots and coordinating the fashion direction of recording artists.

A fully qualified Journalism and Media graduate from De Mont Fort University, Kudzai graduated in the summer of 2020.