6 pretty butterfly tattoo ideas to choose from for your next design
Butterfly tattoo ideas can vary significantly, so we've brought you a round-up of all of the most popular options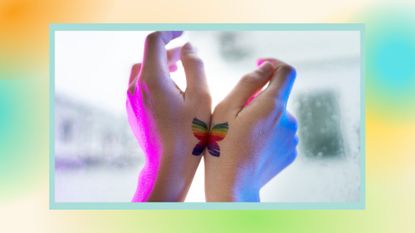 (Image credit: Future/Getty Images)
If you're set on the idea of a butterfly tattoo but aren't sure what type of design to go for, perusing butterfly tattoo ideas can be useful to help you decide on something that will be on your skin forever.
Butterfly tattoos are a pretty failsafe design choice, as they're timeless and can usually be designed in a way that fits with your own personal aesthetic. In fact, some of our favorite celebs, such as Ariana Grande and Vanessa Hudgens have one! It's important not to be too led by trends though, and to pick a butterfly design that you'll love for the rest of your life—and won't regret in a few years. If you're torn, micro tattoos can be a little less overwhelming than a full piece, as they often feature fine lines that you can easily conceal should you need to.
For that all important inspo, we've compiled a list of six great ideas for new butterfly tattoos, so that you land on a design you'll love for years to come.
6 butterfly tattoo ideas
1. The single, hidden butterfly
A trend that has grown in popularity in recent years is extremely small (even by micro tattoo standards) illustrations, hidden on the back, arms, or neck. If you opt for this sort of design, fine illustration work would be used to tattoo you with a small butterfly the size of a quarter, or even smaller.
This is the perfect option if you want something really subtle like a small hand tattoo or an ankle tattoo—people may not notice even notice the illustration right away and at a glance, it may even just look like a beauty mark. So if you're feeling a bit apprehensive about getting your first tattoo, this is one of the best butterfly tattoo ideas to choose.
2. Multiple butterflies
One cute tattoo idea is to have multiple butterfly tattoos across one area of your body, be it your arm, leg or back. Tattooing three or four of them spread out across your a small space will impart a feeling of butterflies scattering from the grass as you walk through a field on a spring day—and who doesn't want to have that feeling of freedom when you spot yourself in the mirror?
If you like the idea of this design, you might opt for an entirely black flock of butterflies, or you may want to add some color—whatever you choose, this will absolutely have a big impact.
3. The rainbow butterfly
Another fab idea for a butterfly tattoo is to squeeze as many rainbow colors as you can into a single, simple butterfly micro tattoo. IRL, butterflies are stunningly colorful, so adding this type of realism to your tattoo will give it a unique spin.
And a 'rainbow' butterfly tattoo doesn't have to be the traditional color spectrum necessarily. You could play with any color combination and pattern that you like—why not incorporate the colors of a national flag, or the LGBTQIA+ pride flag to give your butterfly a little extra personality?
4. The black-and-white butterfly
Some people prefer slightly more subtle black and white images on their bodies. One way to incorporate this style into your new butterfly tattoo would be to get a sketch-style butterfly very simply tattooed, without any color at all. This is actually a great option for a butterfly tattoo—the delicate structure of a butterfly's wings and body offers a unique opportunity to create a super interesting and intricate tattoo. Just be sure you're working with an artist who is up to the job first, as these kind of designs can be trickier to get right.
One big advantage of black and white tattoos is that they often have more bold lines, and high saturation tattoo ink is less susceptible to fading. Black ink generally is far more durable over the long run than its colorful counterparts.
5. The meaningful butterfly
A butterfly tattoo often symbolizes romance or rebirth, so many people choose to add an important dedication within theirs, be it to a partner, a deceased loved one, or simply an important date, a favorite quote, or a shout-out to a special friend or family member.
There's a lot of ways that this can be done. Sometimes people will include a delicate script alongside the butterfly, or place the text within its wings. The wording could even be tattooed across the top of the butterfly—it's totally your call. A sweet tattoo idea for couples or if you're looking to get best friend tattoos.
6. The hyper-real butterfly
If you like your tattoos to be bold and impactful, then a hyper-realistic option may be one of the best butterfly tattoo ideas for you!
A hyper-real tattoo is almost 3D, and blurs the lines between what you're seeing and what you know to be true. In the case of a butterfly tattoo, the design is made to look as though there is a real, living, breathing butterfly resting on your body—but it's actually a 2D inked-on image.
These hyper-realistic butterfly tattoos can be colorful or black and white, but more often than not, they are on the larger side, to really show off the artistry. So if you're looking for a small, delicate tattoo, this probably isn't the right choice for you.
Lucy is a beauty journalist who has written for titles including Marie Claire, Cosmopolitan, OK!, woman&home and Women's Health, as well as regularly contributing to My Imperfect Life. Her work covers everything from skin and haircare tips to trying and testing the latest beauty launches, and interviewing celebrities and experts. A certified dog person, her other interests include mental wellbeing, books, piña coladas and not getting caught in the rain.

With contributions from