CeraVe vs Clinique: Which of these heavyweight moisturizers should you go for?
CeraVe vs Clinique - which brand offers the best moisturizer for dry skin?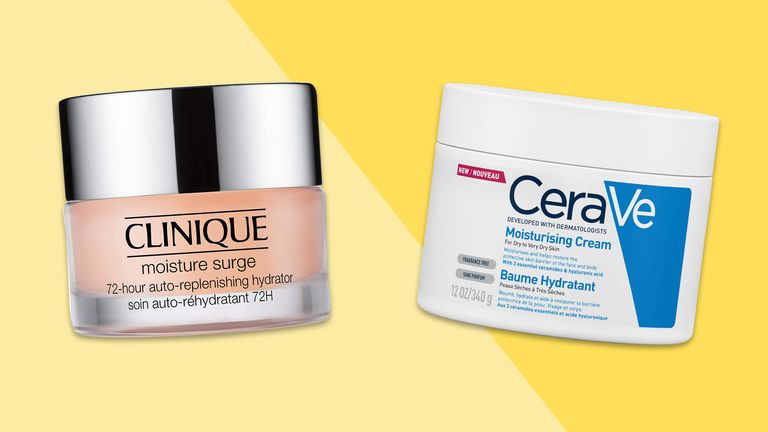 (Image credit: Future)
CeraVe vs Clinique  - which of these two heavyweight brands has the best moisturiser for your skin? If you're looking for a super-hydrating face cream to remedy dry, flaky skin and keep patchiness at bay, CeraVe Moisturising Cream and Clinique Moisture Surge are two of the best moisturisers for dry skin out there. Both have a lot to offer in terms of skin-soothing properties and nourishing ingredients, but which one is right for you?
CeraVe vs Clinique: The basics
CeraVe Moisturising Cream
Targets: Very dry skin on the face and body
USP: No-nonsense hydration, gentle enough even for the most sensitive skin
Key ingredients: Three essential ceramides and hyaluronic acid
Clinique Moisture Surge
Targets: Dry and dehydrated skin with a deep moisture hit
USP: Intensely rehydrating, with ingredients that active the skin's own internal water source
Key ingredients: Hyaluronic acid, aloe vera 
What's so special about CeraVe Moisturising Cream? 
CeraVe has achieved cult-like status among beauty aficionados as being a slightly pricer alternative to a classic thick, no-nonsense moisturiser like E45 or Nivea. It is slightly more sophisticated in that it utilises patented MVE delivery technology - a delivery system that releases hydrating ingredients into the skin over time, rather than with a short burst of moisture - to help replenish ceramides and deliver controlled, long-lasting hydration. 
"All CeraVe products are enriched with three essential lipid molecules found naturally in the skin. Ceramides are part of the stratum corneum (the outermost layer of the epidermis) and ensure that the skin barrier functions correctly," Tom Allison, CeraVe co-founder, told us. "When ceramide levels are low, the skin barrier is weakened and skin can become dry, itchy, or irritated. By adding these three ceramides to its skincare range, CeraVe helps restore the skin barrier, giving plump, hydrated skin."
It's perfume and colour free, making CeraVe's Moisturising Cream a no-nonsense cream that's perfect for sensitive skins. Plus, this cream is packed with nourishing ingredients like ceramides (natural oils found in the skin) fatty acids and phytosphingosine (a water binding agent). 
What's so special about the Clinique Moisture Surge? 
Clinique's Moisture Surge is technically classed as a "hydrator", meaning it can be used on its own if your skin needs a moisturiser with a lighter texture, or over your regular face cream to lock in moisture and create a fresh, dewy complexion. The hero ingredient here is aloe vera, which offers a soothing sensation when the gel is applied. It really does feel like your skin is drinking up an ice-cold pint glass of H20. The result is plump, smooth skin with a radiant glow. 
Like CeraVe, Moisture Surge is formulated with hyaluronic acid to deliver a moisture hit of up to 152%, according to the brand. Activated aloe vera and caffeine team together to activate the skin's own "internal water source", which essentially means they help to draw water from the deeper within the skin to hydrate the top of the epidermis. Fancy. 
What's the main difference between the two?
Texture is a biggie, as CeraVe's cream is a rich, thick consistency that we'd argue is more suitable for slathering on before bed, rather than under makeup. Though if you do suffer with super dry, patchy and flaky skin, a heavier cream may be needed. Clinique Moisture Surge is a lightweight gel that glides onto the skin with ease and is fast-absorbing, so perfect for busy mornings when you are on the go. 
The simplest way to polorise these two moisturisers would be by the seasons - summer (Clinique Moisture Surge) and winter (CeraVe Moisturising Cream) - but that would be too simplistic. I personally love a refreshing gel moisturiser for a skin revival first thing in the morning, especially in the winter months - and those who suffer with very dry skin know this isn't a condition that clears up come summertime.
Should I buy the CeraVe Moisturising Cream or the Clinique Moisture Surge?
If you're after a non comedogenic hydrator that suits oiler, or combination, skin types, Clinique Moisture Surge is a great option to use alone, or over your regular moisturiser for an extra moisture boost in the winter months. If it's more a heavy-duty, deeply hydrating cream you need, we recommend CeraVe's non-nonsense approach. 
Those with very dry skin should opt for the latter for deeper nourishment, or why not try both together? We love the versatility of Clinique's Moisture Surge, as it can be used in conjunction with other products as a final moisture-boosting step, or even as a mask if you want fast results; simply layer on a thick layer and tissue off excess after ten minutes.