Origins GinZing moisturizer review: an oil-free formula that fully hydrates skin
The bestselling Origins GinZing moisturizer has had an upgrade, promising 72-hours of hydration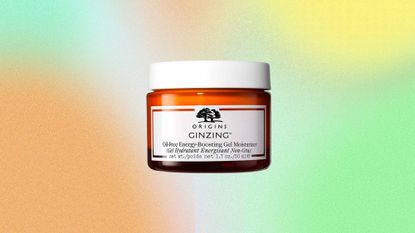 (Image credit: Origins)
My Imperfect Life Verdict
Radiance in a jar, this oil-free option is lightweight and fresh-smelling and leaves skin feeling incredibly soft—it could well be the best moisturizer for dry skin out there.
Reasons to buy
+

Scent is fresh and uplighting

+

Delivers long-lasting hydration

+

Contains natural active ingredients
Reasons to avoid
-

This is a lightweight moisturizer, very dry skin may need something heavier
If you're wondering if the Origins GinZing Moisturizer is the one for you, you're not alone. Origins GinZing Moisturizer is a much-lauded product, having whipped up a hoard of loyal fans and cultish followers into a frenzy. We heard many good things about this wonderful moisturizer and so, decided to put it to the test.
This cream made it onto our list of the best moisturizers for dry skin, and it could really be a lifesaver for anyone with combination skin.
How to choose moisturizer and the search for effective, non-comedogenic—that's a fancy way of saying products that won't cause pore blockages—moisturizers is a lifelong commitment for us combination and oily-skinned. And that's not the only reason I veer away from oil-based skincare.
I tested the Origins GinZing moisturizer, here's what you need to know about my skin and skincare routine
I managed to reach my late 20s before I realized that I suffered from mild rosacea. The telltale signs were there; flushed cheeks after a glass of red, blotches at the gym, a heightened sensitivity to the sun… but it took visiting a dermatologist for a different reason to stumble upon my diagnosis. "Skin that has rosacea will feel more sensitive but often has an oily component," Dr. Ifeoma Ejikeme, aesthetic doctor and medical director of Adonia Medical Clinic (opens in new tab) told me. "Oily products and products that clog the pores can really aggravate rosacea."
So I waved goodbye to my much-loved facial oil and embarked on a quest to find the perfect oil-free moisturizer—that's where Origins GinZing Energy Boosting Oil-Free Gel Moisturizer comes in. This moisturizer is a hybrid of glow-boosting ingredients and super-hydrating technology, that's light and oil-free. So can it hydrate without irritating my skin?
Origins GinZing moisturizer: the need to know
Targets:
This moisturizer is suitable for all skin types and targets tired-looking and dull complexions in need of an intense moisture hit.
USP:
Reviving plant extracts. Promises to keep skin hydrated for 72 hours.
Key ingredients:
Caffeine (derived from coffee beans) to refresh and recharge, panax ginseng, a plant used in traditional Chinese medicine to boost the skin's energy, sunflower seeds, and barley, containing essential lipids, and Hydra-Hug, Origin's latest hydration technology.
The science behind Origins GinZing moisturizer
Origins' USP is the ability to harness the power of plants and natural, active ingredients to revive dull complexions. The iconic Dr. Weil's Mega-Mushroom range, formulated with potent reishi mushrooms, is also a fantastically hydrating collection of lotions, emulsions, and creams.
Origins' GinZing Energy-Boosting Oil-Free Gel Moisturizer is charged with panax ginseng, a small-but-mighty perennial plant grown in the mountains of East Asia. Ginseng is well known for its invigorating properties and has been used for centuries in traditional Chinese medicine as a powerful antioxidant. While Origins isn't claiming the same health benefits as if you were to go straight to the source, this moisturizer does encourage anti-inflammatory and antioxidant effects, which is quite evident as regular use did calm my rosacea-prone skin.
The brand clearly isn't resting on its laurels—in fact, they are constantly pushing for innovation. They have recently reworked the formula of this bestselling moisturizer, this time, with the introduction of "Hydra-Hug" hydration technology, a term coined by Origins. Hydra-hug technology claims to tackle dryness at a cellular level, bridging the gap between skill cells (with a "hug", geddit?) and thus helping to lock in moisture.
First impressions and immediate effects
The marketing spiel around this moisturizer is loud and clear and we can confirm that it actually delivers; it wakes up your tired skin. It even includes traces of actual coffee beans in the ingredients list. But credit to Origins, it lives up to its namesake and if you want a moisturizer that will leave you looking like you've had your full eight hours of sleep, I fully recommend Origins GinZing moisturizer and all its glow-boosting properties.
The moisturizer's cooling texture is also a welcome reviver after an early morning wake-up call. My lackluster 7am skin and puffy eyes felt instantly refreshed and the uplifting scent—composed of orange peel, grapefruit, and spearmint oil—adds to that fresh-as-daisy, ready-to-take-on-the-world feeling.
What is the packaging like?
Origins are well known for their bold colors and pretty fonts, making products a welcome addition to any dressing table or bathroom cabinet. GinZing is, quite fittingly, housed in a vibrant orange tub, neatly sealed up in the brand's usual aesthetically appealing—but first and foremost, sustainable—cardboard packaging. The brand has a commitment to sustainability and it's a big part of its ethos. All packaging is made from largely recycled materials, produced by renewable energy sources.
---
---
Who should buy the Origins GinZing moisturizer?
When it comes to how to apply moisturizer there are certainly a few rules, like making sure to apply it after your SPF. Early birds will rejoice at this energy-boosting moisturizer that glides onto skin after a morning shower or early workout session, offering up a mood-boosting scent and hydration that will last all day.
After ditching the oil, I've been careful about which products I invest in, but it's reassuring to know there are options out there that offer lasting moisture throughout the day and night. I'd recommend using this cream as a morning pick-me-up and switching to something a little more heavy-duty in the evening for more nourishment overnight. Oiler skins may want to use it both day and night.
This is not a product that will deal with specific skin concerns, but, if like me, you have a combination complexion and want lasting hydration—without oil—it's a real winner.
Origins GinZing moisturizer: the final verdict
Does the hydration life of this refreshing gel span 72 hours? Well, I've never gone that long without washing my face (apart from maybe at Glastonbury festival, but that was in a pre-GinZing era). But what I can tell you is that this delicious-smelling hydrator does deliver a dewy, post-facial freshness that lasts all day.
The zingy scent and texture as light as a candy floss may scream summertime, but hear me out—this is also the perfect moisturizer for the colder months. Thanks to its hero ingredient, panax ginseng, this gel moisturizer is a genius hydrator, as the Asian plant is a solid source of vitamin B3 (or Niacinamide), which helps your skin cells to hang onto moisture. So, get ready to say hello to plumper and more hydrated skin—even with the harsher elements to contend with.
Lauren is deputy editor at woman&home.com and became a journalist mainly because she enjoys being nosy.
As well as keeping up with the latest news and most-talked-about TV shows, Lauren loves helping people share their stories, bringing experiences and adventures to life online. A big fan of adventure herself, she also loves sharing tips on where to find the best places to eat, drink, and be merry off the beaten track. Lauren has written a series of travel guides for London hotels and loves sharing her insights into a destination's cultural and culinary offerings. At the weekend, you'll usually find her hanging out with her pet cat (or anyone else's pet she can get her hands on), escaping to the countryside, or devouring a good book. You can mainly find pictures of her cat (and a few humans for good measure) on Instagram at @laurenkatehughes.