How to choose moisturizer for every skin type
Wondering how to choose moisturizer for you? We asked the experts what to look out for…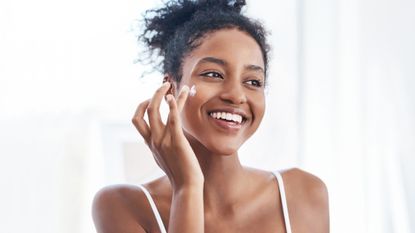 (Image credit: Getty Images)
Want to know how to choose moisturizer for your specific skin type? We asked the experts what to look out for...
Let's just take a moment to applaud our skin; perhaps the most underrated organ in the body. The average person has around 300 million skin cells, which collectively work tirelessly to keep bodily fluids in and harmful microbes out, all while selflessly protecting our other organs. Our skin is always grafting, day in, day out - so it's only fair we repay it by keeping it in the best possible condition.
But skin is complex and skin types can massively vary - from oily, shiny complexions to dry skin that suffers with patches and flakiness. Getting your moisturizer right - as well as knowing how to apply moisturizer and other creams in the right order - is crucial when it comes to providing your skin with the care it needs. The best moisturizers for dry skin are very different from those that will benefit oilier and combination complexions. We quizzed skincare experts on how to recognise your skin's needs and how to pick the best moisturizer for your skin type.
How to tell what your skin type is
The first step is distinguishing your skin type. The easiest way to work this out is with a quick wash test. "You can usually tell your skin type by washing the face with tepid water, patting dry and then assessing how it feels after five minutes," Emma Coleman, a dermatologist and aesthetician told us.
"If there is no dryness and tightness, it's likely you have oily or combination skin. If the cheeks, jawline or forehead feel dry, you may have combination skin. If oil is visible after washing you have widespread oily skin.
"A dry and tight sensation after washing signifies dry or dehydrated skin whilst your skin may simply feel fine and none of the above which suggests normal skin type. The optimum pH of skin is around 5, oily skins tend to be more acidic whilst dry skins are generally alkaline."
How to pick the best moisturizer for your skin type
The best type moisturizer for oily skin
While it may be tempting to skip the moisturizer all together, oily skin needs hydration too! In fact, it's pretty essential for keeping oily skin in balance—just look to lighter formulas, like Origins GinZing Oil-Free Moisturizer. "Oilier skins need a moisturizer to rebalance, slow sebum production and keep pores squeaky clean as well as hydrating the skin," Diane Ackers, skincare industry expert & spokesperson for Doctors Formula cosmeceutical brand, told us. "It's a myth that oily skins don't need hydration – they do!"
"People with oily skin should look for a moisturizer which is oil-free and lightweight rather than a heavy thick cream. Look for non comedogenic on the label so it won't block pores," Dr Ifeoma Ejikeme, renowned aesthetic doctor and medical director of Adonia Medical Clinic, told us. "Without moisturizer oily skin can become dehydrated and therefore produce more oil so choose a moisturizer which contains hyaluronic acid which helps with hydration without blocking the pores."
Diane suggests that you should look for key probiotics when selecting a moisturizer. "Key probiotics such as relipidium provide long lasting hydration and strengthen the skin's good bacteria to rebalance the natural microbiome, whilst hydrolysed yeast protein makes skin less prone to breakouts," she explains. "Kaolin aims to detoxify the skin and clean pores, absorbing any excess surface oils whilst gently exfoliating to prevent blocked pores."
The best type moisturizer for dry skin
When skin is dry, it's often because the skin's barrier isn't working effectively. A damaged barrier can result in dry, itchy, patchy and inflamed skin, which can only be remedied by restoring the skin's balance. A good moisturizer will not only hydrate and protect the skin, but also strengthen the skin barrier.
Diane says: "Dry skin needs a moisture boost as well as hydration. Relipidium stimulates the synthesis of lipids in the skin up to 50%, repairing and reinforcing the skin's protective barrier. Coconut oil is rich in antioxidants and hydrates, while hydrolysed yeast protein improves the moisture content whilst enhancing the natural water reservoirs in the skin.
"Hyaluronic acid will help with hydration throughout the skin and ceramides will help to boost your barrier and aid the hydration process. Having dry skin which can often feel flaky and rough may be prone to irritation and redness so opt for fragrance free and suitable for sensitive skin.
"Products containing glycerin will also help to lock moisture in. For those with super dry skin you may want to carry around a small bottle of moisturizer in winter to replenish throughout the day, but also key is making sure your make-up such as foundation and powder isn't also further drying your skin out."
The best type moisturizer for combination skin
Combination skin can be a bit of a minefield. You want a moisturizer that will soothe and calm dry and flaky patches (usually on the cheeks) while not aggravating the oily T-zone. An oil-free moisturizer is a safe bet, as it will hydrate the skin without any greasiness.
"For those with combination skin it really is a case of trial and error to see what works best for you", Dr Ejikeme told us. "Think lightweight here, so lotions and serums as opposed to thick creams and oils. Two ingredients to look out for are glycerin and salicylic acid."
"Combination skins need to rebalance," added Diane. "Gardenia Tahitensis flower extract, known for its antiseptic and anti-inflammatory properties, targets the oiler zones combined with coconut oil rich in antioxidants and essential fatty acids will work to hydrate, restore and protect the skin."
Lauren is deputy editor at woman&home.com and became a journalist mainly because she enjoys being nosy.
As well as keeping up with the latest news and most-talked-about TV shows, Lauren loves helping people share their stories, bringing experiences and adventures to life online. A big fan of adventure herself, she also loves sharing tips on where to find the best places to eat, drink, and be merry off the beaten track. Lauren has written a series of travel guides for London hotels and loves sharing her insights into a destination's cultural and culinary offerings. At the weekend, you'll usually find her hanging out with her pet cat (or anyone else's pet she can get her hands on), escaping to the countryside, or devouring a good book. You can mainly find pictures of her cat (and a few humans for good measure) on Instagram at @laurenkatehughes.