Standard vs ergonomic desk chair: which one should you choose?
Need a new desk chair? These are the differences between standard vs ergonomic desk chairs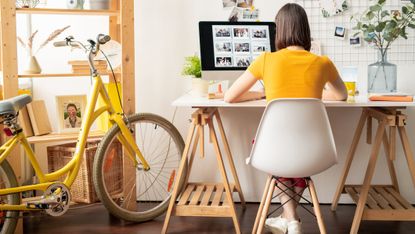 (Image credit: Getty)
If you've ever sat hunched over a laptop while sitting on the sofa or at a kitchen counter (guilty!), you'll know that a desk and comfortable seat are essential if you want to avoid aches and pains—especially if you're going to be working there all day.

However, with so many options to choose from, how do you know that you're picking the best desk chair for the job? Should it be breathable, does it need to tilt, and what about the design—are you going to have to compromise on its looks in order to get a seat that stops you slouching?

In this standard vs ergonomic desk chair, we'll explore the main differences between the two, so you can make an informed choice as to what would suit you best.
Why you should invest in a proper desk chair?
When we're working from home, it's all too easy to just plop into one of your dining chairs at the table, or go out and buy the first design that fits both your fancy and under your office desk. But it's safe to say that after hours of sitting in the wrong position, you'll be wishing you'd invested in a sturdy, designated desk chair.

Sitting in a seat with no support, whether it's all day or just for a short period of time, can have a negative impact on your back, causing health problems further down the line. That's where ergonomic chairs come in—designed to suit people of different heights and weights, these chairs have adjustable parts that offer maximum comfort and support your lumbar and posture, reducing the risk of a stiff neck and shoulders and, most importantly, any spine issues.
What is an ergonomic desk chair?
Most of us have heard the term "ergonomic" and know that these chairs are designed to be more comfortable, but what actually is it that determines if it's ergonomic or not?

Well, to start with, the chair should be adjustable and that goes for the seat height, the seat depth, backrest height, the angle and, on some designs, arm rests and headrests, too. These clever features ensure that you're able to rest your legs comfortably on the floor, have your back in the optimum position, and your arms are in a good position for typing.
Ergonomic chairs often offer lumbar support as well, which sits flush against the small of your back and keeps your ears, shoulders and hips in alignment. Again, this will help nip out the chance of getting back pain from a poor sitting position.
Next up there's the maneuverability. If you're having to regularly reach down to pick up paperwork or files from a filing cabinet, then having a swivel-based design on good-quality castors will help you reach down without straining or pulling muscles—plus you can roll the chair to where you need, so you don't have to keep standing up or overstretching.
Lastly, you'll often find that ergonomic desk chairs feature a mesh material, which is used because it's breathable. In turn, this helps keep you cool, even when you're steaming through a heavy workload.
Do standard desk chairs have ergonomic features?
The short answer is yes—but maybe not to the same degree. For example, you may get lumbar support in a standard chair, but it's likely that it doesn't allow for adjustment, which means that it may not be a proper fit and you can end up slouching and putting strain on your spine.

Then there's the width of a chair's backrest, which should ideally be around 12 to 19 inches. Although a standard chair may have these measurements, it probably won't be adjustable, meaning you aren't able to lean back or "tilt" when needed.

When it comes to the seat padding, standard chairs do, of course, come with padded seats, but an ergonomic design will usually have much more cushioning, both in the seat and the backrest to make it more comfortable, especially important when you're sitting for long periods of time. You'll also find that standard chairs may have swivel functions and armrests, but in the case of the latter, it's likely they'll be fixed rather than adjustable.
Laurie Davidson is a Surrey-based freelance interior stylist and writer, who also dabbles in travel, craft and lifestyle content. She has over a decade of publishing experience and spent five years as the Homes & Interiors Editor on Style at Home magazine.