Firefly Lane music unveiled—we break down the soundtrack to the popular Netflix drama
Firefly Lane music: author Kristin Hannah reveals a list of the songs that Kate and Tully listened to in Firefly Lane...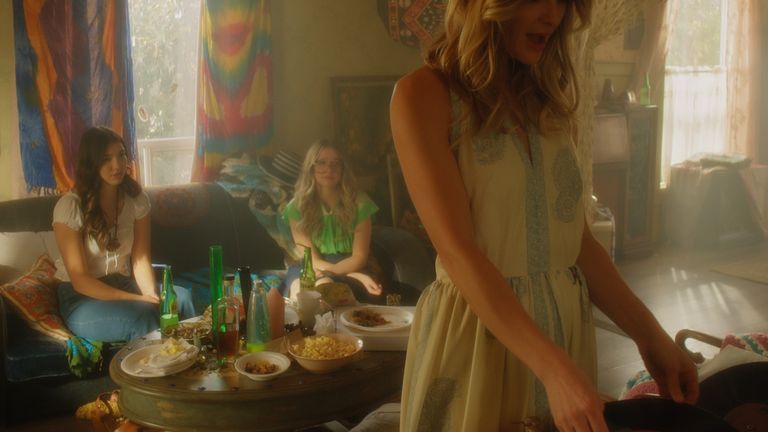 (Image credit: Netflix)
Firefly Lane music has been giving us some serious flashbacks of our youth—from our own CD collections to the records we remember our parents playing or the tunes that had us racing to the dance floor at the school prom.
The Netflix show left us with many questions (Is Firefly Lane a true story? What did Tully do to Kate? Will there be a season 2 of Firefly Lane?), but it has also been making us all feel all fuzzy inside. And there's no better way to keep the spirit of the show going on than by creating our own playlist based on songs from the show.
Tully Hart (Katherine Heigl) and Kate Mularkey (Sarah Chalke)—two best friends who met as teenagers have captured our hearts with their imperfect friendship. As the series flips back and forth between scenes, the music follows suit as we're taken through the decades of the 70s, 80s, and 2003.
Episode one uses Time in a Bottle by Megan O'Neill to show Tully becoming a teenager, while Kate turns from a teenager into an adult. And when Tully and her unpredictable mother Cloud, (Beau Garrett) move into Firefly Lane in 1974 the rock song Thousand Watt Workout by John Moran, sets the tone for their lively arrival in the peaceful suburban setting.
And it's something which Kate soon gets to experience when she swings by as Cloud gets into the spirit of the hippie sounding song Shifting Sands by The West Coast Pop Art Experimental Band.
With Tully now a newcomer at Kate's high school, the iconic yellow school bus ride needs to be accompanied by a song that sums up her attraction from fellow students - with the sounds of She Turns My Radio On.
But with a whole 30 years of friendship to cover in the debut season, there's plenty of songs to get stuck into - whether they're familiar tracks like Soft Cell's Tainted Love, Every Little Thing She Does is Magic by the Police or completely new ones.
Simply playing them back at home will take you back to some of those iconic scenes until we await news of a possible second season.
So what are you waiting for? Get adding the following hits to your Spotify or iTunes account!
Firefly Lane soundtrack—the music from the show:
Episode One:
Time in a Bottle - Megan O'Neill
Thousand Watt Workout - John Moran
She Turns My Radio On - Jim Ford
Shifting Sands - The West Coast Pop Art Experimental Band
You're The One - Nikki And The Corvettes
Tainted Love - Soft Cell
Goodbye Yellow Brick Road - Elton John
Episode 2:
Oh! Sweet Nuthin - The Velvet Underground
Every Little Thing She Does Is Magic - The Police
Episode 3:
Superstar - Jamelia
The Air That I Breathe - The Hollies
You're The Only Thing I've Got Going For Me - Bill Wright
Ballroom Blitz - Sweet
I Go Wild - The Three O'Clock
Star - Randy Coleman
Episode 4:
We Got The Beat - The Go-Go's
Love To Love You Baby - Donna Summer
Time After Time - Cyndi Lauper
Episode 5:
Coming Around Again - Carly Simon
Episode 6:
He Is A Hustler - Andrew Kingslow & Henry Parsley & Laura Dowling & Louis Edwards
Hey Ya! - Outkast
No Matter What - Badfinger
Episode 7:
Come On Eileen - Dexys Midnight Runners
Why Can't I Touch It? - Buzzcocks
On Saturday Afternoons In 1963 - Rickie Lee Jones
Episode 8:
Big Sur - David Wax Museum
Only Yesterday - Thelma Jones
Episode 9:
Crazy - Patsy Cline
I Will Survive - Gloria Gaynor
Tubthumping - Chumbawamba
Episode 10:
Silent Night - Sinead O'Connor
This Woman's Work - Kate Bush
Never Tear Us Apart - INXS
Who Knows Where The Time Goes - Eva Cassidy
---
And if you're still wanting more music, Firefly Lane author Kristin Hannah has revealed the songs that her characters Tully and Kate listened to in Firefly Lane.
Firefly Lane music Tully and Kate listened to:
Dancing Queen
Daydream Believer
Stairway to Heaven
Taking Care of Business
Goodbye Yellow Brick Road
American Pie
Don't Give Up on Us – David Soul
Thank God I'm a Country Boy – John Denver
Shout!
Brick House
Twistin' the Night Away
Louie, Louie
Love is a Battlefield
Jessie's Girl
Purple Rain – Prince
You can't Always Get What You Want – Rolling Stones
Call Me – Blondie
Sweet Dreams (are made of this)
Do You Really Want to Hurt Me
Here Comes the Bride
Crazy for You – Madonna
I'm Every Woman – Whitney Houston
Hey Little Girl is Your Daddy Home – Springsteen
Desperado – Eagles
A Moment Like This – Kelly Clarkson
Didn't We Almost Have it All – Whitney Houston
Papa Don't Preach – Madonna
Bohemian Rhapsody – Queen
Linda Ronstadt
You've Got a Friend
One Sweet Day