Does Johnny die in 'Firefly Lane' season 2?
That cliffhanger was explosive but does Johnny die in 'Firefly Lane' season 2? What we know about the character's fate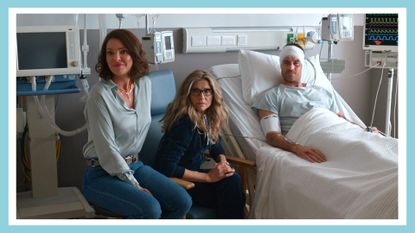 (Image credit: Netflix)
Does Johnny die in Firefly Lane? It's a question that has worried fans of the Netflix soap since that cliffhanger Firefly Lane ending last season, which saw Kate's ex-husband Johnny Ryan (Ben Lawson) go to Iraq as a war correspondent but end up on the receiving end of a horrific IED attack. The season ends with him laid out and injured, but it's unclear if the explosion ultimately kills the character or not.
So, will we be saying goodbye to Johnny Ryan in Firefly Lane season 2? Along with "what did Tully do to Kate?" it's one of the major mysteries we want to be solved in the two-part new season, which premiered on Netflix with nine episodes on Friday, December 2. (The remaining seven episodes of Firefly Lane season 2 part 2 will drop in June 2023.)
Now that we've watched the first part of season 2, here's what we know about Johnny's fate.
*Warning: spoilers obviously for season 2 ahead*
Does Johnny die in 'Firefly Lane' season 2?
Rest easy, Kate-and-Johnny shippers: Johnny does not die in Firefly Lane season 2.
The first mention we get of the character is at Bud's funeral set in 2004, during a conversation between Kate (Sarah Chalke) and her daughter Marah (Yael Yurman). They're discussing Kate's rift with Tully when Marah says: "Remember when we found out the news about Dad in Iraq? She was good that day."
We don't actually see Johnny at the services in episode one, so whether he's dead or alive is still ominously up in the air until we go back to the day Kate got the news about the IED explosion. Johnny is alive but being airlifted to Germany with broken bones and swelling on the brain, and is in a medically-induced coma. Tully charters a private jet to get her and her BFF quickly to Germany to Johnny's bedside.
"I think I was an idiot because I still love you," Kate tells her comatose ex. "I guess sometimes it takes something like this to make you realize that you let the love of your life get away so maybe, you know, when you wake up, we can just start over?"
And wake up he eventually does, telling her: "You're not getting rid of me that easily, Mularkey.
Johnny heals, staying at Kate's house during his recovery, though he has to walk with a cane due to his injuries and deals with post-traumatic stress throughout much of the second season.
Does Johnny die in 'Firefly Lane' the book?
Unlike other storylines that we will not be spoiling for you, Johnny's fate remains the same from page to screen.
"The Johnny moment, I knew for sure was going to come," series creator Maggie Friedman told Entertainment Weekly. "In the writer's room we had all these big whiteboards and that particular moment—we called it Johnny Goes Boom—we knew that was happening then the whole season...I wanted to leave the audience with some big questions."
The storyline was reportedly on the board from Week One, per Collider, likely because it follows closely what happens in the 2008 Kristin Hannah novel of the same name on which the Netflix series is based.
"I've read the book. If they were to follow the story of the book, then you know Johnny's going to live to fight another day," actor Ben Lawson told HollywoodLife. "But then they've deviated from the book a little bit so far, so I don't know what they've got planned."
The first nine episodes of Firefly Lane season 2 are currently streaming on Netflix.
Christina Izzo is the Deputy Editor of My Imperfect Life.
More generally, she is a writer-editor covering food and drink, travel, lifestyle and culture in New York City. She was previously the Features Editor at Rachael Ray In Season and Reveal, as well as the Food & Drink Editor and chief restaurant critic at Time Out New York.
When she's not doing all that, she can probably be found eating cheese somewhere.