When does 'Firefly Lane' season 2 part 2 come out? Plus, see the official new trailer
Good news, Kate and Tully fans! The premiere date for 'Firefly Lane' season 2 part 2 just got pushed up on Netflix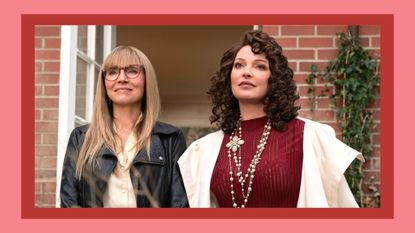 (Image credit: Netflix)
Mark those calendars: Firefly Lane season 2 is coming back sooner than we thought.
Yes, the second edition of the Netflix soap—starring Katherine Heigl and Sarah Chalke as lifelong BFFs Tully Hart and Kate Mularkey—is a supersized one, meaning that we got the first half on Friday, December 2, 2022, with the rest of the new episodes to come later this year.
Given how cliffhanger-heavy that season one Firefly Lane ending was, it's not surprising that the mid-season finale of Firefly Lane season 2 was just as intense and emotional, and has us counting down the days until part 2. But when can we expect to see the show's final batch of episodes? (Yes, alas, there won't be a season 3 of Firefly Lane.) Here's what we know!
When does 'Firefly Lane' season 2 part 2 come out?
Thankfully, we won't have to wait too long for the release date for Firefly Lane season 2 part 2: the last seven episodes will drop on Netflix on Thursday, April 27.
Originally, the final episodes of Firefly Lane were scheduled to drop on the streamer in June 2023, but lead actress and executive producer Katherine Heigl announced the moved-up premiere on her Instagram on February 17.
"Firefly Lane is returning to @netflix on April 27! That's right our premiere got moved up, so you can catch our fabulous retro hair even sooner. So mark your calendars, and prepare to cancel all your plans and ignore all your responsibilities until you finish binging the entire season! Counting down the days," Heigl wrote in the post.
It's not the first time that Netflix has split up a season of one of their popular series: if you remember, Stranger Things season 4 arrived in two parts earlier this year, with seven episodes debuting in late May and the final two episodes in early July.
The turnaround for the remaining episodes of Firefly Lane season 2 isn't as quick as that, but we're thankful we're getting a conclusion to the series earlier rather than later!
Watch the trailer for 'Firefly Lane' season 2 part 2:
Netflix dropped a fresh trailer for Firefly Lane season 2 part 2 on Monday, March 28. In the two-minute clip, we see Kate dealing with her diagnosis, Tully racing back from Antarctica for her BFF, the girls dancing to ABBA and more. "Firefly Lane girls forever," indeed.
How many episodes in 'Firefly Lane' season 2 are there?
There are 16 episodes total in Firefly Lane season 2, a bump-up from the 10-episode order the series received for its first season. The first batch included nine episodes, and the second will consist of seven. That should give the Firefly Lane cast and crew more than enough time and space to wrap up those storylines, huh?
While we don't yet have episode details just yet for season 2 part 2, here are the titles and runtimes for the first nine episodes of the season. As usual, the episodes take their names or are inspired by songs, from '80s classics like Madonna's "Papa Don't Preach" to grungy '90s selections like Nirvana's "All Apologies." (Check out our guide to Firefly Lane music for all of the needle drops from the show.)
Episode 201: "Wish You Were Here" (runtime: 48 minutes)
Episode 202: "On the Road" (runtime: 52 minutes)
Episode 203: "I'm Coming Out" (runtime: 55 minutes)
Episode 204: "Papa Don't Preach" (runtime: 53 minutes)
Episode 205: "Simple Twist of Fate" (runtime: 51 minutes)
Episode 206: "Reborn on the Fourth of July" (runtime: 51 minutes)
Episode 207: "Good Riddance/Time of Your Life" (runtime: 51 minutes)
Episode 208: "All Apologies" (runtime: 43 minutes)
Episode 209: "Hart Shaped Box" (runtime: 56 minutes)
What is 'Firefly Lane' season 2 about?
The Netflix synopsis for Firefly Lane season 2 reads: "What could possibly have ended the tight-knit thirty year friendship of Tully and Kate, our 'Firefly Lane Girls Forever?' We'll learn the answer this season—but first—Kate grapples with the painful aftermath of Johnny's ill-fated trip to Iraq, while Tully faces a lawsuit after walking away from her talk show, and must start her career over from the bottom. This leads her to search for answers about who she is and where she comes from—including a quest to find the father she never met, against the wishes of her secretive hippie mother, Cloud."
"In the '80s, we see Kate and Johnny first fall in love, creating more than a little drama in the newsroom where they work, as Tully's career rises and she spars (and flirts!) with cocky sportscaster Danny Diaz. She just might have met her match—that is, if they can stop arguing for five minutes," the synopsis continues. "While in the '70s, teenage Kate and Tully struggle to keep their friendship together as Cloud goes to jail for dealing drugs and Tully goes to live with her grandmother, far away from Firefly Lane. As the girls face the tumult of high school apart, they know the one thing they really need is each other."
Oof, talk about a lot for one season!
The nine episodes of Firefly Lane season 2 are streaming now on Netflix.
Christina Izzo is the Deputy Editor of My Imperfect Life.
More generally, she is a writer-editor covering food and drink, travel, lifestyle and culture in New York City. She was previously the Features Editor at Rachael Ray In Season and Reveal, as well as the Food & Drink Editor and chief restaurant critic at Time Out New York.
When she's not doing all that, she can probably be found eating cheese somewhere.