Lovense Nora review: is this rabbit vibrator worth the buy?
Our tried-and-tested Lovense Nora review finds a powerful app-controlled vibrator that delivers mind-blowing orgasms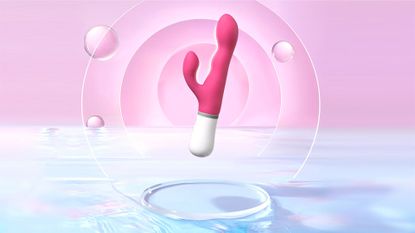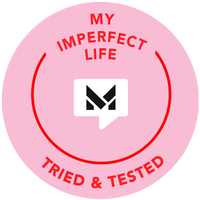 (Image credit: Lovense)
My Imperfect Life Verdict
We're big fans of Lovense Nora, thanks to its combination of pleasurable shaft shape, vibrating shorter arm and rotating head. It's ideal for both solo play and spicing up long-distance sex using the app.
Reasons to buy
+

Flexible vibrating arm

+

G-spot stimulating spinning head

+

Well-functioning app

+

Waterproof

+

Pairs with male sex toy
Reasons to avoid
-

Vibrations less powerful in shaft

-

Can be a bit noisy
The Lovense Nora is hands-down the best app-controlled vibrator our sex-toy reviewer personally tried and tested—want to know why? We've got you covered.
The Lovense Nora is a rabbit-style vibrator made of high-quality, body-safe silicone (and a plastic handle) with a longer arm topped with a rotating head to brush against your G-spot, and a powerful vibrating smaller arm to stimulate your clitoris.
"App- or remote-controlled vibrators can be used for couples that are miles apart, whereby one partner inserts the toy while the other controls it via an app wherever they are," says Annabelle Knight, a sex and relationships expert at Lovehoney, and the Lovense Nora fits right in this category. It can be controlled by the user with buttons on the handle, or by someone else remotely via the Lovense Remote app. Whichever way you do it, an incredible orgasm is guaranteed!
What's more, the Lovense Nora can be synced up with the male masturbator Max 2—when you move your vibrator, your partner's toy reacts, making the experience all the more interactive. With all of this going for it, it's no wonder it hands down made our list of the best app-controlled vibrators. Okay, maybe not "hands down," since it isn't a hands-free vibrator, but you get the idea...
One of the best-reviewed sex toys on the market, you can buy the Lovense Nora on Amazon but it's also available directly from the brand's own website. (The site often has sex toys deals, however, so keep an eye out!)
Lovense Nora review: Everything you need to know
How we tested the Lovense Nora vibrator:
There are a few things to consider when it comes to buying a rabbit vibrator like the Lovense Nora, and these are all things to bear in mind, whether it's your first or your 21st sex toy purchase.
Be sure to think about:
Vibrator strength
Vibrator form
Available vibration patterns
App connection
User-friendliness
Price point
The form of the Lovense Nora
The form of the Lovense Nora plays a large part in its success. As with all rabbit-style types of vibrators, it provides dual internal and clitoral stimulation, but there are a few extra features that make it so incredibly orgasm-inducing.
The smaller arm, for instance, is flexible, slightly curved and, happily, sits right on your clitoris, though it's still wide enough that its vibrations pulsate all around that area. The longer arm is tipped with a rotating head that brushes perfectly against the G-spot as it spins. If vibrations are all you've ever needed to orgasm, you might not think you require this function—but trust us, once you've tried it, you won't want to masturbate without it.
Lovense has also paid close attention to the shaft itself. While you don't need to thrust this toy to get good sensations, if that's what you're into, the waved shape of the longer arm feels great when moving in and out.
There are two buttons on the toy's handle: one controls the vibration power and patterns of the clitoral arm, while the other controls the direction and speed of the rotating head. Although these are easy to use, we found that—unless you're blessed with rather long arms—you have to reach down for them. We'd suggest using the app to change the settings during play, even if on your own.
Since you're inserting this sex toy inside your vagina, it's important to pay attention to the material it's made from. Nora's main shaft and clitoral arm are high-quality silicone, rendering them silky smooth yet durable, while the handle is medical grade ABS plastic.
Power source of the Lovense Nora
There's nothing more frustrating than the batteries in your vibrator running out mid-session (especially when you don't have any replacements to hand and end up "blue-balling" yourself).

Luckily, the Lovense Nora comes with a USB charger. It's easy to use—just plug the cable into any USB port and attach the other end to the base of the vibrator's plastic handle via two magnetic dots. It takes around 2.5 hours for the Nora to charge fully and it can last for four hours of continuous use (if you can). You'll know it's charging when the red light turns on, and that it's finished when the light clicks off.
Functions of the Lovense Nora
There's no chance you won't get enough vibration to get off with Nora. The vibrating arm has seven settings—low, medium, high, pulse, wave, fireworks and earthquake—and they're all powerful, even "low."

The rotating head also has three settings—slow, medium and fast—which you can cycle through with the lower button on the plastic arm. Holding this button down for three seconds will rotate the head in the opposite direction. We've discovered we're all about that anti-clockwise motion. (TMI?)
Maintenance of the Lovense Nora
To ensure your vibrator lasts well, make sure to charge it at least every six months and clean it regularly. We were pleased to find that the Lovense Nora is waterproof, so it's easy to clean. Use warm water and mild soap or a specialty sex toy cleaner to wash it before and after each use.

When you're done, don't just throw it in your sock draw (we promise we've only done this once)—dry it off and store it away carefully in a storage bag or the box it came in.
It's also best to make sure the rotating head function is turned off before inserting it into your vagina as there's a chance it will break as you try to slide it in (though lube helps. Lube always helps).
App capabilities of the Lovense Nora
You can connect your Nora vibrator to the Lovense Remote app using Bluetooth technology. It's super simple, just like pairing Bluetooth headphones to your phone. Once you've done this, there are two options for remote controls: a traditional slider panel or a tap-and-slide control board, which we found more intuitive. Both of these give the option to play with the vibrations and the rotating head separately.
The app is also full of pre-programmed patterns, some created by Lovense and endless others created by anonymous users. If you're feeling creative, you can even make your own, tailor-made to what you think your nethers might enjoy.
Of course, using the app while masturbating solo is useful, but it's most advantageous when used by a partner to control your vibe remotely. Get them to download the app and send them an invite. We enjoyed sexting using the chat option as foreplay, then entering video call mode once things really heated up. That way, your partner can see the effects of his labor and you can easily make requests too—take note, it's one of the best long-distance relationship tips you'll ever hear.
If your partner has a penis and wants to get even more involved, they can purchase Lovense's male masturbator Max 2. It may look like they've put their privates in some kind of futuristic time capsule, but if you can get past that, it's pretty cool. When you sync up the two devices, they interact—so when you move your toy, theirs reacts.
The Bluetooth connection can sometimes be a frustrating problem with app-controlled vibrators, but we're happy to report that we didn't have any issues when using Nora and the Lovense Remote app.
Should you buy the Lovense Nora?
In a word: yes. Even disregarding its teledildonic prowess, the Lovense Nora is a bloody good vibrator. Its only downsides are that the shaft itself doesn't receive much vibration (though it doesn't really need it) and that it's a bit noisy on the higher settings. Most vibrators, however, make some noise and, since this isn't a wearable device, we don't see it as a huge problem.
Other than that, it's great. The rabbit shape is well-designed, while the form and power of the vibrating arm feel fantastic. Turn on the rotating head and the experience gets noticeably more intense.
Then add to that the fact that you can control it all through the app. This is handy for solo play and great for partner play—giving your Zoom date, partner or long-distance lover control over your pleasure adds a whole extra level of sexiness to masturbating (it's also a spicy addition to your stay-at-home date ideas). Plus, if you go so far as to pair it with the Max 2, it's basically the closest to actual sex you can have while a million miles away from your partner (and you can see it in action in this viral video).
While Nora's non-discounted price is fairly high, it's not dissimilar to what you'd pay for other similar products on the market. Also, can you really put a price on a device that will provide you with an infinite number of phenomenal orgasms with no hassle? If you're still debating whether to get the Nora or opt for another app-controlled vibrator, we also compared it to another favorite in our Lovense Nora vs Vibease Esthesia review.
We couldn't recommend the Lovense Nora vibrator enough. It'll leave your head spinning as fast as its own.
Victoria is a freelance journalist with eight years of experience, writing everything from reviews and news pieces to meaty features for various online and print titles — including easyJet Traveller and b.inspired. Her work covers travel, lifestyle, health, and fitness. In her spare time, Victoria performs improv comedy and she's currently training to be a PT.