8 online Pilates classes to try at home
These online Pilates classes will give you studio-quality workouts from the comfort of your house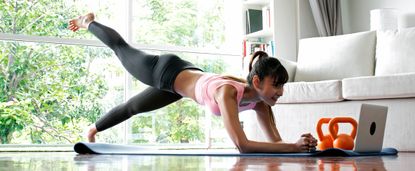 (Image credit: Getty)
Exercising at home can be stressful, but online Pilates classes can change that. Rather than trying to wing things on your own, you can work out with a coach who can show you how to optimize those flexions and extensions.
Finding an online Pilates class will be shockingly easy, as the Internet is currently saturated with them. The main problem you'll have is finding the best online Pilates class for you. It's not as difficult as finding the best resistance bands for women, but it's still a challenge.
No need to fear, however, because we've already done the searching for you. Here are the eight best online Pilates classes that are sure to give you a great workout.
The best online Pilates classes streaming now
1. Pilatesology
Not everyone is at the same level when doing Pilates, and that's where Pilatesology comes in. Whether you have never done Pilates a day in your life, or you're a yoga pro looking for new tips, Pilatesology has it all, with four intensity levels: beginner, intermediate, advanced, and teacher.
The first 14 days are free, but after that, there is a monthly fee of $20. If you're interested in paying yearly, an annual subscription costs $179.
There are tons of online workouts if you want to stay closer to home, as well as recommendations for Pilates teachers if you're ready to venture out and go to an in-person class.
2. Glo
If you're new to Pilates, then Glo is a great place to start. There are more than 4,000 classes available on demand, from interval training to head-to-toe mobility.

If you find one you love doing, then there is always the option of downloading it, which makes life easier since you don't have to shuffle through thousands of videos to find your favorite.
Glo offers a 15-day free trial. After that, it costs $18 a month, or $0.60 a day.
3. Blogilates
If you're not interested in yet another monthly subscription, YouTube is a great source of free online classes. One of the top Pilates channels is Blogilates. Cassey Ho will be your instructor, and there's no denying she is one of the best.
If you check out the description of each video, you'll find a list of each pose, as well as a playlist of all the incredible music she uses. Cassey Ho even includes a handy list of all of the equipment she uses, from workout clothes to her best yoga mats.
4. Isa Welly
Pilates is great for relaxing the body while exercising, but sometimes you just want to have fun on the mat. Isa Welly is a master of this. She has an upbeat, enthusiastic personality that draws you in.
Isa Welly has tons of YouTube videos you can watch for free. If you're looking for a little more personalized instruction, you can check out her site. You can take a live Zoom class with her, as well as with other people from around the world who have been helped by Welly.
5. Studio Sweat
If you're looking for a subscription that gives you variety, Studio Sweat is probably your best bet. It offers a ton of Pilates classes but has other workout programs as well. Studio Sweat has an extensive online library that includes TRX, kettlebell, spinning, sculpt, boot camp, HIIT/Tabata, abs, barre, yoga, stretching, and dance exercises.
There are several plans available if you're interested in Studio Sweat. The monthly plan is $19.98 per month. The semi-annual plan is $16.55 a month, but you'll have to pay $99.98 upfront. And the annual plan is $15.71 a month, and you'll pay $188.56 upfront.
6. Housework
When time is an issue, choosing between cardio, strength training, and Pilates can be hard. So don't choose! Just sign up for a class with Sydney Miller, and get the best of all three.
Sydney Miller, the instructor and owner of Housework, combines Pilates, HIIT, and strength training into one sweat-drenching workout.
Her classes are easily the most expensive on this list, however she offers a 7-day free trial. After that, classes are $24.99 a month or $224.99 a year. Miller also offers Zoom classes, so you can always get some more personalized attention.
7. Melissa Wood Health
Looking for pure Pilates? Melissa Wood has your back. Her MHW Method workouts are simple, straight forward, and just diverse enough to keep you engaged week after week. Her workouts are also low impact, which is perfect for anyone who can't jump around.
Membership fees are fairly inexpensive. A subscription costs $9.99 a month, or $99.99 for a year. And along with the Pilates moves, Wood also gives tips about diet and lifestyle.
8. Tory Rivera-BFV
BFV, or Bodyvera Fitness, is great for anyone who doesn't want to drag out a bunch of equipment to work out. Tory Rivera, the owner of BFV, focuses on Pilates for dancers, but anyone can enjoy her workouts.
She has videos that are quick and laidback, as well as online workouts designed to push you. She also combines HIIT workouts with barre, as well as Pilates with barre. Since Tory Rivera posts all her content to YouTube, it's completely free!
The My Imperfect Life team is all about helping you navigate your world. We bring you the latest on fashion, beauty, travel and wellness so you can live life on your terms.