Best yoga accessories: yoga blocks, stretching straps and more gear
Give your daily practice a boost with the best yoga accessories and gear around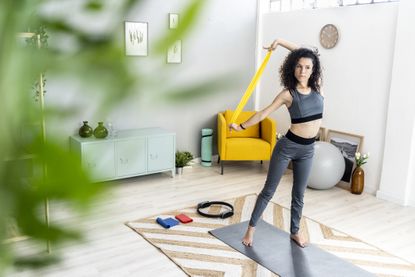 (Image credit: Getty)
Sure, you've got the basics already, but yoga accessories and gear will kickstart your daily practice and take those flow sequences to the next level.
We're talking activewear accessories and "beyond the best yoga mats" equipment that will help optimize your home workout, from eco-friendly cork blocks to yoga bolsters, no-slip yoga socks to wearable weights that marry function and fashion.
Adding yoga accessories to your workout routine can benefit yoga students no matter their skill level, from asana novices to expert practitioners. And supplemental accessories can improve yoga flows of all kinds, whether you're in it for its proven meditative and mental health properties—yoga has been said to modulate the body's stress response systems, helping to reduce heart rates, lower blood pressure, and spark a physical soothing that leads to mental calm—or simply want to sweat it out during a challenging power yoga session.
And with many everyday exercisers relegated to home workouts for the near future, using yoga props and gear like flexibility-boosting yoga straps, supportive yoga bolsters and meditation cushions and strength-testing ankle weights can deepen certain stretches and push your personal routine the way a studio class would. You might not immediately think that a yoga session could burn calories and tone muscles like circuit training or HIIT workouts, but you'd be surprised!

Aside from upping the challenge of your usual yoga flow, using additional accessories also helps ensure the safety of certain moves and reduce the chance of injury, an important consideration at all times but especially at a time when you're practicing at home and not under the watchful eye of your yoga instructor to guide and adjust you. Yoga accessories can aid with proper alignment, as well as offer much-welcome support and alleviate the tension and discomfort of certain poses.
So no matter if you're a newbie or a pro, or if you're after a soothing or sweat-inducing session, these yoga accessories will help you make the most of your mat time and give you your best yoga workout yet.
The best yoga accessories to add to your practice
The best yoga blocks
Gaiam Yoga Blocks
Soft and supportive
Made of lightweight, durable foam with a non-slip surface, Gaiam yoga blocks offer the support and stability you'll want to tackle advanced poses, deepen those stretches and increase strength. The blocks can be placed under your hands, feet or tush to ground you and assist with alignment. The Gaiam blocks are nine inches wide and four inches deep, offering plenty of padding for your practice, and they come in 30 fun colors and patterns, including striped and embossed options. Lastly, they're super easy to clean—simply spot treat the blocks with mild detergent, then wipe them down with a microfiber towel (more on those later!) or let them air dry.
Manduka Cork Block
Sustainable and sturdy
If you're looking for something with a little more heft—while staying easy on the planet—the Manduka cork block might just be the yoga block for you. Made of 100% sustainable, fine-grain cork, this yoga block is softer on the body than wood options but sturdier and firmer than foam alternatives. Rounded edges and a textured surface make the block easier to grip while you're moving through your yoga flow.
The best yoga straps
Lululemon No Limits Stretching Strap
Extra long and easy to use
Need a little support for your bends and twists? The Lululemon No Limits stretching strap has got your back—and your arms and legs, too. Available in basic black, blush pink or highlighter yellow, the yoga strap is outfitted with extra length for those super-deep extensions and elongations, as well as adjustable buckles so that you can use it to complement any move.
Tumaz Yoga Strap
Thick and tight-knit
Great for both everyday stretching and yoga practice, the Tumaz yoga strap is an extra-wide, non-elastic strap made of tightly woven polycotton fabric. The fabric gives the strap a very high resistance compared to alternatives on the market—the band can withstand a maximum weight load of more than one ton! Despite the strength, the smooth texture ensures that the strap is easy on the skin during use.
The best yoga weights
Bala Bangles
Comfortable and chic
Bala Bangles are great multiuse workout accessories, but we especially love to use them as hands-free wrist and ankle weights during yoga sessions. Made of recycled stainless steel covered in soft silicone and offered in half-pound, one pound and two pound iterations, the wearable weights will add a seamless, comfortable resistance to your poses. A strong, adjustable Velcro closure will ensure that they'll never slide off during that side plank variation. Sold in pairs with a black carrying case, the Bala Bangles come in a dozen sleek colorways and patterns.
Sportneer Ankle Weights
Substantial and strength-testing
If you want to add even more weight to your yoga routine, the Sportneer Ankle Weights are sold in four-, ten- and 13-pound pairs. You can adjust the load of each ankle weight simply by adding or taking out the removable inserts. The weights are also extendable, with adjustable Velcro straps, so they'll fit ankles and wrists of all sizes. Strap them on to increase strength, improve balance, and up the intensity of your mat routine.
---
---
The best yoga foam rollers
TriggerPoint GRID Foam Roller
Massaging and multi-use
A foam roller can easily sub in for a traditional yoga bolster, plus you can incorporate it in your non-yoga exercises and use it to massage those sore muscles post-workout. Talk about bang for your buck! The TriggerPoint GRID foam roller is a great option for your yoga practice and beyond. The nooks and crannies of the multi-density foam exterior knead all of those muscles while you roll, and the hard, hollow core will ensure that the roller maintains its shape even after repeated use. A fun extra? Each purchase includes free access to an online library of instructional foam rolling videos from the TriggerPoint team.
The best yoga socks
Gaiam Toeless Grippy Yoga Socks
Breathable and balancing
Get all of the tactile benefits and balance of barefoot yoga while protecting your footsies from dirt, dust, and exposure with these Gaiam Toeless Grippy Yoga Socks. Targeted traction zones with silicone grips will ensure you can hold any yoga pose without slipping or causing stumbles, whether you're using a yoga mat or not. The one-size-fits-most socks are sold as a single pair or, if you really love 'em, as a two-pack.
Ozaiic Yoga Socks
Sweet and slip-free
You'll feel—and look—like a prima ballerina in these ballet-inspired Ozaiic yoga socks, which have elastic wraparound ankle straps and a low-cut silhouette. But these yoga socks aren't just pretty. They're non-slip and non-skid, thanks to the silicone traction treads on the heel, a great feature for those who practice yoga on slippery surfaces like wood or tile floors.
The best yoga towels
Yogitoes Manduka 2.0 Yoga Mat Towel
Sustainable and sweat-wicking
Equipped with Manduka's patented Skidless Technology, this Yogitoes 2.0 yoga mat towel features 100& silicone nubs on the underside of the towel to keep you in place and prevent slipping, no matter how hard your bod is working during that hot yoga or vinyasa practice. The sustainable fabric (every Yogitoes towel is made with at least four recycled plastic bottles!) is super absorbent, sweat-wicking and quick drying. And though it's a lengthy 71 inches when stretched out, it's thin enough to roll up alongside your yoga mat easily in case you want to take your practice elsewhere.
Shandali Go Sweat Hot Yoga Towel
Shandali is the number-one best-selling brand for yoga towels on Amazon, and this Go Sweat hot yoga towel is tangible proof of why. The tight-weave microfiber hand towel encompasses the "stay grippy, not slippy" ethos you want from a good yoga towel. It's lightweight enough to travel with but durable enough to wipe down your yoga mat and mop up that glowy brow and those sweating hands. It'll let you stop worrying about slippage and stay focused on your yoga routine.
The best yoga wheel
Yoga Design Lab The Yoga Wheel
Durable and decorative
Designed in Bali, the yoga props from Yoga Design Lab are so stylish they can double as decor. Take the Lab's yoga wheel, which is built with padded cork, equipped with the brand's "secure grip technology," and decorated with a sleek mandala pattern. Add it to your regular yoga routine as extra support for challenging poses (it can withstand up to 550lbs), as guidance during backbends, and as a way to amp up core strength. Each purchase includes a poses guidebook, so you can discover and test out new moves.
The best yoga mat bags
YogaAddict Yoga Pilates Mat Bag
Expandable and easy to carry
The YogaAddict Yoga Pilates Mat Bag is one of the roomiest yoga mat bags on the market. As well as accommodating yoga mats up to 27 inches wide, the versatile duffle has numerous external compartments, so that you'll always have your yoga towel, mat cleaner, water bottle (we're big fans of the Chilly water bottle!), change of clothes and other workout essentials on hand. A zipped internal section is handy for keeping valuables like your phone, wallet and keys secure while you get your sweat on.
Christina Izzo is the Deputy Editor of My Imperfect Life.
More generally, she is a writer-editor covering food and drink, travel, lifestyle and culture in New York City. She was previously the Features Editor at Rachael Ray In Season and Reveal, as well as the Food & Drink Editor and chief restaurant critic at Time Out New York.
When she's not doing all that, she can probably be found eating cheese somewhere.