The five red carpet beauty secrets you never knew from an A-List makeup artist
Kay Montano shares the red carpet makeup secrets she's used on stars like Margot Robbie and Thandie Newton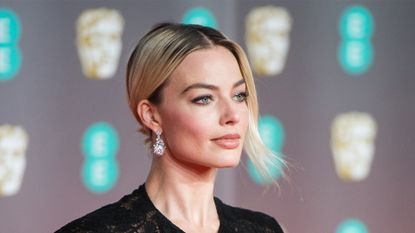 (Image credit: Samir Hussein / Getty Images)
When it comes to red carpet makeup, there are just two criteria: first, your glow-up has to combine classic Hollywood glamor with a modern edge. Second, it has to go the distance by being smudge-proof and heat-proof, while leaving no margin for flashback when walking through crowds of photographers.
There's arguably no other place on earth where your makeup needs to as perfect as it does on the red carpet. With armies of flashing lights and pictures that'll likely be scrutinized online, everything from your lashes to your lips has to be totally on point.
Which is why there's pretty much no one better to get makeup tips from than an actual makeup artist for one of the world's biggest beauty brands, and someone who has worked with celebs for red carpets for years...
Red carpet makeup tips from CHANEL's makeup artist
Myimperflectlife speaks to CHANEL's makeup artist, Kay Montano, who has worked with Charlize Theron, Julianne Moore and Thandie Newton to name but a few, to create red-carpet looks that will go the distance.
Below, she's shared her advice and tips for creating red carpet-worthy looks every day. Just be sure to have your best foundation, best eyeliner, and best eyeshadow palettes to hand before you get started...
Tip one: Apply foundation from the center outwards
Whether you use one of the best foundations for sensitive skin or the best foundations for acne prone skin, this is an important trick. "Most people need coverage around the nose and chin so whether you use a brush, sponge or your fingertips, always start at the centre of the face—around the nose— and blend outward, until there is no product visible at the outer edges of the face.
Montano explained that it's important to know that not every inch of your face requires the same level of makeup coverage. She said, "Knowing where coverage is—and is not—needed is the basis of a polished, natural makeup look."
Tip 2: Choose your concealer wisely
"Many people still don't know that there are two types of concealer: one for the eyes, and one for blemishes, each with a different texture and tone." Montano explained. "The delicate skin around the eyes is finer and drier than the skin elsewhere on the face. This means that your concealer needs to strike a balance between being powder-free, so as not to accentuate any fine lines, but not so moisture-rich that it creases.
When it comes to the correct way to apply it, she told us, "Once you've applied your foundation, paint two half moons around the inner area of each eye, from above to below the centre of the eye. This will illuminate where dark circles and 'hollowing' tend to be most evident.
"Then, apply a centimeter stroke of concealer from the outer corner (where your upper and lower eyelashes separate) in the direction of the ear. This will give an illusion of 'lifting' the eye. A wand concealer, such as Chanel's Éclat Lumiere, is ideal for correcting the area around the eyes and the brush makes application simple."
Tip 3: Know exactly where to place your powder
It can be tempting to simply press powder all over your face to prevent shine. But Montano suggests applying it strategically, to get a glow in all the right places.
She said, "Powder has come a long way since the dense, pink-toned pressed powders of old. Today's powders, whether loose or pressed, are an absolute necessity in any professional make-up artist's kit, as the glare of photographic lighting, outdoor shoots and flash photography accentuate any hint of moisture or sheen on the skin.
"The key to using powder correctly is placement. I only use powder on the T-zone of the face as the oiliest areas are around the nose, forehead and chin."
For the most polished red carpet makeup look, Montano also advises, "I love the skin on the cheekbones to be dewy and transparent-looking as this gives even the darkest smoky eye look a freshness and glow. Use a highlighting cream, like Chanel Baume Essential, then add a dash of powder blush with a soft, round brush to the outer-mid cheeks. Blush is a must when wearing lipstick to balance out the overall complexion."
Tip 4: Be sure to get your brows right with the correct tools
Montano explained that wide soft brows make a big difference to the shape of the face, creating a more flattering and symmetrical shape. To achieve this look, she said, "An eyebrow pencil must be hard so that the application is sheer not dense, and ideally angled so that you have the option of a fine tip to replicate hairs, or a wide edge for a soft shape. A spoolie will also help to soften and shape.
"Finish by brushing the brows upward and setting them with Anastasia Beverly Hills Brow Freeze."
Tip 5: Use a matte lip pencil even for a glossy lip
"Few of us have naturally 'perfect' pouts but there is so much you can do to improve the shape of your lips," Montano told us. "Personally, I rarely go anywhere without a natural lipliner, and struggle to think of one occasion when I haven't used lipliner on an actress for the red carpet. Even when painting a red lip, I still create an outline with a natural pencil first."
She continued, "Shine accentuates any ridges that shape the lips so use a matte pencil to subtly tweak your lip shape to look larger, smaller or more even."
Fiona Embleton is a multi-award-winning beauty editor who has tested over 10,000 products in her 10 years + of writing and shooting beauty stories. For the past four years, she was the Senior Beauty Editor at Marie Claire, having previously worked in the role of Beauty Editor at both Stylist and Cosmopolitan. She has recently gone freelance and alongside My Imperfect Life, she has written for titles including ELLE UK, ELLE Canada, Buro 247, Harper's Bazaar Arabia, Vogue Scandinavia, and ES Magazine. Beauty journalism allowed her to marry up her first-class degree in English Literature and Language (she's a stickler for grammar and a self-confessed ingredients geek) with a passion for make-up and skincare, photography, and catwalk trends. She loves jumping on the latest internet-breaking beauty news, dissecting the best red carpet looks, and having the crème de la crème of dermatologists, make-up artists, and hairstylists on speed dial so she can tap them for the best advice. She's a discerning beauty shopper and knows it can be confusing trying to navigate what's hype and what really works. So if she really likes something, you can trust that she has reached that opinion by vetting it against everything else she's ever tried. Her career highs? Interviewing Cate Blanchett and winning a Jasmine Award for the deeply personal feature Cancer Stole My Mother's Scent.