The best foundations for sensitive skin to help you avoid irritation
We tried and tested the best foundations for sensitive skin as recommended by dermatologists—these are the picks worth buying...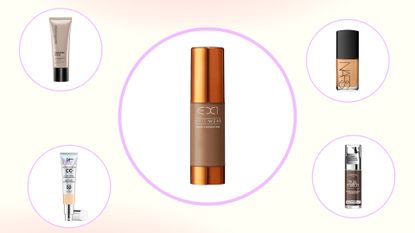 (Image credit: Future/brands pictured)
Like diamonds in the beauty market rough, the best foundations for sensitive skin provide good coverage to your desired finish without causing any irritation. It's no easy task, as formulas need to pass strict tests to be deemed suitable for the most sensitive skin. Luckily for you, we've tested dozens and found the formulas that dermatologists and doctors (and their patients!) love.
When browsing the best foundations to suit sensitive skin, as well as your skin's reactivity you need to take into account several other factors, including shade range, price point, and finish. Slather a potential contender onto the skin without doing your homework and you run the risk of triggering a flare-up—as you're probably all too aware.
But don't be disheartened just because this has happened to you before. Our contributing beauty editor has tried and tested the top sensitive skin recommendations from dermatologists and skin experts and picked out the best ones. Whether you suffer eczema, acne, rosacea, or another condition, or if you simply have skin that's reactive generally, we've compiled picks for every texture preference and budget.
Meet the experts on foundation for sensitive skin
Dr. Sam Bunting (opens in new tab) is the founder of an eponymous clinic on Harley Street and the Dr. Sam's skincare brand, and was a presenter on TLC's Extreme Beauty Disasters.
Dr. Ifeoma Ejikeme (opens in new tab) is the founder and medical director of London's Adonia Medical Clinic, with an MD and Board Certified Internal Medicine, among other qualifications.
Dr. Justine Hextall (opens in new tab) has over a decade of experience as a consultant dermatologist and is the medical director of the Tarrant Street Clinic.
Dr. Justine Kluk (opens in new tab) worked as a consultant dermatologist for the NHS before opening her own private practice on London's Harley Street, and is a fellow of the Royal College of Physicians.
Dr. Thivi Maruthappu (opens in new tab) is a consultant dermatologist with over 10 years of experience in dermatology. Each of these experts have advised My Imperfect Life readers on foundations that they recommend for those with sensitive and reactive skin types.
How we tested the best foundations for sensitive skin
After listening to the recommendations from our group of experts, our tester wore each formula for at least one full day to assess how it felt and looked on the skin. She took into account all of the below factors to compile this edit of the best foundations for sensitive skin.
Finish
Ease of application
Coverage
Range and number of shades
How it wore on the skin
Any additional skincare benefits
Cost
Packaging
The best foundations for sensitive skin, recommended by dermagologists and reviewed by a beauty editor
1. NARS Sheer Glow Foundation
Best sensitive-skin foundation for those with eczema
Specifications
RRP: $47/£35
Coverage: Sheer, buildable
Shades and inclusivity: 40
Added extras: Vitamin C derivative, antioxidants and turmeric extract
Reasons to buy
+
Non-comedogenic
+
Hydrating and light-reflective
+
Fragrance-free
+
Large shade range
Reasons to avoid
-
Could go shiny and need blotting
-
Coverage, although buildable, may be too light for some
This glow-boosting base, which also made it into our edit of the best non-comedogenic foundations on our list, ticks a variety of boxes in terms of texture and finish. "I love this foundation as it is light, fluid, and hydrating," says Dr. Justine Hextall. It's this combination that makes it ideally suited for eczema-prone skin: "Because skin that has eczema is dry, it can look dull," she continues. "Heavy, matte foundations can exacerbate this appearance."
This foundation also excels when it comes to formula. I found it brightening, protective and moisturizing, like fresh, dewy skin in a bottle. But that's not all as, perhaps more importantly, it doesn't include ingredients that are likely to be problematic for reactive skin. "It is not perfumed, which is important for dry, sensitive skin that can be easily irritated," Dr. Hextall continues. She also points out that it's light-reflective, a handy add-on for faking a hydrated glow and the look of smoother skin. Because its shade range is so extensive, she has no problem confidently recommending it to her patients, and we've voted it one of the best foundations for dark skin too.
2. bareMinerals Complexion Rescue Tinted Hydrating Gel Cream
Best foundation for dry sensitive skin
Specifications
RRP:: $37/£30.50
Coverage: Sheer to medium
Shades and inclusivity : 18
Added extras: Mineral SPF 30, vegan
Reasons to buy
+
Non-comedogenic
+
Contains moisturising ingredients glycerin, squalane and sodium hyaluronate (a form of hyaluronic acid)
+
Lightweight gel-cream texture
+
Dewy, radiant finish
+
Fragrance-free
Reasons to avoid
-
Not great for covering blemishes—separate concealer required
Providing makeup, skincare, and suncare in one squeezy tube, it's easy to see why this lightweight and hydrating base is consultant dermatologist Dr Justine Kluk's top pick for sensitive skin that's also dry. Both buildable and easy to remove, I found that it spreads like a dream and gives a dewy, fresh finish that's ideal for creating an everyday glow. "It's perfect for evening out your complexion for a natural, airbrushed look," she tells us.
Although it's a tinted moisturizer, it definitely provides a nice amount of coverage that is great for everyday wear and, unlike a powder foundation, it doesn't soak up any moisture that you do have or cling to flaky patches of skin. In order to get the most out of it, Dr Kluk recommends prepping the skin well. "Cleanse, then follow with a gentle exfoliator such as Medik8 Press & Glow tonic with PHAs and a moisturizing primer to create a smooth, even base," she advises.
3. EX1 Cosmetics Invisiwear Liquid Foundation
Best foundation for sensitive acne-prone skin
Specifications
RRP : $13/£12.50
Coverage : Medium to full
Shades : 16
Added extras: Vegan
Reasons to buy
+
Non-comedogenic
+
Semi-matte finish
+
Fragrance-free
+
Great shade range
Reasons to avoid
-
The packaging isn't quite as premium as the product itself
Finding a base for reactive skin that's also acne-prone is a true challenge. Ideally, a the best foundations for acne-prone skin need to offer a good level of coverage, and not be too thick or heavy (so as not to clog the skin and make breakouts worse) or hard to remove. It's a fine balance to strike, but this non-comedogenic and fragrance-free formula does so, according to skincare expert and founder of Dr. Sam's Skincare, Dr. Sam Bunting. "This feels like a premium foundation with a really luminous second-skin finish, but without the price tag," she explains.
Dr. Bunting is also particularly impressed by the shade range, especially with regard to how it caters to complexions with yellow undertones. "It's actually really hard to find a foundation with this number of shades that's also free from common irritants and allergens, like fragrance," she continues. The EX1 Cosmetics website has a useful virtual shade matching tool to help you find the right match. Once found, Dr. Bunting recommends using a Beautyblender or similar sponge to apply it instead of a brush or fingers, which are more likely to unsettle any dry patches on the skin.
4. L'Oréal Paris True Match Liquid Foundation
Best affordable foundation for sensitive skin
Specifications
RRP : $10.95/£9.99
Coverage: Full
Shades : 40
Added extras: Aloe vera
Reasons to buy
+
Affordable
+
Contains multiple moisturizing ingredients
+
Wide shade range
+
Non-comedogenic
+
Long-lasting but lightweight
Reasons to avoid
-
SPF17 is too low to rely on as sole form of sun protection
-
Colors can be different slightly to expectations
With a finish that seem like a foundation twice its price, this affordable base is packed with benefits. As well as being lightweight, consultant dermatologist Dr. Justine Kluk tells us that its hydrating formula containing hyaluronic acid, glycerin, vitamin B5, and vitamin E is ideal for dry skin types. What's more, its buildable texture allows for a more customized, natural-looking, and glowy finish.
Its shortcomings? It may need touching up during the day, but I found that there aren't many—however, Dr. Kluk recommends exercising caution when it comes to the SPF rating, which alone won't provide you with sufficient sun protection. You'll need one of the best sunscreens for face with a rating of at least SPF 30. And secondly, take extra care when color-matching before you buy, as I found that some of the shades can look a little different on the skin once applied.
5. IT Cosmetics Your Skin But Better CC+ Cream with SPF 50
Best sensitive-skin foundation for those with rosacea
Specifications
RRP: $44/£33
Coverage: Medium to full
Shades : 14
Added extras: SPF 50
Reasons to buy
+
Moisturizing formula
+
Full yet non-cakey coverage
+
Radiant finish
+
A little goes a long way
Reasons to avoid
-
Colors aren't always as expected
This base makeup product might have "CC" in its name, but for all intents and purposes its higher coverage makes it a foundation. It's loved by beauty fans all over the world, but it's a particular hit among those with rosacea. "Rosacea can be really troublesome as although it can be more obvious in lighter skin types, it also affects skin of color," explains Dr. Thivi Maruthappu. As well as the trademark redness, our doctor says other signs include skin-flushing and a burning sensation. "You can also have whiteheads (pus-filled spots) and red lumps (papules) and while it typically affects the cheeks and nose, it can also affect the forehead," she adds.
Dr. Maruthappu therefore recommends this multitasking base for those with this complex condition. "It contains niacin, hyaluronic acid (which helps to retain moisture in the skin), calming aloe leaf extract and antioxidants, as well as all-important SPF 50—sunlight is aggravating so year-round high factor SPF is essential. It's also fragrance-free."
With a creamy texture that's both blendable and buildable, it's no wonder that her patients love it. I found that you only need to use a little bit to get an effect and it leaves the skin with a lovely healthy appearance. The shades are also really flexible—our in-house beauty expert Aleesha Badkar finds that she can use a few different shades on her mid-tone South Asian skin. However, some reviews point out that they come up lighter or darker than their names suggest, so it's worth getting color matched IRL or trying a sample before you buy. That said, IT Cosmetics has a helpful selection of reference photos, as well as the option to have a video consultation. We also have a thorough guide on how to match foundation to your skin online for more tips. In a nutshell, this is excellent coverage, never cakey, and a tube will last ages.
6. Dior Forever Matte Foundation
Best matte foundation for sensitive skin
Specifications
RRP: $54/£45
Coverage: Medium to full
Shades: 36
Added extras: Skin-smoothing rosehip extract
Reasons to buy
+
Non-comedogenic
+
Great for combination and oilier skin types
+
Impressive shade range
+
Oil free
If you have sensitive skin and a T-zone that's prone to shine, then this matte foundation could be the base for you, layered over one of the best moisturizers for oily skin. "It's a great all-rounder," eplains Dr. Ifeoma Ejikeme, skin expert and medical director at London's Adonia Medical Clinic. "I love that it's lightweight, oil-free, non-comedogenic, and has added ingredients to hydrate the skin."
What's more, Dr Ejikeme points out that this formula balances a matte finish without looking mask-like or flat—a rare find in our experience. Plus, its far-reaching shade range makes it a great choice for a variety of skin tones. In terms of application, I found that a little goes a long way on the skin, which ensures that you get your money's worth when you invest. Providing excellent coverage on any "problem" areas, we're sold on it, and it's up there with the best non-comedogenic foundations (opens in new tab).
How to choose the best foundation for sensitive skin
Choose your coverage—Opting for lighter, buildable formulas over thicker and longer-wearing buys is a good starting point. The reasoning is two-fold: firstly, you'll have greater control over coverage and, building on those areas that need more, for a finish that's never cakey. It's worth widening your search to include the best BB creams, CC creams and tinted moisturizers. Secondly, they'll be easier to remove. Heavy and thick-textured foundations can clog pores and require more elbow grease to get rid of every last scrap—and the more rubbing required, the greater the risk of irritating your skin.
Look for brands that cater to sensitive skin and hypoallergenic/non-comedogenic products—View shopping for makeup as you would skincare, specifically looking into brands that cater to reactive skin types. If you've found one whose skincare products work for you, see if they also offer makeup. If not, look for products marked as hypoallergenic or non-comedogenic. These will typically have been formulated with ingredients that are far less likely to cause a reaction or clog pores. This terminology isn't well-regulated, however, so make sure there's nothing on the ingredients list that you know has caused your skin to flare up in the past.
Research ingredients good for other skin concerns—For example, if you ave dry skin, look for those that will boost moisture levels. Dr. Kluk recommends "hydrating ingredients such as hyaluronic acid, glycerin, and vitamin E (also known as tocopherol or tocopheryl acetate". Calming ingredients like Aloe vera can be helpful for soothing inflammation.
Do a patch test—Important for peace of mind, because everyone's sensitivities differ, apply a small amount of any new product onto a clean area of skin, like the upper forearm or behind the ear, and if there's no redness, burning or itching after 24 hours, you're all good. Many brands now offer handy samples of foundations that are great for a pre-purchase patch test.
Ayesha Muttucumaru is a beauty and lifestyle journalist with a decade's experience writing for titles such as Woman & Home, Women's Health, Red, 35Thousand, and Get The Gloss. A fan of eyeliners and one-liners, she loves demystifying everything from makeup techniques to the latest buzz ingredient in skincare and has a special interest in diversity and mental health. In her spare time, she can be found sharing theories about Line of Duty, working through her Golden Girls box set (she's such a Dorothy), thinking that she can dance, and losing countless hours to TikTok.