5 dermatologist-approved retinol tips that you need to know
Follow these dermatologist-approved retinol tips before you start using this powerhouse ingredient.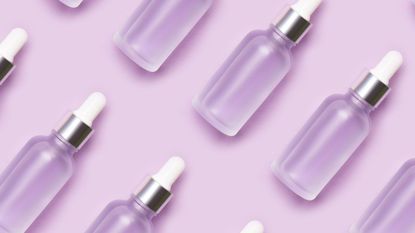 (Image credit: Getty - Anna Efetova / Creative)
Before using any skincare ingredient it's important to do your research and retinol is no different. A tried and tested, gold standard skincare active, it's loved by derms and facialists alike. Women around the globe swear by it, and it would seem there's not much that retinol can't do. But it's also one of the most mysterious and confusing ingredients out there so, before adding one of the best retinol serums to your arsenal we've quizzed not one but three aesthetic dermatologists to clue you in on all their essential retinol tips – you're welcome.
Use retinol to treat acne and ageing
It's pretty common for those with skin concerns to have an acne skincare routine beauty regime that's focused on keeping spots at bay. However, when it comes to youth-boosting, dermatologist at Avicenna Wellbeing, Dr Fauzia Khan says: "I often find patients are left stumped as to what will help smooth lines and wrinkles without causing them to breakout."
Cue retinol. "It's incredible for treating signs of ageing as well as acne, thanks to its pore-clearing and collagen-boosting abilities," adds Khan. Once applied retinol converts into retinoic acid, penetrates cells and attaches to receptors, prompting faster cell turnover. "With a reduction in dead skin clogging pores you'll find that your acne prevention products are better able to penetrate the skin and a reduction in breakouts is all but guaranteed," says Khan. Simultaneously retinol stops free radicals from breaking down collagen and elastin, boosts the production of hydrating hyaluronic acid, and reduces pigmentation, fine lines, and wrinkles.
Try using retinol with exfoliating acids
While retinol increases cell turnover (resulting in brighter, healthier, new skin cells taking center stage faster) it only works on the deeper layers of the skin, not on the uppermost layers. This makes employing the dead skin sloughing skills of an exfoliating acid a no-brainer. "There are three types of exfoliating acids that can be used to eat away at the top layers of dead skin and they are all safe to use alongside retinol - despite skincare myths to the contrary," explains Dr Khan.

• AHAs work well on ageing skin
• BHAs are oily skin friendly
• PHAs are great for sensitive skin types
Retinol can leave your skin sensitive to the sun
One retinol myth that many dermatologists believe to be true, is that retinol can leave skin more sensitive to UV rays. "This is because the speeding up of skin formation means that the new skin that develops is more delicate and sensitive. Plus, sunlight also decreases retinol's efficacy, so for this reason it's best to use it only in the evenings, and always apply an SPF 30 or higher during the day," explains dermatologist Dr Nyla Raja, Medical Director and Founder of Medispa .
Remember, some results take longer
So, you're now aware that retinol can work wonders in treating acne, pigmentation, lines and wrinkles. However, the time it takes to reap the benefits of this much-loved active differs greatly depending on your skin challenges.
"It will take about three to four weeks to achieve tighter pores and a reduction in acne - as these present on the upper layers of the skin," explains Khan. But when it comes to boosting collagen and elastin production, for improved tone and texture, "you should be prepared to wait 12 to 24 weeks to see a marked improvement - as it takes time for the body to produce its own collagen and for the deeper layers of the skin, where wrinkles begin to form, to thicken," explains Khan.
Prep sensitive skin
There's no need to steer clear of retinol if you have sensitive skin, you simply need to be a little savvier when it comes to how and when you use it. Tag team your chosen sensitive skin safe retinol with niacinamide, recommends dermatologist Dr Sam Bunting. "Niacinamide boosts ceramide production, an essential component of the epidermis' bricks and mortar structure, which makes skin more robust and tolerant of irritants. It also has an anti-inflammatory action, which helps minimize the impact of starting retinol, which can trigger an inflammatory response in the skin," explains Bunting.
There are two ways to go about prepping your skin. "Layer a rich niacinamide-packed moisturiser over your retinol. Or if your skin is particularly sensitive start boosting your ceramide levels 4-12 weeks pre-retinol by adding a topical niacinamide cream or serum to your regime," adds Bunting.
Amerley is an award-winning beauty & lifestyle journalist who has been writing for the UK's most well-known glossies, websites and newspapers for over a decade. Known for her ability to predict the next big trend, there is really very little she won't try for a story. From microblading and injectables, to10 step skincare plans and breathing her way to better skin, Amerley loves to share her experiences and write relatable, informative and trend-led copy for beauty novices and junkies alike.