Inside Amanda Seyfried's Elizabeth Holmes transformation for 'The Dropout'
We spoke to costume designer Claire Parkinson about that uncanny Amanda Seyfried Elizabeth Holmes makeover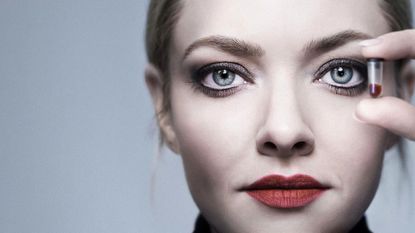 (Image credit: Twentieth Television / Searchlight Television)
One of the most highly anticipated series this year is The Dropout, yet another addition to the growing canon of scammer series. (Add Inventing Anna and The Tinder Swindler to your binge list if you haven't already.)
The series—which launched on Hulu and Disney Plus on Thursday, March 3—is based on the ABC Audio podcast of the same name, focusing on the rise and fall of the now-disgraced biotechnology entrepreneur Elizabeth Holmes (at one time, the world's youngest self-made female billionaire) and her company, Theranos.
Mamma Mia actress Amanda Seyfried uncannily portrays Holmes, who was known for her distinctive deep voice, (watch The Dropout trailer to hear it for yourself), wide blue eyes and ubiquitous black turtleneck, a nod to Apple CEO Steve Jobs.
We wanted to know more about that Amanda Seyfried Elizabeth Holmes transformation, so we of course went directly to the person who would know best: Claire Parkinson, the show's costume designer and a two-time Emmy nominee.
---
---
The Amanda Seyfried Elizabeth Holmes makeover
Firstly, how did you become attached to The Dropout?
I had worked with Elizabeth Meriwether, the creator of the series, on a few pilots, so her team reached out to my agents. I think I did two or three formal interviews and a big show-and-tell for Liz Meriwether and Katherine Pope, the other executive producer. And yeah, that was March 2020. We were supposed to start filming that spring, and then we were pushed four times because of the pandemic. And then, finally, we started in June 2021.
Did you know of Elizabeth Holmes before you became the costume designer?
I did. I watched that HBO documentary [2019's The Inventor: Out for Blood in Silicon Valley], but I hadn't listened to the podcast yet. I then listened to the podcast and I read the John Carreyrou book called Bad Blood. He's actually a character in the series, too. So I really just, like, went down a rabbit hole.
Having done all your research, what did you feel embodied the style of Elizabeth Holmes?
The thing that we really talk about a lot is she wasn't really fashionable. You can tell from her at a young age that she's very out of touch with style and her mother's kind of embarrassed by her and wishes she would try a little harder. But I think with Elizabeth everything was kind of store-bought and really it was more about comfort for her.
But she wanted to be taken seriously in this very male-dominated Silicon Valley world. So for her, she felt like she needed something to appear serious and I think that's why she, you know, transformed into wearing the black turtleneck as kind of a Steve Jobs mimic. It was to appear like she was serious but also that she didn't have a lot of time to focus on getting dressed every morning—her real focus was Theranos and its success.
But we kept saying in all of our meetings that every look she wears, something should feel kind of wrong about it. Even if she's in black, maybe the pants are too baggy or it's buttoned weird or it's bunching, and Amanda Seyfried also has such great body language that she's really good at making things look not so graceful and composed.
Definitely, you see Elizabeth wearing stuff that works on other people but for some reason on her, something's just completely off.
It was really interesting and a lot of the research I did was like Y2K fashion, which I love because I'm also a millennial. I went to high school in 2000 and graduated in 2004. So for me, I was like, Elizabeth can't pull off these trends. We can have her sorority roommates wearing the Juicy tracksuits and the low-slung tight jeans that are flared, but Elizabeth is wearing baggy Chino khaki pants or something kind of boring and preppy. She's just not that girl, even if her mother wanted her to be.
Did you have a vision board for The Dropout?
I think I had 75 boards, maybe 100 by the end of the show. I think I had one for high school, one for Beijing and a few for Stanford including color palettes. Elizabeth's color palette was very pale yellow, blues and off-green olives. But her roommates and other people at Stanford, they're wearing fuchsia pink, teal and bright lime.
Every single place in her life there's a color palette. When she goes to the turtleneck, it's obviously black, but she's still wearing red lips. I wanted to bring the color red into every time in her life. So, in 1995 her St. John uniform is red. Then when she's in high school, her skirts are red and when she goes to a Christmas party, her outfit's red. The color red is very much a through-line.
And when I create boards, we really think about color palettes for every character. Her parents are like Americana, so I did a board for them and that was all like Princess Di for the mom. I wanted her to wear pastels, very '90s and then maybe some blue and regal colors: navy blues, forest greens and burgundy reds. All the background actors you see were supposed to stick with a color palette, especially, and a style. I didn't want to have anyone at Stanford with her wearing a skinny jean, because that didn't exist. We wanted everyone to know if they weren't really aware of the trends, the boards were there to help them.
Do you have a favorite outfit from the whole series?
I had a lot of fun dressing her mother Noel, played by Elizabeth Marvel. I found a lot of vintage Chanel, Kate Spade and Tory Burch things that were very like early-2000s people who have money. I love the buttery yellow Chanel skirt suit she wore when she went to Stanford when Elizabeth went to the administrative office and they were throwing the refrigerator in the trash can. Her closet was really fun. Also the actress Beth Marvel is so cool but so different from the character—she's very hippie in a way, cool band tees and ripped shorts.
What specific brands do you feel embody Elizabeth Holmes?
She's famous for wearing her Issey Miyake Black turtleneck, but I actually got Wolford turtlenecks for her because it had the perfect fit, perfect tie neck, perfect long sleeves and perfect stretch. [Amanda] could play with it when she's in scenes, when she's needing something to do.
But then she wore a lot of very normal brands like Theory, and I found her a really old Banana Republic suit. She wore things like J Crew that her mother would have bought her. For her college era, I was searching for like old Abercrombie sweaters that I wore in high school on eBay, Etsy and Poshmark. I didn't want to go to H&M or any fast fashion and buy her something that seems like it's like 20 years old, I wanted it to actually be 20 years old.
What do you think has been your proudest career moment so far?
This has definitely been one of my highlights because I really enjoyed working with such strong female creators. The podcast was created by women, the series was written by a woman and our lead was a woman. It had such strong, powerful women attached and everyone was so supportive. And our director, Michael Showalter is so talented.
But I'm also very proud of the work that I did with my sister, for The Politician, because we were Emmy nominated for both seasons. So that was really, really exciting. Of course, that was in the middle of the pandemic and we didn't win, but it was just like the best feeling ever to be nominated.
When you do a streaming show, what's the budget like?
The Politician was a high-budget fashion show because it was Netflix. This show was Hulu so it had a tighter budget but for our pilot episode, I think Elizabeth had 37 outfits.
The producers usually come up with a budget and then I'm like, well, this is the real budget. Because I can't do every outfit for $100. You have to have shoes, socks, every undergarment you have to think about, the layers, are they outside in the winter. So I work with my costume supervisor and we come up with a number that we think is doable.
And sometimes we have a meeting with our accountants and producers and they're like, oh, we need to cut some numbers. And then I'm like, okay, well, we have to cut some costumes and we might have to change the script. It's really hard.
Do you also work with the production design team?
We have a lot of meetings and I usually get a color palette from them. They'll send the color palette of the homes, like, this is what we're doing on the walls, this is the couch Elizabeth sits on. And I wanted to make sure that everyone's outfits for Christmas look good sitting, even the fabric. So we work really closely to make sure that our color palettes mix well and that it doesn't clash.
Is there a show that you haven't worked on that you wish you designed on?
I'm a huge Sally Rooney fan, I love Normal People. I thought it was so great. I would love to have done the new one that's going to come out soon, Conversations with Friends, and I'm also a huge fan of Killing Eve. Then a throwback show that I love just for nostalgia is Friends. I just love the classic kind of not fussy fashion and everyone looked really good and some of it's a little comical.
Lastly, what are you working on next?
I just finished a movie with the same director who did The Dropout, Michael Showalter, with actors Jim Parsons, Sally Field and an English actor named Ben Aldridge. It was a real love story, early 2000s. And now I'm kind of in-between projects, waiting for the right one, because I don't want to jump too fast. I'm just kind of hoping to get a really fun spring movie or project to do with really good people.
This interview has been edited and condensed for clarity.
New episodes of The Dropout air on Thursdays on Hulu in the US and Fridays on Disney Plus in the UK.
Liv is a freelance journalist currently studying English at university. She loves covering everything from entertainment and politics to lifestyle and travel. As well as writing for My Imperfect Life, Liv has bylines in The Times, HuffPost, Den of Geek, Bustle The Metro and The Bookseller.