Who is Angus Cloud? Everything you need to know about the 'Euphoria' actor
Angus Cloud a.k.a. Fez is everyone's favorite 'Euphoria' star right now and for good reason...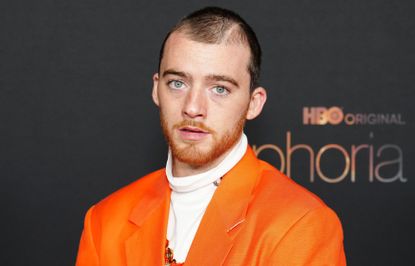 (Image credit: Getty Images: Photo by Jeff Kravitz/FilmMagic for HBO)
Angus Cloud, better known as Fezco on HBO Max's Euphoria, has been the name on everyone's lips since season two premiered on January 9. But how much do we know about the breakout star?
Fans fell in love with Fez during the first season of the show, despite his character taking a back seat so we could all get to grips with the ever-so-turbulent life of the show's lead, Rue, a teenage drug addict played by Zendaya, who won her first Emmy for the performance in 2020.
Praised for its honest portrayal of the many hardships faced by teenagers growing up in today's society, the series covers a plethora of themes from love and identity to trauma and vices. One of the key elements that have set Euphoria apart from other series is the strong, emotional content portrayed by the young characters, with Fez's background being a story arc many have been waiting for.
Well, creator Sam Levinson heard our cries and the first episode of Euphoria season 2 delved straight into the life of Fez and his far-from-traditional upbringing with his drug-dealing grandmother and adopted brother, Ashtray, who he pretty much raised while still a child.
Without giving away too much, it's safe to say that the human aspect of Fez's story won us all over just as we had imagined and, naturally, we're now obsessed with not only the fictional character but the man bringing him to life. Who is Angus Cloud? And will we be seeing more of him in Euphoria season 3?
Here's everything you need to know about the actor before he blows up...
---
---
Who is Angus Cloud?
Angus Cloud is an American actor known for his role in HBO Max's Euphoria. He plays Fez, a teenage drug dealer with the purest of hearts and an unconventional past, to say the least.
The actor was born and raised in Oakland, California, to Irish parents. Prior to acting, Cloud worked at a chicken-and-waffles restaurant near Barclays Center in Brooklyn, New York.
How did Angus Cloud get casted?
Unlike his co-stars, some of whom have been acting professionally since they were children, his first acting job as Fez on Euphoria came to Cloud by chance. (He did, however, know his way around a stage, as he studied technical theater—building sets, lighting stages and whatnot—at the prestigious Oakland School for the Arts in California, alma mater of his future costar Zendaya.)
In an interview with GQ, he recounted how he was scouted by a representative for a casting company while he was simply walking down the street in Manhattan: "I was confused and I didn't want to give her my phone number. I thought it was a scam."
Luckily for us, it wasn't a scam and Cloud was cast—though not without making some minor character tweaks, however: "I had to change [the script] a little bit," he told GQ. "To make it sound real, like how I would say it."
Of his first day on camera, Cloud revealed to GQ: "I was trying to look normal and relaxed and chill. I'm like, 'I don't know what I am doing. Why did they bring me over here for this? They should have gotten a real actor for this job.'" Hate yo break it to you Angus, but you're a real actor now!
How old is Angus Cloud?
Cloud was born on July, 10, 1994, which currently makes him 27 years old and a Cancer.
Angus Cloud Twitter: what's his handle?
Just like his Instagram, Cloud's Twitter handle is @anguscloud. Every Sunday, you can find the actor live-tweeting that week's new episode of Euphoria, posting incredibly relatable tweets such as "This episode had me holding my breathe every 3 seconds" and "GIVE ZENDAYA HER EMMY NOW!"
What else has Angus Cloud been in?
The role in Euphoria is Cloud's first-ever acting credit. He had no plans of pursuing a career in film or TV, nor did he have any experience or training, before he was cast in the HBO hit back in 2018.
However, according to his IMDB, Cloud has a few projects in the pipeline, including the horror-thriller Your Lucky Day and the Vietnam War-focused The Things They Carried, an adaptation of the Tim O'Brien book.
Angus Cloud girlfriend: Is he dating anyone?
Cloud has not gone public with any relationship, so as far as we know, he's a single man.
angus cloud in a mac miller biopic… umm… yeah i would like to see it. pic.twitter.com/TxJnyrM8nUJanuary 11, 2022
See more
Up next for Angus Cloud: Mac Miller biopic?
When it comes to biopic buzz, social media fans are forever arguing about which actors should play which famous figures onscreen. (See the latest Lily Collins versus Rooney Mara smackdown on Twitter, over which leading lady is best to portray the late, great Audrey Hepburn.)
However, when it came to who should play Mac Miller— the American rapper and former boyfriend of Ariana Grande who tragically passed away in 2018 at age 26—one actor's name was most frequently thrown around: Angus Cloud.
Despite an uncanny physical resemblance to the rap star, Cloud shut down any rumors of his casting, telling etalk: "I don't think I would be prepared to take on someone's life and legacy and try to replay that, you know? That man is a legend and he's going to remain one. May he rest in peace, you feel me?"
Watch Angus Cloud and the rest of the Euphoria crew in the new season 2 episodes, which air on HBO on Sundays at 10pm.
Sagal is a journalist, specialising in lifestyle, pop culture, fashion and beauty. She has written for a number of publications including Vogue, Glamour, Stylist, Evening Standard, Bustle, You Magazine, Dazed and Wonderland to name a few.