Are Riah and Trey from 'The Ultimatum' still together? Here's where the couple stands now
They had a whirlwind experience, but are Riah and Trey going strong after 'The Ultimatum'? Here's all the intel!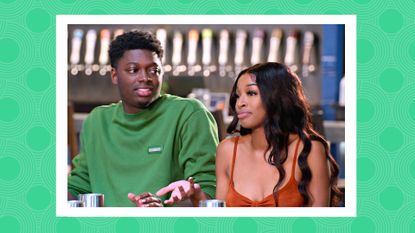 (Image credit: Netflix)
Having a connection with both of their trial partners, Riah and Trey went on quite the same page at the start of The Ultimatum season 2, which aired its final two episodes on Netflix on Wednesday, August 30.
The reality dating show centers on five couples disagreeing over whether to get married: usually one is ready to tie the knot, but the other isn't ready to commit. To solve the dilemma, one partner will issue an ultimatum that lands them on the show. During the season, The Ultimatum season 2 couples switch partners for a three-week trial marriage, before switching back to their original significant other for three more weeks. At the end of the experience, they are asked the ultimate question: Do they want to marry their (original) partner or move on?
It was an especially important question for Riah Nelson and Trey Brunson, the latter of whom had a great relationship with his trial wife, Ryann McCracken. On the decision day, Riah did accept Trey's proposal, but did the couple's happiness last after the series? Here's everything we know.
Why did Riah and Trey go on 'The Ultimatum'?
Trey and Riah met on a dating app and were initially long-distance until Riah moved into Trey's apartment.
Two years into their relationship, Trey was ready to fully commit and wanted to get married, but Riah was hesitant because she felt Trey was not meeting her standards when it came to date night, standards that Trey felt were heavily affected by social media. Riah also wasn't ready to settle down just yet as she wanted to move to a big city and go to school, which put Trey on edge. But since Trey wants to have a marriage like his parents, who have been together for 30 years, he decided to issue an ultimatum to his girlfriend.
What happened between Riah and Trey during 'The Ultimatum'?
Trey and Riah had two very different experiences during the experiment.
During the choice ceremony, Trey coupled up with Ryann, whom he picked because he felt she would make a really good wife. Riah, in turn, ended up choosing Ryann's partner James because he allowed her to open up and not feel judged. James also helped Riah realize that she ultimately did want to get married and have kids.
Trey's trial marriage with Ryann went so well that at the debrief before he recoupled up with Riah for three weeks, he admitted that he developed feelings for Ryann. As you might expect, Riah was not pleased to hear this—even though she had her fair share of reservations about her relationship.
Riah's connection with James wasn't as great, as he struggled to commit to the experience after realizing on the first night that Ryann was his forever person. This put his relationship with Riah in the friend zone, which got even worse after he became convinced that Riah wanted to sleep with him after she confronted him in episode four about why he had become less affectionate. When she asked him to hold her hand or give her a hug, James responded: "I think it's just a time and a place."
When Trey and Riah got back together, they had a lot of issues to work through including how upset Riah was about Trey catching feelings for Ryann. On Trey's feelings for Ryann, Riah said: "It's just super difficult to move past it." However, they did work through them, as Riah ended up saying yes to Trey's proposal.
Big news from Riah and Trey
Lisa and Brian aren't the only ones from season 2 embarking on parenthood.
On Monday, September 4, news broke that Riah and Trey are expecting a baby in January 2024.
On Instagram, Riah wrote, "Next Chapter: Motherhood 👶🏾🍼. These past 5 months have been so sweet and special. From hearing your heartbeat to little flutters and kicks. We cannot wait to meet you."
Likewise, Trey was just as excited to share the announcement. He wrote on Instagram, "EVERYBODY!!! Me and @jeriahnyree are ready to welcome our baby into the world. I fell in love with our little one as soon as I found out she was pregnant ❤️❤️❤️."
A gender reveal will soon follow, so keep your eyes peeled for any updates.
Are Riah and Trey still together from 'The Ultimatum'?
Before the reunion, viewers were convinced the couple were together as they posted Instagram posts recently in the same places. On Riah's birthday, she posted that she was in Tampa, Florida, and Trey also posted photos in the same city. In Riah's photos, viewers also spied what looked like an engagement ring.
Viewers turned out to guess right, as at the reunion the couple confirmed they were still together. They even discussed their plans to have a destination wedding in 2024 as Riah still wanted a gold wedding.
Trey also admitted that he hadn't been in contact with Ryann since the show, even though Ryann admitted that she wanted to reach out.
The Ultimatum season 2 is now streaming on full on Netflix.
Christina Izzo is the Deputy Editor of My Imperfect Life.
More generally, she is a writer-editor covering food and drink, travel, lifestyle and culture in New York City. She was previously the Features Editor at Rachael Ray In Season and Reveal, as well as the Food & Drink Editor and chief restaurant critic at Time Out New York.
When she's not doing all that, she can probably be found eating cheese somewhere.