Are Ryann and James still together from 'The Ultimatum'?
Did the high-school sweethearts make it out of 'The Ultimatum'? Here's where Ryann and James stand now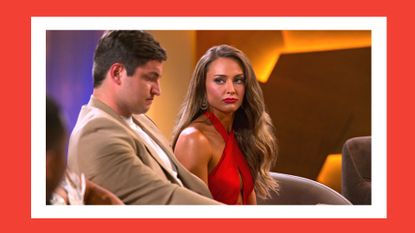 (Image credit: Netflix)
They've been together seven years but was The Ultimatum the thing that did Ryann and James' relationship in?
The Ultimatum season 2 has finally landed on Netflix in its entirety and this season has not disappointed. From surprise pregnancy announcements to jealous partners, the couples this season have gone on quite a journey.

The reality dating show, which is co-hosted by Nick and Vanessa Lachey, puts long-term couples to the ultimate test: the couples temporarily break up and get paired with another contestant for a three-week "trial marriage," before they then come back together with their original partner for another three weeks. In the end, they have to make the decision of whether to get married to their significant other or move on from them forever.
Given that Ryann and James were high-school sweethearts, a lot was at stake with their relationship going into the finale of The Ultimatum. But if you're wondering where the couple stands now, look no further because we have all the latest information fresh from the reunion.
Why did Ryann and James go on 'The Ultimatum'?
Twenty-four-year-old Ryann issued the ultimatum to her partner and high school sweetheart James after seven years together. She felt that the couple had been together long enough to know if they were each other's "forever person" and so felt it was time they took the next step.
The couple had been overcome with communication and trust issues throughout their time together, which wasn't helped by the fact James has spent five and a half years finishing his education in another state. They also had never lived together.
However, James felt that the couple wasn't ready to get married just yet as he wanted them to be financially stable beforehand and there were also some things he felt Ryann needed to know about him and his childhood, which he hadn't shared yet. He also wanted to focus on his career. But Ryann had put her foot down and said enough was enough, and he should know whether or not she was his "forever."
What happened between Ryann and James during 'The Ultimatum'?
During the choice ceremony, Ryann and Trey coupled up; she chose him because she "immediately noticed how similar me and Trey were," while she felt she and James were opposite in a lot of ways. She also added that she and Trey could talk about anything and that was something she felt was needed in a marriage.
James coupled up with Riah, explaining that he felt comfortable opening up to her and that he and Ryann had always had the issue of opening up, but with Riah it came easier as he felt that she just listened.
However, despite initially getting on, the experiment was too much for James. On the first night, he went outside late to phone a friend to discuss how scared he was to lose Ryann. He explained it really sunk in after hearing Trey talk about how awesome she was. During the experiment, James described intimacy as an "all or nothing" situation and because he had cheated on Ryann in the past, he wouldn't get close to anyone else. So, this alongside the realization that Ryann was his forever, put his and Riah's relationship strictly in the friend zone.
This was the complete opposite of Ryann and Trey's experience, which went so well that they made a scrapbook of their time together. Trey even admitted that he had "caught feelings" for Ryann.
However, upon getting back together for three weeks and a big nighttime argument, James finally opened up to Ryann about his childhood and how he had never felt good enough for anyone including his parents. They finally seemed to move forward in their relationship and when it came to the ultimatum day, Ryann said yes to James' proposal.
Are Ryann and James still together from 'The Ultimatum'?
Viewers were convinced that the high-school sweethearts of the season were still together because not only did the show seemingly bring them closer, but fans also spotted Ryann wearing an engagement ring in a few of her Instagram posts.
At the reunion, the couple confirmed they are still together and are getting married on September 30, 2023. The couple now lives with her parents and siblings and is actively looking for a place to buy together. But Ryann says it's good practice for James who is an only child because the environment will be similar when they have children. Also, according to James' LinkedIn, he started a new job as a mechanical designer in Sumter, South Carolina, in March 2023, so the couple definitely seems to be solid.
When discussing her past connection with Trey, Ryann reveals that she thought about messaging Trey a few items but decided not to because she didn't want to stir anything up between him and Riah.
The Ultimatum season 2 is now available to stream in full on Netflix.
Liv is a freelance journalist currently studying English at university. She loves covering everything from entertainment and politics to lifestyle and travel. As well as writing for My Imperfect Life, Liv has bylines in The Times, HuffPost, Den of Geek, Bustle The Metro and The Bookseller.