The best fall movies for the coziest, snuggliest movie marathon ever
Celebrate all that autumn goodness with the best fall movies, available on streaming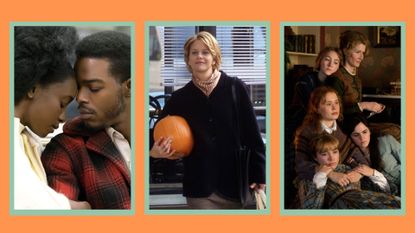 (Image credit: Annapurna Pictures; Columbia Pictures; Maximum Film)
It's the most wonderful time of the year! Sorry Christmas, we're actually talking about fall, that magical season of multicolor trees, mock turtlenecks, mugs of apple cider and, yes, Meg Ryan movies, which are pretty much an entire subgenre of the best fall movies, with beloved, foliage-filled titles like When Harry Met Sally and You've Got Mail.
Whether you're looking for some of the best Halloween movies for October, the best Thanksgiving movies for November, or just some general seasonal vibes, our favorite fall movies have something for every autumn lover. Even better, they're all available for streaming on Netflix, Disney Plus, Hulu, Amazon Prime Video or HBO Max, which makes those cozy movie marathons easy as pie (pumpkin, of course).
Here are the best fall movies to watch this autumn and beyond.
Best fall movies on Netflix
'When Harry Met Sally'
As we said, you simply can't have a fall movies list without the rom-com queen herself, Meg Ryan. Specifically, this 1989 Rob Reiner-Nora Ephron classic puts the fall in falling in love, which Meg's Sally and Billy Crystal's Harry do against a backdrop of bulky sweaters, brisket sandwiches and beautifully chilly walks through New York's Central Park.
'To All the Boys I've Loved Before'
One of our favorite rom-coms on Netflix, this adorable 2018 adaptation of the Jenny Han novel—which follows Lara Jean Covey (Lara Condor) and Peter Kavinsky (Noah Centineo) as they fake-date through the fall semester so that she can get over a crush and he can make his ex jealous—is packed with all of the promises and pitfalls of a new school year, from ski trips to mean girls to the cute boy next door.
'Twilight'
The season of cold weather and changing leaves is a perfect time to settle in for a The Twilight Saga marathon, but particularly a screening of the first movie, which has all of the creepy-sweet vampire romance, Pacific Northwest broodiness and angsty Paramore songs you could ever want.
'If Beale Street Could Talk'
Another movie that uses fall in New York to gorgeous, bittersweet effect is this Barry Jenkins-directed adaptation of the James Baldwin novel, which follows the love story of Tish Rivers (KiKi Layne) and Fonny Hunt (Stephan James) in 1970s Harlem. But, just as fragile as an autumn leaf, their romance is quickly colored by tragedy.
'Silver Linings Playbook'
There are a lot of elements to the 2012 movie that nabbed Jennifer Lawrence an Oscar: it's a romantic comedy, a family drama, a dance movie. But it's also very much a football movie, more specifically a football fan movie, with much of the film dedicated to Bradley Cooper's Pat Solitano Jr. passionately cheering on the Philadelphia Eagles with his parents (Robert De Niro and Jacki Weaver).
Best fall movies on Disney Plus
'Pocahontas'
"Can you sing with all the voices of the mountains? Can you paint with all the colors of the wiiiiind?" Of course, the 1995 Disney animated film is far from the most accurate representation of Native American history ever depicted onscreen, but it is a welcome reminder to be forever thankful for the bounties of nature, from the smallest hummingbird to the oldest tree.
'Hocus Pocus'
Yes, we got a Hocus Pocus 2 this year, but autumn in general and spooky season in particular simply wouldn't be complete without the O.G. 1993 tale of the Sanderson sisters, friendly zombies, immortal cats and black-flame candles. Hosted by the iconic trio of Bette Midler, Sarah Jesica Parker and Kathy Najimy, it's one hell of a Halloween bash.
'Amélie'
Who doesn't want to spend fall in France? Jean-Pierre Jeunet's 2001 Parisian charmer evokes the autumnal season straight from the start, thanks to a vibrant palette of red, green and yellow that colors the whimsical Audrey Tautou-led flick.
Best fall movies on Hulu
'Stepmom'
Do you want to curl under a pile of blankets and cry for a bit? This 1998 tearjerker— starring Susan Sarandon as a mom dealing with both a terminal illness and her children's younger, soon-to-be stepmother (Julia Roberts) in fall-set New York—is just the movie for it.
'You've Got Mail'
Yes, another Meg Ryan flick, but how could we possibly leave off this love letter to independent bookstores, enemies-turned-lovers tropes and Manhattan during its prettiest season? "Don't you love New York in the fall?" Tom Hanks' Joe Fox writes to his secret pen pal, Ryan's Kathleen Kelly. "It makes me wanna buy school supplies. I would send you a bouquet of newly sharpened pencils if I knew your name and address." Swoon!
'Juno'
Autumn is by far the tweest of seasons and what movie is more of a twee-pop confection than Juno, with all of its hoodie sweatshirts, alt-folk needle drops and endless quips? Written by Diablo Cody and directed by Jason Reitman, the coming-of-age dramedy follows Minessota high schooler Juno MacGuff (Elliot Page) as she hilariously and heartbreakingly deals with an unplanned pregnancy.
Best fall movies on Amazon Prime Video
'Dead Poets Society'
One of the best back-to-school movies ever made, this 1989 feature stars the late, great Robin Williams as an unorthodox new teacher, John Keating, at the picturesque boys' prep school Welton Academy in Vermont. If scene after scene of stunning New England foliage doesn't warm your heart, Keating's greatest teaching sure will: "Medicine, law, business, engineering, these are noble pursuits and necessary to sustain life. Poetry, beauty, romance, love, these are what we stay alive for."
'The Craft'
This 1996 cult classic combines two of our favorite fall-time subgenres: the high school movie and the witch flick. It stars the iconically '90s quartet of Robin Tunney, Fairuza Balk, Neve Campbell and Rachel True as four teenage outcasts at a Los Angeles parochial school who begin dabbling in the dark arts—to disastrous effect.
'Sleepy Hollow'
Upstate New York's real-life Sleepy Hollow is an autumnal favorite each year thanks to its natural beauty and haunted history, both of which director Tim Burton taps into for this 1999 gothic horror flick. A retelling of Washington Irving's 1820 short story, it follows police constable Ichabod Crane (Johnny Depp) and wealthy villager Katrina Van Tassel (Christina Ricci) as they track down the murderous Headless Horseman.
'The Witches of Eastwick'
Yes, more witches, but it is the witchy season after all. Based on the John Updike novel, this 1987 horror-comedy favorite features Cher, Michelle Pfeiffer and Susan Sarandon as the titular, well-coiffed witches, who are unaware of their magical powers until Jack Nicholson arrives ready to fulfill their respective desires. Mystic hijinks ensue!
Best fall movies on HBO Max
'Soul Food'
One hallmark of fall is that big ol' family feast known as Thanksgiving and while this 1997 drama—starring Vanessa Williams, Vivica A. Fox and Nia Long as three close-knit sisters in Chicago—doesn't actually take place on Turkey Day, there are enough piled-high plates, warm memories and family fights to make you think it is.
'Practical Magic'
If you want your witchy cult classic to be sweeter and less sinister in its depiction of the supernatural, go for this beloved 1998 title starring Sandra Bullock and Nicole Kidman as Sally and Gillian Owens, two sisters living in small-town Massachusetts who have to reckon with their magical family history to destroy an evil spirit.
'Harry Potter and the Sorcerer's Stone'
It's not hard to stumble upon a full "Harry Potter Weekend" when flipping through the TV channels during the fall—the eight-film franchise has become an autumnal staple, thanks to its combination of wizards-and-witches fantasy and back-to-school reality. The latter is most prominent in the series' first edition, with the titular wizard learning the ropes of Hogwarts, making friends (and enemies) and getting lost in the magic of this wondrous world.
'Good Will Hunting'
Who wouldn't want to sit on a park bench in a perfectly autumnal New England and have a wise Robin Williams therapeutically guide you towards the right life path? This 1998 Gus Van Sant-directed drama transports viewers to Boston's highest higher-learning circles, where the potential of MIT janitor and secret math prodigy Will Hunting (Matt Damon) clashes with his past trauma, local friends (Ben and Casey Affleck) and his burgeoning love for a Harvard girl (Minnie Driver).
'Little Women'
We love the Winona Rider-led 1994 version as well, but there's something so cottagecore-cozy about Greta Gerwig's 2019 adaptation of the famed coming-of-age novel from Louisa May Alcott. Starring Saoirse Ronan, Florence Pugh, Emma Watson and Eliza Scanlen as the titular March sisters—not to mention a perfectly windswept Timothée Chalamet as Laurie—it's full of enviable knits, family meals, crackling fires and love declarations to warm you all season long.
Christina Izzo is the Deputy Editor of My Imperfect Life.
More generally, she is a writer-editor covering food and drink, travel, lifestyle and culture in New York City. She was previously the Features Editor at Rachael Ray In Season and Reveal, as well as the Food & Drink Editor and chief restaurant critic at Time Out New York.
When she's not doing all that, she can probably be found eating cheese somewhere.