The best Lindsay Lohan movies, ranked
To toast her cinematic comeback, we're revisiting the best Lindsay Lohan movies, from 'Freaky Friday' to 'Mean Girls'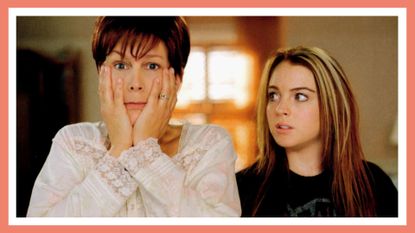 (Image credit: United Archives GmbH / Alamy Stock Photo)
Our favorite Hollywood redhead—sorry Julia Roberts—is back! Lindsay Lohan is making her long-awaited return to acting in her first major role in more than a decade and to celebrate, we're taking a look back at where it all started: with the best Lindsay Lohan movies of the multihyphenate talent's career.
Some are outright classics (hello, Mean Girls), some are delicious bits of '90s nostalgia and others are pure guilty pleasures, but all make up the long lineage of Lohan's career, which started all the way back in 1989 when the actress was just three years old.
Her latest movie is Falling for Christmas, which combines two of our favorite things—Christmas movies and rom-coms on Netflix—and premieres on the streaming platform on Thursday, November 10. In it, Lohan plays a hotel heiress who suffers a skiing accident in the days before Christmas and, after being diagnosed with amnesia, is cared for by a handsome lodge owner (played by Chord Overstreet) and his young daughter.
Before digging into that buzzy new Netflix title, let's revisit the best Lindsay Lohan movies, ranked.
The best Lindsay Lohan movies, ranked
9. 'Herbie: Fully Loaded'
A continuation of The Love Bug film series, this 2005 sports comedy thrusts Lohan into the world of NASCAR as Maggie Peyton, a racing enthusiast who comes into possession of a sentient 1963 Volkswagen Beetle. Together, they rev up the racetrack in a sweet-natured, action-packed kiddie favorite that also features Michael Keaton as Maggie's overprotective father, Justin Long as her love interest and Matt Dillon as her main competitor.
Streaming on: Disney Plus
8. 'Georgia Rule'
A few shades darker than your usual chick-flick fare, this 2007 Garry Marshall-directed dramedy follows Rachel (Lohan), a rebellious teen struggling with alcohol and drug dependency. Her mother (played by Felicity Huffman) sends her to live with her grandmother (the legendary Jane Fonda) in Idaho to get straightened out. Lohan's on-set behavior gave the movie a bad reputation at the time, but a rewatch finds great generational chemistry between the three leading ladies, earnestly portraying the many complexities of mother-daughter relationships.
Streaming on: Peacock and Prime Video
7. 'Just My Luck'
The 2006 rom-com stars Lohan as Ashley, a PR girl in Manhattan and the luckiest woman in the world, who loses said good fortune when she kisses a stranger (a pre-Spitgate Chris Pine) at a masquerade party. Now saddled by his transferred bad luck, Ashley has to track down the mystery man to restore her life of serendipity and success. Yes, the flick nabbed Lindsay a Razzie Award nomination as Worst Actress, but it's got all we want from a harmless, hard-to-hate romantic comedy.
Streaming on: Hulu
6. 'Confessions of a Teenage Drama Queen'
Smack dab in the middle of LiLo's reign of Hollywood teen royalty came this 2004 musical comedy, starring the actress-singer as Lola Steppe, a dramatic 15-year-old New Yorker with big Broadway dreams that get crushed when her family moves her to the New Jersey suburbs. Once there, she struggles with the goal of becoming her high school's leading lady—which sees her going head-to-head with a young Megan Fox, in her movie debut—as well as trying to see her favorite band Sidarthur's farewell concert. There's singing, there's dancing, there are sequined outfits—what more do you need from a mid-2000s Lindsay Lohan movie?
Streaming on: Disney Plus
5. 'Life Size'
A nostalgic favorite, this 2000 Disney Channel movie features the unlikely pairing of a young Lohan—playing Casey Stuart, a preteen tomboy dealing with the loss of her mother—and supermodel Tyra Banks, playing a Barbie-like toy doll that Casey accidentally and magically brings to life. It's a silly premise, sure, but with a sweet execution, particularly in its handling of childhood grief, plus it has a killer song-and-dance routine to boot!
A Prairie Home Companion
Along with being a talented actress, Lindsay Lohan also must be remembered as a pop star in her own right ("Rumors" still slaps), and many of our favorite films of hers marry both movie and music disciplines. One such combo platter is Robert Altman's 2006 musical comedy A Prairie Home Companion, in which Lohan plays the youngest of the Johnson Girls singing group—rounded out by her mother (Meryl Streep) and her aunt (Lily Tomlin)—who performs during the final broadcast of a long-running radio show.
Streaming on: Kanopy
3. 'Mean Girls'
We know what you're thinking: how the hell is the movie that made fetch happen not number one? Iconic though the 2004 comedy undoubtedly is, Lohan's role as impressionable fish-out-of-water Cady Heron is far from the film's juiciest (that clearly goes to Rachel McAdams' Regina George, though we'd give an honorary mention to Lizzy Caplan's Janis Ian) and she's given starrier showcases elsewhere.
Streaming on: Paramount Plus and Prime Video
2. 'The Parent Trap'
The world was introduced to the promise and potential of Lindsay Lohan in her film debut, the 1998 Nancy Meyers update of the 1961 classic The Parent Trap. Lohan plays both Annie and Hallie, twin sisters whose divorced parents, Nick (Dennis Quaid) and Elizabeth (Natasha Richardson), have split up and kept secret from each other. The then-12-year-old actress gamely adopts not only distinct personalities but also two separate accents in her performances and has plucky charm in spades.
Streaming on: Disney Plus
1. 'Freaky Friday'
Lohan's best performance is another multi-role marvel. In this 2003 fantasy-comedy, Lindsay's rock 'n roll-loving teen Anna and buttoned-up single mother Tess (Jamie Lee Curtis) magically switch bodies after an encounter with a mystical Chinese fortune cookie. (Just go with it.) Tess-as-Anna must now deal with the hormonal horrors of high school (not helped by the appearance of a hunky Chad Michael Murray), while Anna-as-Tess has to juggle her job, parenting and her impending wedding.
Lohan and Curtis are a match made in comedy heaven, each enthusiastically taking on both the mother and daughter parts, and the latter has even reportedly written to Disney in the hopes of making a Freaky Friday sequel. We can only hope!
Streaming on: Disney Plus
Christina Izzo is the Deputy Editor of My Imperfect Life.
More generally, she is a writer-editor covering food and drink, travel, lifestyle and culture in New York City. She was previously the Features Editor at Rachael Ray In Season and Reveal, as well as the Food & Drink Editor and chief restaurant critic at Time Out New York.
When she's not doing all that, she can probably be found eating cheese somewhere.