The best Netflix '80s movies to watch for your next nostalgia marathon
These are all the best Netflix '80s movies—if you're in need of a cozy, nostalgia-filled flick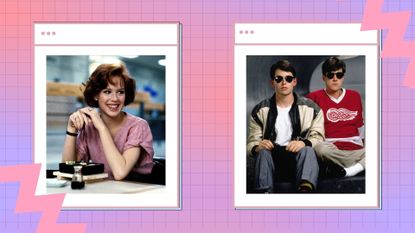 (Image credit: Alamy: (L) UNIVERSAL/Allstar Picture Library Ltd (R) © Paramount Pictures/Prod.DB)
If you're looking to quench your obsession with nostalgia then head right on over to the Netflix '80s movies section. There you'll find everything from cult-favorite action movies to swoon-worthing rom-coms, ideal for a lazy duvet day when all you want to do is eat chocolate and feel cozy.
While we have a soft spot for '90s movies, any movie buff will tell you that the 1980s were an iconic era for Hollywood. From futuristic sci-fi flicks to dance-filled romantic gems like Dirty Dancing. There truly was something for everyone. It was also the decade that brought us some of our fave nostalgic teen movies and saw the start of many Hollywood legend's careers like Meg Ryan and Julia Roberts.
Thanks to streaming platforms like Netflix, we can often revisit their early works, many of which have inspired plenty of today's movies and TV shows, not to mention a number of style trends like 'coastal grandmother'—Meg Ryan's outfits are always the moment!
So, why not catch some of the best 80s flicks while they're still on Netflix, from Dirty Dancing to Top Gun...
Netflix 80s movies to add to your watch list
'Dirty Dancing'
Release Date: 1987 | Genre: Romance| Region: UK
It would be a crime to not start this list with Dirty Dancing because like how no one puts Baby in a corner—no one puts this movie anywhere but the top spot on a list of best 80s movies. Plus, we all need our regular dose of Patrick Swayze and Dirty Dancing shows the actor at his best.
In case you've been living under a rock your entire life, this classic movie follows Baby—a young woman (played by Jennifer Grey) who meets and falls in love with her new dance instructor, Johnny (played by Swayze) while on holiday with her family at a resort called 'Kellermans'. Her father forbids the two from seeing each other but of course, nothing can stand in the way of true love and the hottest, steamiest dance moves.
'The Breakfast Club'
Release Date: 1985 | Genre: Teen| Region: UK
If you're looking to expand your movie knowledge—The Breakfast Club is some of those films that it referenced and quoted a tonne of modern films and shows.
The movie sees a group of high schoolers or as they described themselves during the iconic ending scene: "a brain, an athlete, a basket case, a princess and a criminal"—all land in Saturday detention together. While they all begin at odds, as the hours tick by they soon begin to break down the social barriers that divide them and find they have more in common than they first thought.
It's one of the bucket list films you have to watch at least once!
'Top Gun'
Release Date: 1986 | Genre: Action| Region: Us
While we're all very familiar with the sequel Top Gun: Maverick and *that* football scene, the original has its own volleyball match to rival it, along with a lot of adrenaline-fueled flying scenes.
The film follows Maverick (aka Tom Cruise) a daring and skilled pilot as he competes in the United States Navy's elite fighter weapons school "Top Gun" to be best in order to carry out classified missions only the most skilled pilots can undertake. However, after the death of his best friend, Mav must overcome everything and redeem himself.
Along with a swoon-worthy romance and kickass soundtrack, this film is a must for weekend movie nights!
'Road House'
Release Date: 1989 | Genre: Action/Thriller| Region: US
Starring Dirty Dancing's Patrick Swayze, Road House sees a legendary bouncer get called to a notorious bar, full of gangs and ruthless crime bosses to restore order. Though things do not go as planned for the skilled fighter as he falls in love with a local Doctor, Elizabeth Clay.
This film is action-packed and ideal if you love a dramatic fight scene!
'Ferris Bueller's Day Off'
Release Date: 1986 | Genre: Comedy/Teen| Region: UK
A coming-of-age classic! Ferris Bueller's Day Off sees Ferris (Mathew Broderick) fake sickness and cut school for a day of total freedom with his best friend Cameron (Alan Ruck) and girlfriend Sloan (Mia Sara). However, his high school's Dean is intent on catching Ferris cutting school and attempts to spy on the trio.
This film is widely renowned as one of the most iconic movies maybe ever and definitely deserves a spot in your nostalgic movie roster.
'Labyrinth'
Release Date: 1986 | Genre: Fantasy/Musical| Region: UK an US
Labyrinth is a true, cult-classic starring David Bowie and Jennifer Connelly. It's a fantasy story that sees Sarah (Connelly) embark on an adventure through a maze, ruled by the Goblin King (Bowie) in order to save her baby brother.
It's filled with fantastical monsters and creatures, some musical numbers and will no doubt bring back a lot of childhood memories!
'The Karate Kid'
Release Date: 1984| Genre: Drama/Action| Region: UK
A true childhood classic, The Karate Kid is the first of three movies in The Karate Kid franchise, plus a remake and has now been turned into a spin-off series called Cobra Kai (which is one of the most watched TV shows on Netflix!).
The story follows teen Daniel LaRusso as he's trained by Mr. Miyagi in karate in order to defend himself from bully Johnny Lawrence. It's a film about courage, resilience and learning when to stand up to yourself—and basically inspired a whole generation of kids to want to learn martial arts.
Sagal is a journalist, specialising in lifestyle, pop culture, fashion and beauty. She has written for a number of publications including Vogue, Glamour, Stylist, Evening Standard, Bustle, You Magazine, Dazed and Wonderland to name a few.