The best Netflix 80s movies for the ultimate nostalgia marathon
This way for all the Netflix 80s movies you need to revisit immediately...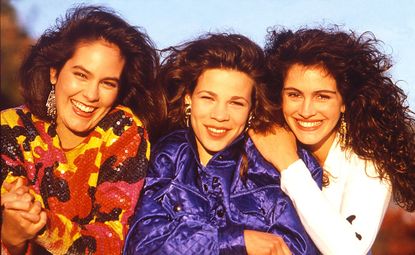 (Image credit: Ronald Grant Archive / Alamy Stock Photo)
The Netflix 80s movies category is one of the best sections on the streaming service. It's our favorite place to be on a lazy duvet day when all we yearn for is a greasy takeaway and a nostalgic walk down memory lane.
Any movie buff will know that the 1980s were an iconic era for Hollywood. From classic romcoms to futuristic sci-fi flicks, there was something for everyone. It was also a time where some of our finest movies stars shaped their careers. The 80s gave us household names like Julia Roberts and Denzel Washington, among others who have since gone on to achieve critical acclaim and are today recognized as Hollywood royalty thanks to their stellar on-screen debuts.
Thanks to streaming platforms like Netflix, we can often revisit their early works, many of which have inspired plenty of today's movies and TV shows, not to mention all the remakes and sequels. Here are the best of the bunch to watch now...
---
---
Netflix 80s movies to add to your watch list
Coming to America (1988)
If the recently released sequel to this 80s classic, Coming 2 America, had you feeling a little nostalgic for the original then fear not, it's available to watch on Netflix.
Starring Eddie Murphy as Prince Akeem, it follows the wealthy African prince's quest for true love. He runs away from his country to escape an arranged marriage and arrives in Queens, New York with his sidekick Semmi (Arsenio Hall), in hopes of finding his queen.
Dirty Dancing (1987)
We all need our regular dose of young Patrick Swayze and Dirty Dancing shows the actor at his best. In case you've been living under a rock your entire life, this classic flick follows Baby—a young woman (played by Jennifer Grey) who meets and falls in love with her new dance instructor, Johnny (played by Swayze). Her father forbids the two from seeing each other but of course, nothing can stand in the way of true love and the hottest, steamiest dance moves.
She's Gotta Have It (1986)
The original Spike Lee joint, She's Gotta Have It is the debut feature from the legendary filmmaker. It chronicles the complex love life of Nola Darling (played by Tracy Camilla Johns) who can't decide what kind of man she wants to date, so she decides to date three at the same time.
Setting the bar for what's known today as multi-dating, she builds relationships with three potential suitors: Greer Childs (John Canada Terrell), a rich, handsome narcissist, Jamie Overstreet (Tommy Redmond Hicks), a stable, overprotective alpha male, and finally, Mars Blackmon (played by Spike Lee himself), a timid geek with a heart of gold.
Mystic Pizza (1988)
Is it even an 80s film round-up without at least one Julia Roberts feature? Mystic Pizza is the kind of film that feeds all of our rom-com needs. It follows Jojo, Daisy and Kat, three waitresses who work at a pizza outlet and all have complicated love lives until they each find a perfect match.
The Dark Crystal (1982)
The early 80s were known for quirky filmmaking and The Dark Crystal was no exception. Set on a fictional planet, it follows protagonist Jen (Stephen Garlick), who was raised by the noble race called the Mystics and has been told that he is the last survivor of his own race, the Gelflings. He then sets out on a mission to find the dark crystal, a powerful gem that once provided balance to the universe.
Back To The Future (1989)
A universal classic, Back To The Future is a sci-fi sequel loved by the masses. In it, time-traveling duo Marty McFly (played by Michael J. Fox) and Dr. Emmett Brown (played by Christopher Lloyd) return from saving Marty's future son from disaster, only to discover their own time transformed. They return to a nightmarish version of their lives and must navigate their new reality.
Glory (1989)
If you love a war drama (and Denzel Washington) then this is one for you. Following the Battle of Antietam, Robert Gould Shaw (played by Matthew Broderick) is offered command of the United States' first all-African-American regiment, the 54th Massachusetts Volunteer Infantry. He faces opposition from his fellow officers and ire from enemy soldiers for leading a battalion of black soldiers. The film earned Denzel Washington an Oscar for Best Supporting Actor.
Poltergeist (1982)
The 1980s were a great era for horror movies and Poltergeist is one that always belongs in our Halloween movie nights. Created by none other than Steven Spielberg, the film sees a dream home become the house from hell as evil spirits rise up to possess the soul of an innocent child. We'll warn you now, things get seriously creepy!
Sagal is a journalist, specialising in lifestyle, pop culture, fashion and beauty. She has written for a number of publications including Vogue, Glamour, Stylist, Evening Standard, Bustle, You Magazine, Dazed and Wonderland to name a few.