The best Netflix 90s movies for a throwback binge-watch
These are the Netflix 90s movies we could watch over and over again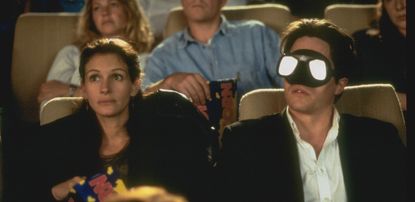 (Image credit: Ronald Siemoneit/Getty)
The 1990s are alive on Netflix, from the streamer's Selena series to nostalgia-inducing flicks.

The best Netflix 90s movies are like a time capsule just waiting to be opened, throwing it back to the era where hip hop was thriving, 90s fashion trends like buffalo shoes were big, and Julia Roberts was the reigning screen queen (when is she not though, really?).
From the best rom-coms on Netflix—many of which are recognized as classics today—to iconic animations, there's a 90s flick for everyone. All you have to do is cozy up and take your pick of the wide selection of 90s movies available on the streamer for a trip down memory lane.
While some of our favorites have been leaving Netflix over the past few months, the streaming service still has cinematic gems in its collection. Here are some of the best Netflix '90s movies to watch while you can...
My Best Friend's Wedding (1997)
If you haven't watched this 1997 classic, then how much of a rom-com fan even are you?! Starring a #hairgoals Julia Roberts and Dermot Mulroney, the film follows Julianna (Roberts) who is stunned when her best friend Michael (Mulroney)—who she is secretly in love with—tells her that he's getting married (and to Cameron Diaz, no less!).

Fueled by mixed emotions, Julianna sets out to put an end to the wedding by finally telling Michael how she feels. But is it too late?
The Rugrats Movie (1998)
If you're a 90s baby, it's likely that you love the Rugrats. The Nickelodeon show was the best thing on TV during the 1990s and the movie adaptation of the series was a total gamechanger.

The animated comedy follows Tommy Pickles as he tries to return his baby brother to the hospital after being warned by his friend, Angelica, that once his new sibling is born his parents won't care about him.
Groundhog Day (1993)
A movie that feels a lot like life in lockdown during the pandemic, Groundhog Day follows Phil (an iconic Bill Murray), a self-centered and cynical weatherman who finds himself reliving the same day over and over again when he goes to the town of Punxsutawney for an assignment.
Runaway Bride (1999)
Yes, more Julia Roberts. (We told you she dominated the decade!)
Runaway Bride reunites Pretty Woman costars, Richard Gere and Roberts, as a big-city reporter who falls in love with a small-town handywoman. However, she has a reputation of running away from serious commitment, having fled the alter when she was supposed to tie the knot in the past—and not just once. Will it be different this time?
Good Burger (1996)
"Welcome to Good Burger, home of the Good Burger, can I take your orderrr?"
Starring our childhood favorites Kenan Thompson and Kel Mitchell, Good Burger will teleport you directly to your childhood. In it, a high student wrecks his teacher's car, and to pay back for the damages, is forced to get a summer job at a fast-food restaurant. However, his job is at stake when a competitor restaurant, Mondo Burgers, opens up next door.
Hook (1991)
The legendary Robin Williams has an entire catalog of movies that warm our hearts, and Hook is one of them. It follows the story of Peter Pan, who is forced to return to Neverland when his children are abducted by Captain Hook. Once again he goes head to head with his old nemesis with the help of Tinkerbell and the Lost Boys.
Notting Hill
Julia Roberts at her most megawatt. Hugh Grant at his most floppy-haired. A soundtrack of Shania Twain, Elvis Costello, and 98 Degrees. Does it get more nineties than this?!
Roberts stars as—who else?—the most famous movie star on the planet, who improbably meets and falls for a London-based bookshop owner (Grant). But really, it's about a girl, standing in front of a boy, asking him to love her. Swoon!
Sagal is a journalist, specialising in lifestyle, pop culture, fashion and beauty. She has written for a number of publications including Vogue, Glamour, Stylist, Evening Standard, Bustle, You Magazine, Dazed and Wonderland to name a few.